Graham Reid | | 4 min read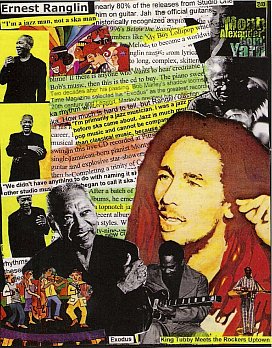 Twenty years after the death of its high priest, reggae still informed the vocabulary of music. Reggae had so thoroughly infiltrated pop, rock, hip hop and electronica, we hardly noticed it any more. Still don't.

And if it isn't in the music itself – the bass lines, off-accent drumming, choppy guitars – then it's in the attitude reggae producers such as Lee Perry, King Tubby, Clement Dodd and others brought to what was possible in a studio. Yes, Bob Marley may be gone -- and Peter and so many more -- but the musical message they brought lives on everywhere.

Well, almost everywhere.

No one seriously expects classical musicians to explore reggae riddum (although there's no reason why they shouldn't and the Reggae Philharmonic Orchestra had a decent stab at it) and jazz was particularly tardy in tuning in. Certainly down the years there were jazz musicians who tuned to reggae, most notably sax player Oliver Lake who in 1978 (around the time of Bob's Kaya) recorded the track Change One, which had an unmistakable Caribbean influence.

Lake, who co-founded the Black Artists Group in St Louis in 1968 after being inspired by Chicago's AACM, always had an interest in Caribbean music, but a trip around the islands in '80 confirmed for him there was a rhythmic pulse worth delving into seriously.

He formed Jump Up, a lively jazz-dance band which took off into reggae and back-to-Africa styles. Throughout the early and mid Eighties, Jump Up (in vibrant multi-coloured stage outfits in the manner off the Art Ensemble of Chicago) were something of a sensation and even now their self-titled debut and Plug It albums are worth tracking down.

However Lake also played in the World Saxophone Quartet and other projects which became more successful so Jump Up withered and faded.

Bassist Jamaaladeen Tacuma also explored reggae around the same time and UK saxophonist Courtney Pine, who grew up on the stuff, always used it as a springboard.

There have been others too -- London's Jazz Jamaica was more JA-UK-MOR than jazz however – but surprisingly few.

Most visible has always been guitarist Ernest Ranglin, the man many say invented ska in Coxsone Dodds' Jamaican studio in the late Fifties.

In '59 Ernest Ranglin recorded the young Bob Marley, but his most visible ska hit was My Boy Lollipop with Millie Small in '64.

Ranglin told me ska never had the opportunity to be taken further because the producers wanted to keep hits coming by not messing with the choppy, addictive formula. So he headed to London and Ronnie Scott's jazz club, and to this day insists he is a jazz musician, but one with a foot in reggae. He toured with Jimmy Cliff in the Seventies and latterly recorded excellent reggae-conscious jazz albums: Below the Bassline from '97 featured pianist Monty Alexander and Memories of Barber Mack from the following year had Sly Dunbar on drums.

Ranglin has the reggae spirit within him.

And so does Alexander, whose Goin' Yard in '01 completed a trilogy of reggae-jazz recordings which began with Stir it Up from '99 where he played Bob songs, and Monty Meets Sly and Robbie. Alexander incorporates nyabinghi rhythms, melodica, the breezy JA-vibe and fat-bottom bass into his jazz-reggae and never sounds anything less than authentic, and unique.

Should any hardcore jazz head doubt Alexander's credentials, we need only note the Jamaican-born pianist also played with Milt Jackson, Dizzy Gillespie and Sonny Rollins.

Goin' Yard, recorded live in Pittsburgh, is at its best when he dug into Augustus Pablo's King Tubby Meets the Rockers Uptown, and creates epics out Marley's Could You Be Loved and Exodus, the latter opening with him weaving into the melody via the famous theme to the movie of the same name.

The material not drawn from reggae but contemporary jazz sounds the best.

Around the same time as the engrossing Goin' Yard was a jazz tribute to Bob under the appalling title, A Twist of Marley (a cousin to A Nod to Bob, ie. Dylan).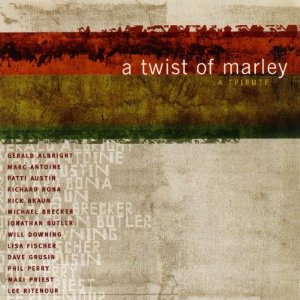 It featured guitarist Lee Ritenour, pianist Dave Grusin, trombonist Bill Reichenbach and vocalists Maxi Priest, Lisa Fischer, Jonathan Butler and Phil Perry among others.

As expected with a tribute, it was patchy (if I never hear the "r'n'b version" of Get Up Stand Up again L'll be happy) and Ritenour always makes albums with a high Teflon factor. (See? Nothing sticks!)

There was some good stuff – Exodus is hard to screw up and saxophonist Michael Brecker doesn't, and trumpeter Rick Braun plays tough but sensitive mute work on So Much Trouble – but overall you'd probably file it in your under-explored "tribute" pile rather than the "reggae" or "jazz" stacks which get repeat plays.

The odd thing in this jazz-reggae however is just how readily Marley's music can be adapted.

The strength of his melodies, and the memorable riffs he wrote (Jamming and Could You Be Loved are recognisable from the first bar) can be bent to other purposes.

On the Twist album there's a South African treatment of Redemption Song by Richard Bona complete with SA vocal chorus which is pretty damn nice. And Will Dowling – who turned in an excellent treatment of Coltrane's A Love Supreme at the start of his career in the late Eighties – finds a well of late night sweet soul feeling at the heart of Is This Love.

Polite as he was, Bob would have doubtless been generous about the Twist of Marley album, but – without wishing to second guess what the dead might have said as we never should do -- you suspect he'd have passed on most of this tribute, but would have delighted in Dowling's Is This Love.