Graham Reid | | 3 min read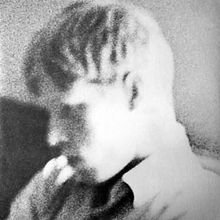 In his very interesting 2001 book about cult figures and outsider musicians Songs in the Key of Z, Irwin Chusid had chapters on some figures (Wild Man Fischer, Syd Barrett, Florence Foster Jenkins, Daniel Johnston, Tiny Tim, Harry Partch etc) who have largely been accepted into the grand pantheon of the weird but rather wonderful.
And then there were the others like the talentless Shaggs and, of greater interest, the mysterious Jandek.
This is how Chusid approaches his subject: "Like most amateur rock critics, start by comparing him to the Beatles. Then strip away melody, catchy hooks, rhythm and harmony. Next toss out vocal and instrumental ability, along with any trace of human feeling other than dull lingering pain".
Getting the picture on Jandek? Not yet?
Chusid continues: "He accompanies himself on acoustic or electric guitar. But for the incoherence of his zombielike strumming, Jandek's hands might as well be brushing accidentally against the strings . . . sometimes Jandek is backed by a drummer who seems unfamiliar with the kit and who pounds away relentlessly with no ground beat".
Doesn't that sound extraordinary? How can you not want to hear something,indeed anything, by Jandek (not his real name) who released the first of his sixtysomething self-recorded albums in '78 but rarely performed in public until 2004.
Certainly Jandek's reclusive nature enhanced the allure of his music so people were obliged to piece together clues from the address of his mail-order company (he lived near Houston), his album covers (they are of little use, often just cheap photos of bland rooms, houses or musical equipment) and his lyrics (opaque at best).
There was no certainty that the person who sometimes appeared on his album covers was actually him (as a younger person often), although over time the fact this same person was frequently there lent weight to that belief.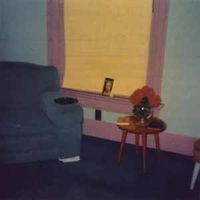 Time and an increasing curious media of course weaseled him out and he is Sterling Smith (now in his late 60s). The internet has ensured he now has a profile which he seemed at pains to avoid. Over time his music changed (although "developed" might be going too far) and today he is revered as a genuine outsider artist.
Chusid says of Jandek's debut album Ready for the House (right, which originally appeared under the name "the Units") that it "sounded like an album-length, real-time chronicle of a listless beer-numbed, trailer-park teen picking scabs, mumbling to himself and accidentally stumbling over his guitar".
To be fair to Jandek however, Chusid, Richie Unterberger ("slightly demented stream-of-consciousness ramblings and guitar playing which rarely strays from set notes and chords, none of which pick out anything close to a melody") and others have rather overstated the negative. Although to be fair to them however, what they say is largely true.
It's just in how you hear it.

As with how our notions of singing have changed (thanks Bob Dylan, Yoko Ono, David Thomas, Bjork and others), so too if you've heard guitarists like Eugene Chadbourne, Fred Frith (with his oddly tuned and prepared guitars) and the music of Barrett, Captain Beefheart and Skip Spence's Oar album, they collectively shifted the coordinates of expectation.
In that light, Jandek today doesn't sound as far out there as he once did.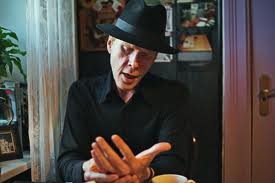 Certainly it is almost impossible to know what he is on about (it's often dreamlike and introspective though, sometimes religious) and that guitar "playing" remains unique.
But there is a certain something about early Jandek -- call it unfiltered primitivism if you will -- which is also strange and even enchanting. With emphasis on the strange.
There is a fragility in the delivery and a hypnotic engagement by him with whatever he sings about. Which can sometimes be unintelligible.
He's been the subject of a documentary and of course his more frequent appearances have stripped him of that original mystique.
So let's allow him that again here, acknowledge his specialness and the impenetrability of what prompted him to start -- and keep -- creating music of this singular kind.
The key to it might just be as simple as this. When Katy Vine of the Texas Monthly tracked him down in '99 she asked him if he wanted people to "get" his music.
"There's nothing to get," he said.
Riiiiiiiiiight.
For other articles in the series of strange characters in music, WE NEED TO TALK ABOUT . . . go here.