Graham Reid | | 5 min read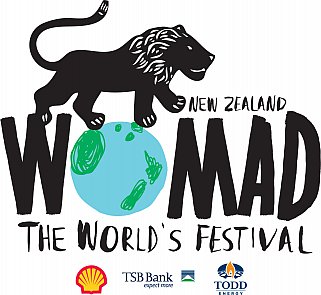 Time for all good citizens of the global village to get their passports stamped at yet another Womad New Zealand, once more in the beautiful site at Taranaki, New Zealand.
Over three days in March 2013 (15 - 17), musicians and performers from all parts of the globe will bring their music and culture to entertain, illuminate and thrill those looking for something just a bit different, new and challenging.
There are some familiar names in the line-up but as always it will be the hitherto unknowns which many will discover for themselves.
Big names first though . . .
and if you click the highlighted words that will take you to music, artists profiles, album reviews etc at Elsewhere and elsewhere.
JIMMY CLIFF
Reggae has few genuine superstars these days, but Cliff is the most prominent. From the time he scored classic crossover hits with Sitting in Limbo, You Can Get It If You Really Want It and the much-covered Many Rivers to Cross -- and acted in the classic JA film The Harder They Come (1972) -- Cliff has been a figurehead for a pan-global style of reggae which sometimes incorporated traditional African sounds and had him working alongside the Rolling Stones, Joe Strummer and the Artists Against Apartheid (for the Sun City song).
Three years ago he was inducted into the Rock and Roll Hall of Fame, just another in the list of honours and acknowledgements he has acquired. Not to be missed.
HUGH MASEKELA
South African jazz trumpeter/singer Masekela came back into the public spotlight recently when he again teamed up with Paul Simon for Graceland concerts, the Simon tour he played on back in the Eighties after that cornerstone album was released.
Masekela was well known in jazz circles as far back as the Sixties when he played alongside pianist Dollar Brand then established himself in the US with help from Harry Belafonte, but he also made interesting forays into rock (that's his trumpet on the Byrds' So You Want to be a Rock'n'roll Star) and much of his life was lived outside South Africa as an exile-by-choice during the apartheid era.
A political figure as much as a top class trumpeter (and with an ear for a pop chorus), Masekela is one of the legends of African music and jazz.
SALIF KEITA
Malian singer Keita perhaps came to the widest attention when he moved to Paris (after a career with the locally famous Super Rail Band and Les Ambassadeurs) and released a series of acclaimed albms starting with Soro in '87 which brought him to the attention of mainstream Western press for his powerful vocal style.
A striking looking man -- he is an albino -- with a rare voice, Keita returned to Mali around 2000 and has been a significant figure in Mali's music scene (which, like Jamaica, seems unnaturally blessed with a disproportionate number of great musicians) and he has his own studio in his hometiwn of Bamako.
One of the great figures in world music.
ANTIBALAS
Perhaps better known in rock cricles than the world music domain, this large multi-culti ensemble from New York deliver a powerful musical concoction based on the great Fela Anikulpo Kuti's template of Afro-beat with Latin inflections.
Various members have appeared live or on albums with the likes of the late Amy Winehouse, The Roots, Angelique Kidjo, Ornette Coleman, The Black Keys, Amadou and Mariam and Fela's son Femi Kuti.
If the name is new to you (it is Spanish for "bulletproof") then here is the chance to check them out. Take your dancing shoes and plenty of water.
They don't play sittin' down music . . .
VIEUX FARKA TOURE
Maybe not quite as big a name as those above, but big in the Elsewhere world.
The son of the great Malian musician Ali Farka Toure, Vieux Farka Tour clearly had a huge shadow to move out from under but the evidence of his albums so far is that he has established himself as a distinctive singer-guitarist in his own right but -- like his father who worked with Ry Cooder -- Vieux isn't averse to getting alongside Western artists and collaborating to create something unique and distinctive within the broad parameters of Malian blues.
In recent times he has worked with Derek Trucks, Ivan Neville and John Scofield -- three very diferent players -- which is testament to his own musical breadth.
Elsewhere his picking him as a highpoint.
And these lesser known people too . . .
Bassekou Kouyate and Ngoni Ba: on the basis of the album Segu Blue, these guys who play ngoni (a single stringed lute) could just provide one of the more interesting sounds of the weekend. Circle them in the programme.
Shunsuke Kimura and Etsuro Ono: Musicians from Asia (Japan, China and Korea notably) have often provided some of the quieter highlights of a Womad and this duo playing traditional flute and tsugaru-shamisen (a banjo-like instrument) are bound to provide one of the more beguiling and hushed diversions.
The Alaev Family: Music from Central Asia has appeared at Elsewhere and although it seems rather hard to give away (it is different, folks!) my money is on this ensemble from Tajikastan being one of the real surprises of the weekend. Driven by percussion but coloured with weird melodic lines from traditional clarinet, violin and strident horns, this is the kind of sound which gets its hooks into you. You've been pleasantly warned.
Sudha Ragunathan: Although a quiet concert hall might be the best place to hear this wonderful singer of Indian music of the Carnatic tradtion (from the south), she has a voice which will transcend the acoustic limitations of a Womad and will doubtless enchant as much as impress. Much acclaimed at home, she will be accompanied by percussion and violin. And note also on the Womad programme Manjiri Kelkar, a raga singer in the Jaipur tradition.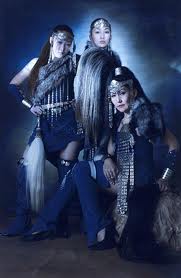 Ayarkhaan: One of the great things about any Womad is that it introduces you to something you might never otherwise come across, like this trio of women from Russia who are the vanguard of a revival of north east Siberian songs. Quite what that sounds like we might not know until the day.
But here they are (right), emblematic of how a Womad can open ears and doors into another culture and soundscape.
AND
There is all kinds of electric and traditional folk from Scotland and Norway to southern Italy, the usual global meltdowns of ska/reggae and thumping percussion with entho-folk elements, Tibetan monks, cajun fiddle, Serbian music for funerals and weddings, gospel and DJs, and of course a large contingent of New Zeaand artists including . . .
Electric Wire Hustle, Fly My Pretties, David Kilgour and the Heavy Eights, AHoriBuzz, Mihirangi, Newtown Rocksteady . . .
For full details on the Womad line-up and to book tickets go here.
See you there to see these people who have come from here . . .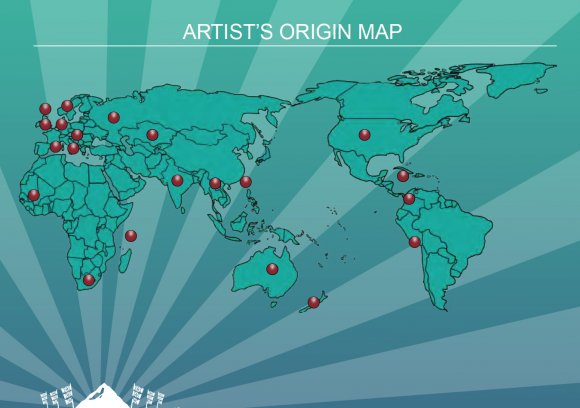 Womad Taranaki, New Zealand: March 15 -17 2013. For more on Womad 2013 artists at Elsewhere see here. The Womad website for ticketing and information is here.