Graham Reid | | 1 min read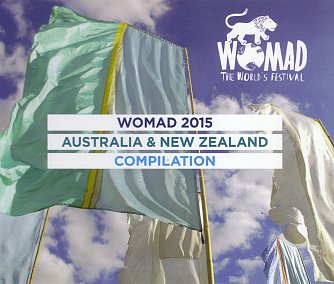 Because Elsewhere has a long established reputation as the only New Zealand outlet/website which regularly addresses and interviews world music artists -- so is a Womad all year round while others amble away until the March event -- we're going to flatter ourselves a little (and embarrass casually interested media) by suggesting many of the acts on this scattergun compilation should be familiar to our regular readers.
More than half the artists here have appeared at Elsewhere, either by way of album reviews (some from the earliest albums by the artists) or recent interviews.
So let's just do this.
Here's the track listing of this fine sampler album which you should buy to have in the car on the way to Taranaki . . . and if you click the highlighted text that will take to you to an album and/or an interview at Elsewhere where you can also hear a track and see a clip.
And where there is nothing highlighted, just go here to see the whole Womad 2015 line-up with that act included, and a link to where you need to go for more information.
See you on the site. This year's line-up looks quite exceptional.
Here's the album track list. . .
Amidinine – Bombino
Nu Te Fermare - Canzoniere Grecanico Salentino

Bad Self Portraits - Lake Street Dive
 (interview here, album review here)
C'est La Vie - Fanfare Ciocarlia with Adrian Raso

Rachid Ouiguini - Toumani Diabaté and Sidiki Diabaté
 (Toumani previous albums here, current one with his son Sidiki here)
How About I Be Me - Sinéad O'Connor
Solombombe - Jupiter and Okwess International
No Man's Land - Balkan Beat Box
7 Seconds - Youssou N'Dour feat. Neneh Cherry

Ndiyamika (I Thank You) - Malawi Mouse Boys
Yanapariway Takiriyta - Luzmila Carpio

Sailor's Bonnet - The Gloaming
Dal'Ouna Cocktail - Ramzi Aburedwan

People Dansa - Flavia Coelho

Spitfire - Public Service Broadcasting
 (album review here, interview here)
La Ley del Miedo - Che Sudaka
For information on ticketing and other details about the 2015 Taranaki Womad go here.
For Elsewhere's extensive coverage of previous Womads go here.