Graham Reid | | 3 min read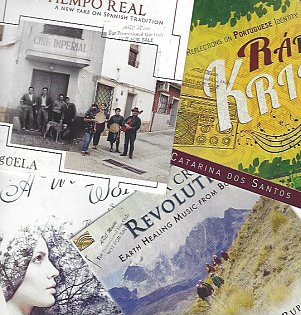 Here's a frequent flyer/transit lounge/vicarious listening music column for those at home who want to get their musical passport stamped.
Elsewhere has so many CDs and downloads commanding and demanding attention that we run occasional columns which scoop up releases by international artists (IN BRIEF), in much the same way as our SHORT CUTS column picks out New Zealand artists.
And of course Yasmin Brown picks up EPs in her column.
But we also go international . . .
.
Catarina dos Santos: Radio Kriola; Reflections on Portuguese Identity (ARC Music)
Singer and composer dos Santos is yet another of the diaspora of musicians from their home country who has relocated to Europe (so often the case with African musicians) or the US (as is the case here).
She grew up around music (her father was a programmer for the cultural centre in the polyglot town of Barreiro and she studies at the school of jazz in Lisbon before moving to New York.
For this quietly persuasive collection she draws on material which has reference points in sophisticated jazz, fado with Brazilian influences, Cape Verde, Angola, Puerto Rico . . .
The diaspora of musicians also applies to the music itself in this case here as she and her excellent ensemble (acoustic guitars to clarinet and programming) offer supple shuffles, whispery but assured vocals and delightfully melodic songs imbued with tropical warmth.
All in Portuguese of course, but the booklet has a synopsis of each song/story in English, and even though the issues are sometimes serious –immigrants, women's role in transmitting culture, memories – these subtle arrangements and dos Santos' seductive singing make for an album which feels balanced and engaging.
A Dancer's Redemption, by Catarina dos Santos
.
Various Artists: A Woman's World (ARC Music)
The way parts of the political world are turning it seems less and less a woman's world and beleaguered groups in various societies are more and more needing "songs of resilience and hope" (the subtitle of this 12 song collection which world music women sharing their societies and thoughts.
A few names may be familiar to Elsewhere readers: Lena Lichtenberg, Minyeshu, Hanitra, Khiyo, Ana Alcaide, Ceumar, Afrika Mamas and Maria Ana Bobone.
These are all very different singers from different parts of the planet (Ethiopia to the Balkans, Russia to Brazil, Pakistan to South Africa) so the styles are diverse and the languages all different.
Because of that it is impossible to offer any sensible synopsis of the whole but again you rely on the excellent liner notes for the songs' meanings . . . and perhaps as pointers to some of these artists to hear more.
Check our links to artists we have profiled.
Eka/Peaceful Air, by Minyeshu
.
Los Ruphay: A Cry for Revolution (ARC Music)
If the idea of a Bolivian folkloric band brings to mid images of the Andean pipe groups busking just about everywhere in Europe then this band will offer some respite from that relentlessly upbeat stuff (but which invariably includes El Condor Pasa).
This group from La Paz certainly deploy the pipes but to a much more earthy and declamatory effect where they pay tribute to the raw earth and mountains of their homeland. They were founded 50 years ago and were the first band to sign to the ARC label (in '76) and this album is a tribute their founder, the writer and musician Mario Gutierrez.
Inevitably the pipes (here much deeper and with wider range than what you see in the markets and thoroughfares of Paris or Berlin) might bring to mind those familiar street performers but here there is a gravitas and sense of yearning which is very different. None of those people would probably play pieces with titles like A Cold That Kills, or From Deep Inside.
There are deep and unusual resonances here (some of which cry for samplers and loopers) and in a piece like Tunupan Ajayupaj/Spirit of Tunupa Mountain you are on the cusp of an evocative soundscape which evokes mountain winds and sounds almost like electronica.
The lament for the ravages on the land wrought by Man with cello as on Pachamamasti Llakitawa/ Mother Earth is Sad (with a singer who sounds a bit like Yoko in ballad mode) is very moving.
So with ritual music, soundscapes and those deeper pipes and charango, this is some distance from the familiar Andean pipe groups.
Something much more vital, important and impressive.
Tunupan Ajayupaj/Spirit of Tunupa Mountain, by Los Ruphay
.
Viguela: A Tiempo Real (ARC Music)
Subtitled "a new take on Spanish tradition", this raw double album recorded in Toledo, Spain comes with a title which conveys its immediacy: In Real Time.
These 25 traditional songs are apparently given new arrangements by the quartet (pictured on the cover but other names are appended) but to these ears they sound as if they might have been recorded in a large room early last century, and speak of things in the even more distant past.
The instrumentation is simple (sometimes the songs are a cappella) and consist of tambourine, hand drums and acoustic guitar, but the strength comes from the voices of Carmen Torres Delgado and Maria del Rosario Nieto Palomo who could sing to a whole village just from their front porch.
Given the nature of this – all in Spanish, traditional, stripped back – it will not be to many tastes (and it is a challenge) but given what they are doing by keeping this music alive it is certainly a worthwhile recording even if it destined to sell in very, very tiny quantities.
El Pajaro ya Volo/This Bird Has Already Flown, by Viguela