Graham Reid | | 24 min read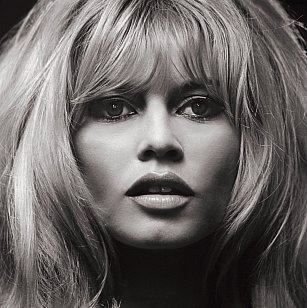 "If I told you what our music is really about we'd probably all get arrested" -- Bob Dylan 1965
"I think of myself as just a song and dance man" -- Bob Dylan, 1965

"Never trust the artist, trust the tale" - DH Lawrence, 1924
1965, a pivotal year and the transition from pop to rock, and songs which actually said something beyond boy-girl relationships
(and all these events happened simultaneously but we will deal with them separately to make it clear)
for example . . . in December 1964 the great black American soul singer Sam Cooke had been shot. After his death his record company released his A Change Gonna Come which had been inspired by Dylan's Blowin' in the Wind and the Civil Righjts activists in the South. It aches about inequality and injustice but is also freighted with the idea of hope and expectation of better days. It charted in February '65. A song that actually said something.
A Change is Gonna Come, Sam Cooke Feb 1965
And the black gospel singer Mahalia Jackson recorded this song in '65, inspired also by Blowin' in the Wind and Martin Luther King's "I have a dream" speech. The change was gonna come because the dream of equality and justice had momentum.
Like the Breeze Blows, Mahalia Jackson 1965
Bob Dylan in 1965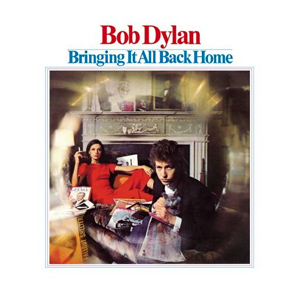 March: he releases the album Bringing It All Back Home.
The album cover is telling: he no longer appears in some working man/denim/hobo persona but cool, sullen, distant, in a sophisticated ( with a sensual woman not a homely girlfriend as on the previous coverr) and he is now indoors. The camera also has a blurry efect on the lens to give it slightly drugged out appearance.
Dylan's album covers are worth considering (as are the Beatles). See here for Dylan and here for the Beatles.
Musically this album marked a clear shift, there is an acoustic side with Mr Tambourine Man and Gates of Eden, both over five minutes long, the seven and half minute It's Alright Ma I'm Only Bleeding and It's All Over Now Baby Blue, which sounds as much like a farewell to his folk audience as it does to a lover.
It's All Over Now Baby Blue, 1965
Mr Tambourine Man
Hey! Mr. Tambourine man, play a song for me
I'm not sleepy and there is no place I'm going to
Hey! Mr. Tambourine man, play a song for me
In the jingle jangle morning I'll come following you
Though I know that evening's empire has returned into sand
Vanished from my hand
Left me blindly here to stand but still not sleeping
My weariness amazes me, I'm branded on my feet
I have no one to meet
And the ancient empty street's too dead for dreaming
Hey! Mr. Tambourine man, play a song for me
I'm not sleepy and there is no place I'm going to
Hey! Mr. Tambourine man, play a song for me
In the jingle jangle morning I'll come following you
Take me on a trip upon your magic swirling ship
My senses have been stripped
My hands can't feel to grip
My toes too numb to step
Wait only for my boot heels to be wandering
I'm ready to go anywhere, I'm ready for to fade
Into my own parade
Cast your dancing spell my way, I promise to go under it
Hey! Mr. Tambourine man, play a song for me
I'm not sleepy and there is no place I'm going to
Hey! Mr. Tambourine man, play a song for me
In the jingle jangle morning I'll come following you
Though you might hear laughing, spinning, swinging madly across the sun
It's not aimed at anyone
It's just escaping on the run
And but for the sky there are no fences facing
And if you hear vague traces of skipping reels of rhyme
To your tambourine in time
It's just a ragged clown behind
I wouldn't pay it any mind
It's just a shadow you're seeing that he's chasing
Hey! Mr. Tambourine man, play a song for me
I'm not sleepy and there is no place I'm going to
Hey! Mr. Tambourine man, play a song for me
In the jingle jangle morning I'll come following you
And take me disappearing through the smoke rings of my mind
Down the foggy ruins of time
Far past the frozen leaves
The haunted frightened trees
Out to the windy beach
Far from the twisted reach of crazy sorrow
Yes, to dance beneath the diamond sky
With one hand waving free
Silhouetted by the sea
Circled by the circus sands
With all memory and fate
Driven deep beneath the waves
Let me forget about today until tomorrow
Hey! Mr. Tambourine man, play a song for me
I'm not sleepy and there is no place I'm going to
Hey! Mr. Tambourine man, play a song for me

In the jingle jangle morning I'll come following you
But he deliberately placed the electric side (with a plugged-in band) up first and it opened with Subterranean Homesick Blues and later there is Maggie's Farm (both of which lend themselves to various interpretations).
Check out this for where Subterranean Homesick Blues came from and also where in subsequent decades it went to when other artists adopted the style.
Subterranean Homesick Blues, Bob Dylan
SUBTERRANEAN HOMESICK BLUES
Johnny's in the basement
Mixing up the medicine
I'm on the pavement
Thinking about the government
The man in the trench coat
Badge out, laid off
Says he's got a bad cough
Wants to get it paid off
Look out kid
It's somethin' you did
God knows when
But you're doing it again
You better duck down the alley way
Lookin' for a new friend
A man in the coonskin cap, in the pig pen
Wants eleven dollar bills, you only got ten
Maggie comes fleet foot
Face full of black soot
Talkin' that the heat put
Plants in the bed but
The phone's tapped anyway
Maggie says that many say
They must bust in early May
Orders from the D.A. Look out kid
Don't matter what you did
Walk on your tip toes
Don't tie no bows
Better stay away from those
That carry around a fire hose
Keep a clean nose
Watch the plain clothes
You don't need a weather man
To know which way the wind blows
Oh, get sick, get well
Hang around a ink well
Hang bail, hard to tell
If anything is goin' to sell
Try hard, get barred
Get back, write braille
Get jailed, jump bail
Join the army, if you fail
Look out kid
You're gonna get hit
But losers, cheaters
Six-time users
Hang around the theaters
Girl by the whirlpool
Lookin' for a new fool
Don't follow leaders, watch the parkin' meters
Oh, get born, keep warm
Short pants, romance
Learn to dance, get dressed, get blessed
Try to be a success
Please her, please him, buy gifts
Don't steal, don't lift
Twenty years of schoolin'
And they put you on the day shift
Look out kid
They keep it all hid
Better jump down a manhole
Light yourself a candle
Don't wear sandals
Try to avoid the scandals
Don't want to be a bum
You better chew gum
The pump don't work

'Cause the vandals took the handles
Dylan was moving beyond folk and into rock – with this album as a kind of folk-rock bridge.
The US critic Dave Marsh wrote: "By fusing the Chuck Berry beat of the Rolling Stones and the Beatles with the leftist, folk tradition of the folk revival, Dylan really had brought it back home, creating a new kind of rock & roll ... that made every type of artistic tradition available to rock."
It was smart, political, personal, poetic, surreal, strange and it also rocked in a new way.
With this album Dylan, who had reinvigorated folk music and made it relevant and contemporary now created a new genre which was adult, sometimes funny but frequently serious, penetrating and gripping. There had been nothing like this in folk or rock before.
Suddenly a new genre emerged: folk-rock. It was folk in that the lyrics meant something and rock in that it had a backbeat and often electric guitars.
FOLK-ROCK, the next big thing!
Here is Paul Simon's original version of Sounds of Silence (1965)
Paul Simon solo
Here's the version with Art Garfunkel in 1965. The harmonies sweeten the song but the drums and bass -- added by producer Bob Johnson without Simon's permission -- give urgency.
Simon and Garfunkel
Incidentally the young Paul Simon disliked Dylan because he (Simon) was trying to make it as a folk singer in New York but he was just the guy from Queens (a NYC borough) and here was this mysterious Dylan who seemed to have blown in from somewhere else and had a strange and alluring background which no one really knew.
Dylan had invented himself.
And the Byrds covered a number of Dylan's acoustic songs in a folk-rock style. Dylan was seeing the signs pointing to a new electric direction.
Mr Tambourine Man was covered by the Byrds and is a folk-rock classic (they were folkies who had seen the Beatles on TV and thought . . .)
Mr Tambourine Man by the Byrds (genre = folk-rock, a Bob Dylan cover, 1965)
and
and they wrote their own songs in the style
She Don't Care About Time 1965
And with the film for Subterranean Homesick Blues (which has his friend, the Beat poet Allen Ginsberg as the rabbi) Bob Dylan anticipated video clips. here
Subterranean Homesick Blues, Bob Dylan
Early '65 in Britain Dylan tours with an electric band, folk fans disapprove, on the tour Dylan becomes progressively more guarded and withdrawn as seen in the documentary Dont Look Back.
The sunglasses become an almost permanent fixture.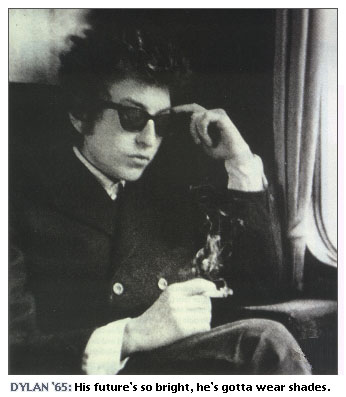 Here he meets Donovan
the glass incident
and manager Albert Grossman
and interviewed
July 20: he releases the six minute Like a Rolling Stone which broke the barrier for a single – usually they were three minutes, tops. It would appear on his Highway 61 Revisited album where he had electric guitars and rock musicians on every track. It was released in August and announced the end of his "folk/protest singer" past.
Like A Rolling Stone, Aug '65, by Bob Dylan
LIKE A ROLLING STONE
Once upon a time you dressed so fine
You threw the bums a dime in your prime, didn't you?
People'd call, say, "Beware doll, you're bound to fall"
You thought they were all kiddin' you
You used to laugh about
Everybody that was hangin' out
Now you don't talk so loud
Now you don't seem so proud
About having to be scrounging around
For your next meal
How does it feel?
How does it feel
To be without a home
With no direction home?
Like a complete unknown?
Like a rolling stone?
You've gone to the finest school all right, Miss Lonely
But you know you only used to get juiced in it
Nobody has ever taught you how to live on the street
And you find out now you're gonna have to get used to it
You said you'd never compromise
With the mystery tramp, but now you realize
He's not selling any alibis
As you stare into the vacuum of his eyes
And say, "Would you like to make a deal?"
How does it feel?
How does it feel
To be without a home
With no direction home?
Like a complete unknown?
Like a rolling stone?
You never turned around to see the frowns on the jugglers and the clowns
When they all come down and did tricks for you
You never understood that it ain't no good
You shouldn't let other people get your kicks for you
You used to ride on the chrome horse with your diplomat
Who carried on his shoulder a Siamese cat
Ain't it hard when you discover that
He really wasn't where it's at?
After he's taken everything he could steal
How does it feel?
How does it feel
To be without a home
With no direction home?
Like a complete unknown?
Like a rolling stone?
Princess on the steeple and all the pretty people
They're all drinkin', thinkin' that they got it made
Exchanging all precious gifts and things
But you'd better take your diamond ring, better pawn it babe
You used to be so amused
At Napoleon in rags and the language that he used
Go to him now, he calls you, you can't refuse
When you ain't got nothing, you got nothing to lose
You're invisible now, you got no secrets to conceal
How does it feel?
How does it feel
To be without a home
With no direction home?
Like a complete unknown?

Like a rolling stone?
And what was it about? Well, Greil Marcus wrote a whole book about it . . .
Five days later he appears at the Newport Folk Festival (where in previous years he had been acclaimed as the savior of the folk movement because of his appeal to younger people).
On the Saturday night he plays an acoustic set at a workshop but on the Sunday night as a headliner he comes on with an electric band and is booed. Some later said they booed because the sound was bad and they couldn't hear him (too loud and distorted) but most seemed to boo because the folk messiah was now a rock musician. They felt betrayed.
It is a major schism between folk and rock, and Dylan has created it. See here:
There was no turning back.

August: he goes the whole electric route with the album Highway 61 Revisited (again, read the cover image). It opens with Like a Rolling Stone and Desolation Row is well over 11 minutes.
You need to listen to this album in its entirety and listen to the coded messages (Ballad of a Thin Man)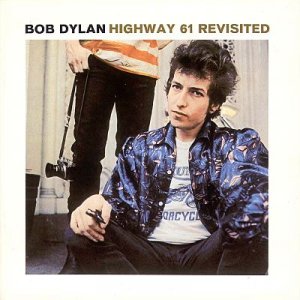 Oh God said to Abraham, "Kill me a son"
Abe says, "Man, you must be puttin' me on"

God say, "No." Abe say, "What?"

God say, "You can do what you want Abe, but

The next time you see me comin' you better run"

Well Abe says, "Where do you want this killin' done?"

God says, "Out on Highway 61"

Well Georgia Sam he had a bloody nose
Welfare Department they wouldn't give him no clothes

He asked poor Howard where can I go

Howard said there's only one place I know

Sam said tell me quick man I got to run

Ol' Howard just pointed with his gun

And said that way down on Highway 61

Well Mack the Finger said to Louie the King
I got forty red, white and blue shoestrings

And a thousand telephones that don't ring

Do you know where I can get rid of these things

And Louie the King said let me think for a minute son

And he said yes I think it can be easily done

Just take everything down to Highway 61 . . .
September: He releases the bitter Positively 4thStreet which can be read as a stab at a particular individual or the whole folk movement which had acclaimed him and now turned their back on him.
Released as a single, never played live. It was Dylan kissing goodbye to folk scene
Bob Dylan, Positively 4th Street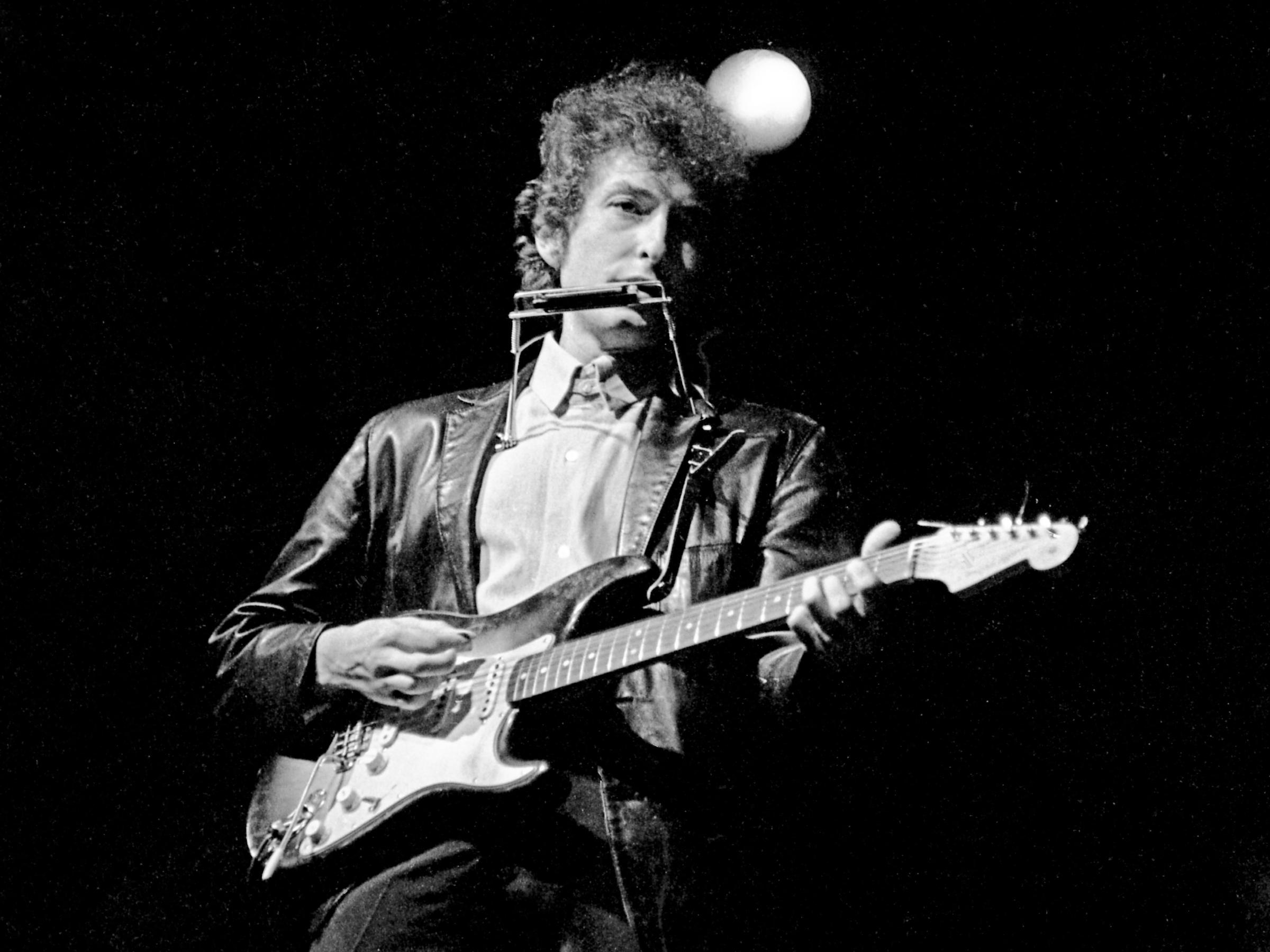 You got a lotta nerve, to say you are my friend
When I was down, You just stood there grinning
You got a lotta nerve, to say you got a helping hand to lend
You just want to be on the side that's winning
You say I let you down, you know it's not like that
If you're so hurt, why then don't you show it?
You say you lost your faith, but that's not where it's at
You had no faith to lose and you know it
I know the reason, that you talk behind my back
I used to be among the crowd you're in with
Do you take me for such a fool to think I'd make contact
With the one who tries to hide what he don't know to begin with?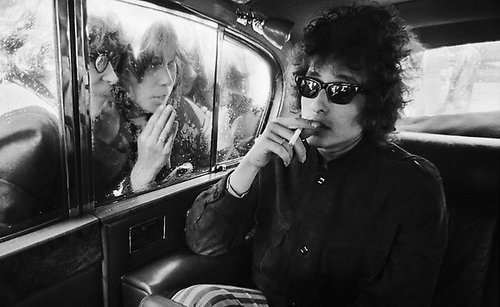 You see me on the street, you always act surprised
You say, "How are you?" "Good luck" but you don't mean it
When you know as well as me you'd rather see me paralyzed
Why don't you just come out once and scream it?
No, I do not feel that good when I see the heartbreaks you embrace
If I was a master thief perhaps I'd rob them
And now I know you're dissatisfied with your position and your place
Don't you understand, it's not my problem
I wish that for just one time you could stand inside my shoes
And just for that one moment I could be you
Yes, I wish that for just one time you could stand inside my shoes
You'd know what a drag it is to see you
San Francisco press conference 1965, he is introduced as a "poet"
He presses onward and taking a group of musicians on the road (they became known as The Band) he embarks on a lengthy tour playing his new electric music.
1966 at the Manchester Free Trade Hall, the infamous "Judas episode"
Dylan – increasingly behind shades, reclusive, determined – digs in deeper.
Dylan's lyrics after 1965?

Surreal
Allusive
Stream of consciousness
images piled onto one another
Ideas drawn from the Bible and popular culture
and set to a rock'n'roll country-rock beat.
No longer a "folk" singer or a "protest" singer . . . a rock poet
By the end of '65 his influence (literate lyrics, "protest") is everywhere.
Barry McGuire: Eve of Destruction (Dylan was furious about this, said if anyone was going to get on the charts sounding like Bob Dylan it should be Bob Dylan!)
In early '65 the British folk singer Donovan -- unfairly labellled as Britain's Bob Dylan, unfair because he had been on the road as a folk troubadour for a couple of years independent of Dylan -- sounded like this
Catch the Wind, 1964
and this
Colours 1965
a year later he sounded like this
Sunshine Superman 1966
and this
Mellow Yellow
AND THE BEATLES?
1965
Their previous album Beatles For Sale was a quick knock-off for the Christmas market BUT it did contain some darker songs like Baby's in Black and I Don't Want to Spoil the Party which were a long way from upbeat Beatle-pop.
They were getting weary of being trapped by Beatlemania, not being able to go anywhere, screaming audiences not hearing a note they played (they often couldn't hear themselves on stage either) and some of their new music wasn't really possible to play on stage to such audiences.
Lennon and Harrison particularly were starting to think about how frustrating it was . . . fortunately they had marijuana to tide them over.
February 65 — In the Bahamas, the Beatles begin filming a second movie, Help!
Ticket to Ride, single April. Beatles looking indifferent to having to mime and also slightly stoned?
June 65 — "Yesterday" is recorded at Abbey Road. McCartney records it solo on the same day as the throat-searing rocker I'm Down
Yesterday, from the Help! album 1965
August 65 — The Beatles' new single, "Help!," hits No. 1 in the U.K. Lennon in autobiographical mode, trapped by fame. The original demo was much slower, but here it is turned into archetypal beat-pop

Help! July '65
John Lennon "I meant it — it's real. The lyric is as good now as it was then. It is no different, and it makes me feel secure to know that I was that aware of myself then. It was just me singing "Help!," and I meant it."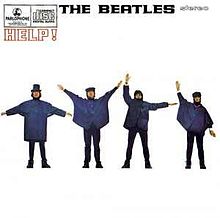 August 65 — The album Help! tops the U.K. chart.
August 65 — The largest crowd so far for a rock show, 56,000 fans, sees the Beatles play live at Shea Stadium, New York, starting their third U.S. tour.
September 65 — The soundtrack album Help! starts a nine-week run at No. 1 on the U.S. album chart. The US version however has some George Martin instrumentals in place of songs which were on the UK version
Aside from Lennon's autobiographical cri-de-couer on the title track you can hear the influence of Dylan's folk sound in this song
You've Got to Hide Your Love Away
September 65 — "Yesterday" is released in the U.S. as the new Beatles single.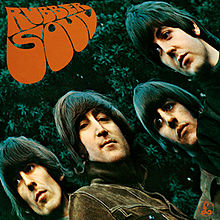 December 65 — The new album, Rubber Soul, enters the U.K. album chart.
The double A-side "Day Tripper"/"We Can Work It Out" is the latest Beatles U.K. No. 1. Neither song is on Rubber Soul.
We Can Work It Out: An early example of two separate and incomplete songs by McCartney (the verses) and Lennon (the middle eight) being arbitrarily but cleverly welded together.
May also owe a debt to the Uglies Wake Up My Mind of the same year (here).
We Can Work It Out, Dec '65. B-side to Daytripper single

Rubber Soul
Rubber Soul seen in retrospect as a major musical and lyrical turning point, perhaps driven by the need to up their game against the competition.
This -- basically a Dylanesque
folk song (again Lennon telling a story) -- comes with exotic colour from Indian sitar. Lennon adopting the Dylan look, the flat cap which working class men in Liverpool also wore. Lennon is "positioning" himself.

Norwegian Wood

Norwegian Wood, Oct '65, take one
Here's Dylan's 4th Time Around is his rejoinder? A parody of this and/or himself?

Fourth Time Around, May '66 by Bob Dylan (from Blonde on Blonde)
(Interestingly enough the Beatles weren't quite the first to explore Indian music which is full of drones. Jazz musicians and some folk artists -- like Davy Graham -- had experimented with different tunings, microtones and drones. And when the Kinks were returning to Britain after a tour of Australasia they stopped off in India and Ray Davies heard the drone style and adopted it for See My Friends released shortly before Norwegian Wood)
Raga-rock, the next big thing!!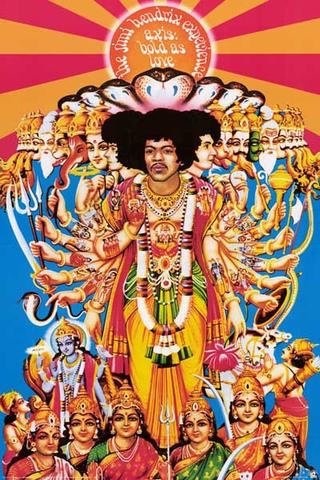 Suddenly because of the Beatles' use of the Indian sitar, raga-rock as a genre appeared (raga being Hindi for song/musical piece/meodic structure) which used Indian instruments (tabla drums, sitars, drone instruments) or just deployed microtones and odd tuning and time signatures.
It became a pervasive genre for the next five years and you can still hear elements of it today in hip-hop sampling and of course progressive rock. The Beatles -- especially Harrison -- continued to explore Indian music, Hindu philosophy and so on.
Check Jimi Hendrix's album cover here! (Although he never really made raga-rock)
But Rubber Soul had a whole lot going on for it, and people like Brian Wilson of the Beach Boys heard it and realised they needed to up their game: the Beatles had delivered An Album and not just a collection of songs.
(Incidentally the US version of Rubber Soul dropped the first soul-rock track Drive My Car in favour os McCartney's jaunty I've Just Seen a Face -- which had been on the UL version of Help! -- to make the album sound more . . . folk-rock!)
In My Life from Rubber Soul, released December '65
By 1965 Lennon had realised that the artist could be the subject of the art and -- encouraged by both Dylan's surreal writing and journalist Kenneth Alsop who suggested he write something more like his strange, stream of consciousness and word play books (In His Own Write in '64 and Spaniard in the Works '65 )-- he started to imagine a bus trip from his home in Liverpool into the city.
"I had Penny Lane, Strawberry Fields, tram sheds – and it was the most boring sort of 'What I Did On My Holidays Bus Trip' song and it wasn't working at all. I cannot do this! I cannot do this!
"But then I laid back and those lyrics started coming to me about places I remember . . . And it was, I think, my first real major piece of work. Up until then it had all been sort of glib and throwaway. And that was the first time I consciously put my literary part of myself into a lyric."
In My Life Dec 3 '65. Rubber Soul album
Girl from Rubber Soul
Girl
If I Needed Someone from Rubber Soul (written by George Harrison, one of two originals by him on the album. He had two on Help! also. He is emerging as a distinctive, different songwriter . . . a band with THREE songwriters now)
This very influenced by the Hollies? (They covered it, but it is their first single in two years not to get into the top 10 in the UK, it stalls at #20!)
If I Needed Someone (Harrison)
And here's another inventive piece, mostly by Lennon, on Rubber Soul. (Talking to himself as he is emotionally adrift at this time, and smoking a lot of marijuana.)
Nowhere Man (from Rubber Soul)
Nowhere Man
AND OTHERS
THE ROLLING STONES
Posited as rivals to the Beatles. After mostly doing blues and rhythm and blues covers (and recording Lennon-McCartney's I Want to be Your Man) they began to write their own material starting seriously with The Last Time (Feb '65, derived from a Staples Singers old gospel song)
This May Be The Last Time
The Last Time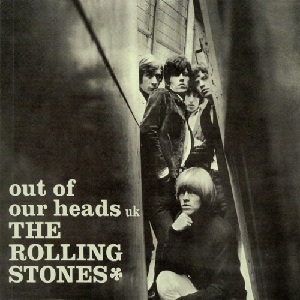 Once the Rolling Stones (Mick Jagger and Keith Richards) started writing their own songs they gave the Beatles a real run for their money AND many of their songs were freighted with social and political comment which the Beatles didn't approach.
Consider the following singles from '65-'66
Play with Fire (the B-side of The Last Time) which mentions class divisions being eroded
"your mother she's an heiress owns a block in St John's Wood . . . now she gets her kicks in [working class] Stepney not in [upperclass] Knightsbridge anymore"
Play With Fire, Feb '65
I Can't Get No Satisfaction (sexual comment, an attack on commercialism/consumerism and often considered the first song by a major artist which was distinctively rock as opposed to pop)
It is adult in that it is sensual, alludes to sex and consumerism, and sounds sleazy.
Get Off Of My Cloud (consumerism again)
Get Off Of My Cloud, Sept '65
19th Nervous Breakdown (again class by implication, and prescription drugs)
19th Nervous Breakdown, Feb '66
Paint It Black (melancholy, nihilistic gloom)
Paint It, Black. May 1966
Mother's Little Helper (about over the counter and prescription pills cf by implication marijuana)
Mother's Little Helper, June '66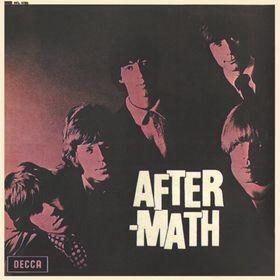 Let's Spent the Night Together (overt sex)
on albums they addressed the music industry quite cynically (Under Assistant West Coast Promo Man), Jagger came off as brutally misogynistic (Under My Thumb), they sang of class/sex (Back Street Girl) and sex with older women/fans/wealthy older women slumming it with rock stars (Spider and the Fly, later on again on Honky Tonk Women), drugs (Something Happened to Me Yesterday) and more.
Under My Thumb, from the album Aftermath, April '66
Various members of the Stones were busted for marijuana during this period
This is all ADULT stuff now because rock music has emerged with a swaggering confidence so any topic can be addressed. And this is just three years on from when the Beatles first broke through in Britain with cheerful upbeat pop.
THE WHO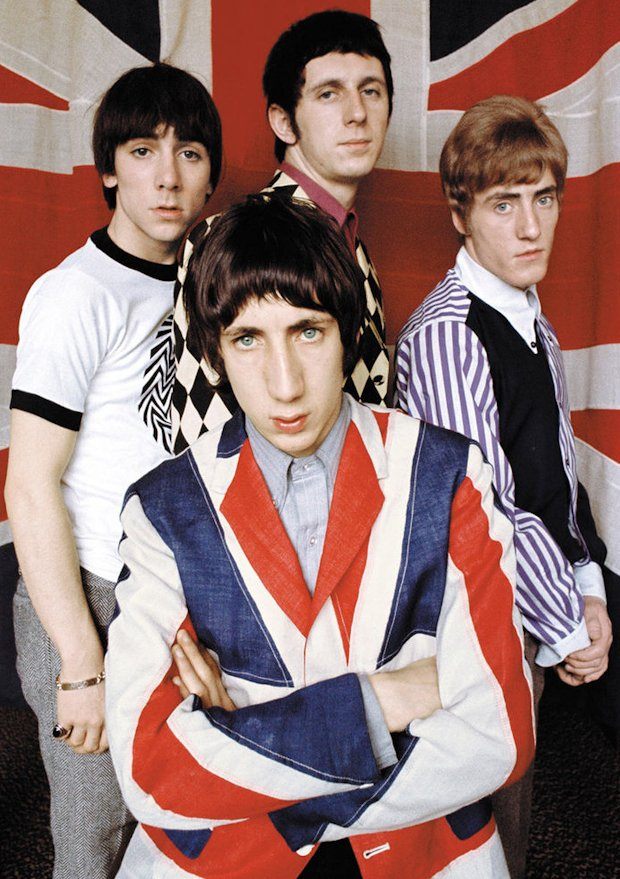 A series of quickfire singles. Songwriter Pete Townshend, singer Roger Daltrey, bassist John Entwhistle, drummer Keith Moon. Mod culture.
Is there a broad theme running through Townshend's lyrics?
He wrote for his audience but also from his audience because he knew them, could see them up close and so understood them, all their anger, frustrations, immaturity, aggression, confidence or lack of self-confidence . . .
He was like a documentarian-sum-commentator of and from Mod culture.
And the Who looked the part in their Union Jacket and Mod clothes. Fashion was important in Mod culture, and fashion was was advancing as rapidly as the music in 1965.
Hair stylists, fashion photographers and models were also as feted as pop stars, and they all moved in the same circles.
I Can't Explain 1964
Anyway, Anyhow, Anywhere 1965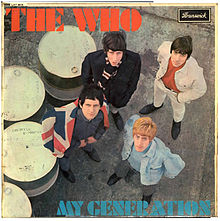 My Generation from the album of the same name, released December '65
"People try to put us down, just because we get around, thing they do look awful c-c-c-cold, hope I die before I get old. It's my generation, why don't you all just f-f-f-fade away and don't try and dig what we all say . . ."
This is them live on television. Stick around for the explosive ending.
THE SMALL FACES
Singer Stevie Marriott, drummer Kenney Jones, keyboard player Ian McLagan, guitarist Ronnie Lane.
"I'd joined a soul band and all of a sudden we were a pop band playing to little girls" -- Ian McLagan
This is their debut single which shows the soul elements, 1965
and later an original Lazy Sunday Afternoon 1968
we hear the influence of marijuana in its mood and lyrics, but also a look back to British music hall singalongs. A very "English" song.
And London has become the global capital of pop music, fashion (through the likes of Mary Quant and Carnaby Street), photography, the arts . . .

Go here for a doco on this particular part of the Beatles' decade. The other parts of the doco are also worth watching, this is episode three.
THE KINKS
lead by singer-songwriter Ray Davies with brother Dave on bass. Big raw hits with You Really Got Me and All Day and All of the Night in '64.
Over the following years Ray Davies becomes increasingly "English" in his themes and lyrics. Because? They had been shut out of touring in the USA after mid '65 so his attention turned to the world around him.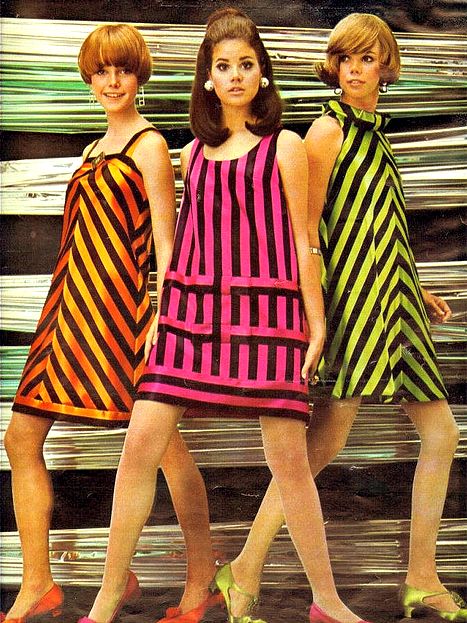 Dedicated Follower of Fashion (a comment on "Swinging London") 1966
And although the Kinks adopted the look early on (as on their '64 debut album below) by late 1965 their songwriter Ray Davies (more on him later) was casting a cynical eye at these people who were slaves to fashion.
Dedicated Follower of Fashion (January 1966)
They seek him here, they seek him there
His clothes are loud, but never square
It will make or break him so he's got to buy the best
'Cause he's a dedicated follower of fashion
And when he does his little rounds
'Round the boutiques of London Town
Eagerly pursuing all the latest fads and trends
'Cause he's a dedicated follower of fashion
Oh yes he is (oh yes he is), oh yes he is (oh yes he is)
He thinks he is a flower to be looked at
And when he pulls his frilly nylon panties right up tight
He feels a dedicated follower of fashion
Oh yes he is (oh yes he is), oh yes he is (oh yes he is)
There's one thing that he loves and that is flattery
One week he's in polka-dots, the next week he is in stripes
'Cause he's a dedicated follower of fashion
They seek him here, they seek him there
In Regent Street and Leicester Square
Everywhere the Carnabetian army marches on
Each one an dedicated follower of fashion
Oh yes he is (oh yes he is), oh yes he is (oh yes he is)
His world is built 'round discotheques and parties
This pleasure-seeking individual always looks his best
'Cause he's a dedicated follower of fashion
Oh yes he is (oh yes he is), oh yes he is (oh yes he is)
He flits from shop to shop just like a butterfly
In matters of the cloth he is as fickle as can be
'Cause he's a dedicated follower of fashion
He's a dedicated follower of fashion
He's a dedicated follower of fashion
Sunny Afternoon, 1966. A comment on. . .?
Post-war austerity in the UK Vs post-war prosperity in the USA
How a nation sees itself 1965?
In Britain this programme had (still has) a high viewership: this episode late '64 (when Beatles for Sale was top of the charts)
In the USA this weekly family comedy -- widower Dad, three sons and "Uncle Charley" -- from later that year (here)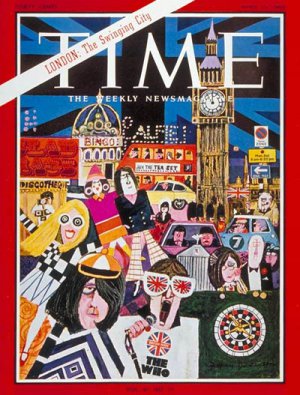 April 15, 1966 London is on the cover of Time magazine as the swinging city.
The article began: "In this century, every decade has had its city. The fin de siècle belonged to the dreamlike round of Vienna, capital of the inbred Habsburgs and the waltz. In the changing '20s, Paris provided a moveable feast for Hemingway, Picasso, Fitzgerald and Joyce, while in the chaos after the Great Crash, Berlin briefly erupted with the savage iconoclasm of Brecht and the Bauhaus. During the shell-shocked 1940s, thrusting New York led the way, and in the uneasy 1950s it was the easy Rome of la dolce vita. Today, it is London . . . ."
The previous year US country singer Roger Miller had recorded this . . .
But Ray Davies of the Kinks -- the great observer of Englishness -- knew the Swinging London scene affected very few. Most people still lived pretty dreary lives on dead end streets.
Dead End Street. 1966. Social realism in pop music (with its heart and style in British music hall singalong traditions), and it went top five in the UK. People got that pop music could make social comment. It was just part of the musical palette now.
And not everyone was swept up in Swinging London and fashion.
There's a crack up in the ceiling,
And the kitchen sink is leaking.
Out of work and got no money,
A Sunday joint of bread and honey.
What are we living for?
Two-roomed apartment on the second floor.
No money coming in,
The rent collector's knocking, trying to get in.
We are strictly second class,
We don't understand,
(Dead end!)
Why we should be on dead end street.
(Dead end!)
People are living on dead end street.
(Dead end!)
Gonna die on dead end street.
Dead end street (yeah)
Dead end street (yeah)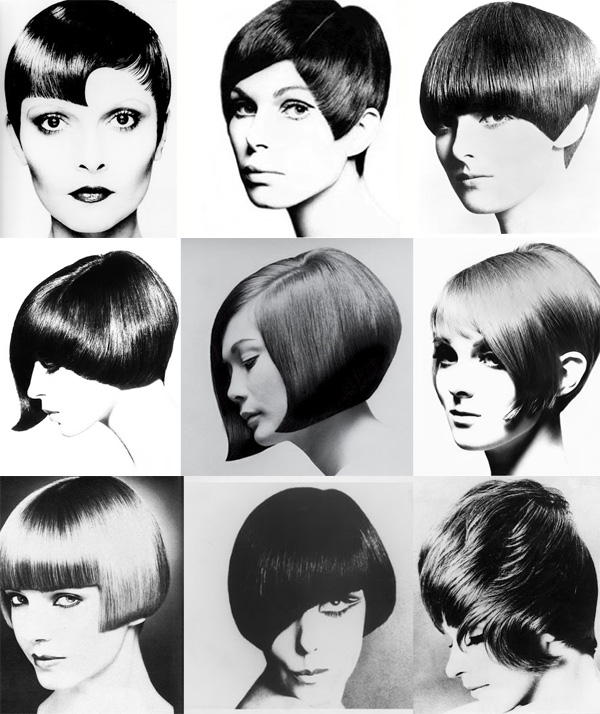 On a cold and frosty morning,
Wipe my eyes and stop me yawning.
And my feet are nearly frozen,
Boil the tea and put some toast on.
What are we living for?
Two-roomed apartment on the second floor.
No chance to emigrate,
I'm deep in debt and now it's much too late.
We both want to work so hard,
We can't get the chance,
(Dead end!)
People live on dead end street.
(Dead end!)
People are dying on dead end street.
(Dead end!)
Gonna die on dead end street.
Dead end street (yeah)
Dead end street (yeah)
(Dead end!)
People live on dead end street.
(Dead end!)
People are dying on dead end street.
(Dead end!)
Gonna die on dead end street.
Here are the top 10 singles in the UK in 1965, and here the list from the US
Dylan press in 1966!

.