Graham Reid | | 7 min read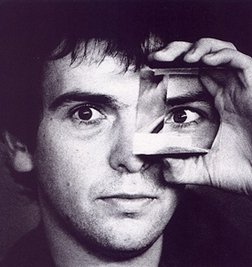 In late '77 Peter Gabriel -- two years after quitting Genesis at their creative peak with the ambitious concept album The Lamb Lies Down on Broadway -- told NME "I felt that [Genesis] were just at a point of breaking through to the Big Time.
"I just felt that if I'd stayed I would have got trapped into roles that I was beginning not to enjoy -- both within the band and within myself."
In the song Solsbury Hill on his debut solo album of '77 -- the first of four albums simply entitled "Peter Gabriel" -- he put it another way.
In a voice of increasingly urgency he sang, "I did not believe the information, I just had to trust imagination . . . open doors would soon be shut . . . I walked right out of the machinery, my heart going boom boom boom".
Gabriel's trust in his imagination -- the same which had driven Lamb Lies Down -- was well placed and those first four solo albums show the growth of an artist adept at balancing the personal and political, the surreally silly and the serious.
In a few short years he would also intelligently engage with the new synthesizer technology (and have a profound influence on people like Kate Bush) as well as step towards world music, establish his Real World label and become the driving force behind Womad.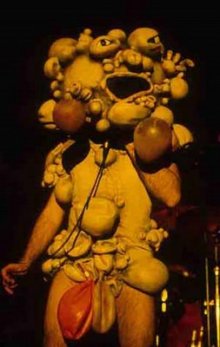 Quite some journey for a man who had dressed like a demented concoction of vegetables during his Genesis days.
Yet you might also have guessed that his early embrace of technology and highly visual artistic concepts would also mean he would be in the vanguard of ground-breaking videos on MTV.
Gabriel's debut solo album -- often referred to as Car or Rain because of the arty cover shot by Peter Christopherson of Hipgnosis which had done many Pink Floyd covers and posters -- was an announcement that while the conceptual stuff of latter-day Genesis would take a back seat, his musical ambition would not.
Among the assembled cast was guitarist Robert Fripp of King Crimson, an innovator and musical explorer who was similarly not constrained by any established idioms.
Interestingly too the album was produced by Bob Ezrin who had previously worked with hard rock bands like Aerosmith, Kiss and Alice Cooper (and would go on to projects with Kansas and Jane's Addiction as well as co-produce Pink Floyd's The Wall with David Gilmour and Roger Waters).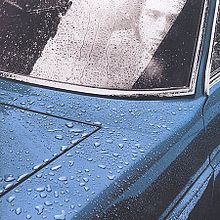 Clearly Gabriel was looking to make a statement and the opening track did exactly that. Moribund the Burgermeister (not the most tongue-friendly title) is a dramatic piece which alternates between quieter verses with Gabriel's eerie and menacing voice echoed and distant over percussion, but which then leaps out with edgy rock guitars and synths.
And it's anyone's guess as to what it is about.
It does sound like it might have been a lost passage and character from Lamb Lies Down.
Elsewhere Gabriel delivered a possible single in the rocking Modern Love which opens with Keith Richards-like riffery, and the emotionally soaring and melodically repetitive Solsbury Hill. But much of the album suffered from over-production and indulgence (the close harmony faux-lounge jazz of Excuse Me which sounds a little like Randy Newman, and Waiting for the Big One) and even he seemed dissatisfied with Here Comes the Flood which he readdressed in stripped back versions later, notably one included on Fripp's Exposure album two years on.
You sense a blistering rock track like Slow Burn -- again with complex time changes, stop-start dynamics -- might have benefitted from some clearer focus.
Still, as a step into a solo career it staked out a wide territory both musically and emotionally ("I'm not the man I used to be, someone else crept in again, I want to be alone") and gave him a decent hit single in Solsbury Hill.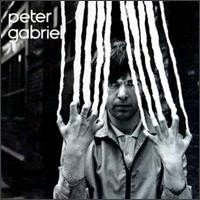 His second solo album in '78 -- usually referred to as Scratch -- again found Fripp on hand (this time as a player and producer).
This was a darker and more prog album in many places and -- despite more Fripp rock guitar chords in the rowdy openers On the Air and the throbbing, piano-punctuated DIY -- there was even more experimentalism going on.
Those fractured structures of his songs are thrown into greater focus throughout and the album doesn't hang together as well as that devbut.
Mother of Violence (a gentle piano piece with Roy Bittan from Springsteen's E Street Band) rewards careful attention -- it helps to have the lyric sheet -- and the sonic experimental landscape of Exposure (the guitarist's Frippertronics to the fore, an offshoot of his work with Brian Eno) pointed to a profitable direction. But it was one Fripp would take on his own albums, not with Gabriel.
Gabriel also has something of the music hall entertainer in him (A Wonderful Day) but that sits uneasily within what are serious songs.
Throughout there are the guitarist's loops and effects adding colour and texture (the dreamy, five minute White Shadow) but the album seems to only cautiously embrace their possibilities. Too often Gabriel and Fripp pull back in order to satisfy the need for discrete songs.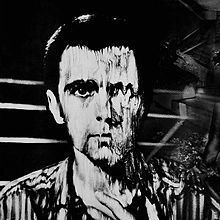 Scratch was read at the time as not being as satisfying as that debut, which perhaps explains the great leap forward for his third solo album two years later with new producer Steve Lillywhite . . . usually referred to as Melt after its processed cover image.
Melt was received with universal acclaim for the breadth of its vision, power of Gabriel's reinvention and the emotional conviction he brought. That it also contained some of his most interesting music and arrangements elevated it even further.
This was an album which delivered its uncomfortableness right up front (the opener Intruder is a menacing piece with what sounds like a knife scraping across wires as Gabriel sings "I know how to move quietly, to creep across creaky wooden floors"). No Self Control which follows is a character who admits he doesn't know how to stop inflicting pain on others and himself, and the incessant marimba pattern adds an even more unnerving aspect.
Everywhere Gabriel adopts characters and unusual perspectives (Family Snapshot is about the Kennedy assassination from the gunman's perspective, with a twist at the end), starts introducing African elements which would become more pronounced over time, and calls on a cast which included Paul Weller, Phil Collins, Fripp, jazz saxophonist Dick Morrissey, bassist Tony Levin . . .
Gabriel was going for broke and in the final track Biko he brought the murderous South African apartheid regime into people's living rooms and onto mainstream radio. It was a remarkable piece of music and a political message which didn't reduce complex issues to a mere slogan.
Melt is, not surprisingly an Essential Elsewhere album and is given more full consideration here.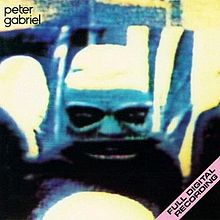 At his record company's insistence his fourth solo album was actually given a title in some territories (Security).
In it's breath of musical and cultural influences it reflects his position as a founder of Womad (Ghanaian percussion, Wallflower about prisoners of conscience) but many found it heavy handed after Melt.
This was an album rarely redeemed by any flicker of humour and the claustrophobia of both his production and the lyrics ("suffocated by mirrors, stained by dreams" in The Family and the Fishing Net, "I'm living in the zone of the in-betweens" on Lay Your Hands on Me) made hard going. In places it seemed suffused in guilt at his position as a wealthy, intelligent Westerner of privilege.
"There's little in the way of of melody (in the sense of Games Without Frontiers or Solsbury Hill) so the listener can't be merely entertained," wrote Adam Sweeting in Melody Maker. "He/she is forced into becoming an accomplice. Is being sucked into Peter Gabriel's obsessions a potentially cathartic experience? For him maybe, not so sure about me."
The bleak content drew Gavin Martin in NME to comment, "What is it that makes Gabriel and his ilk think that to address misery and depression the artist must sound miserable and depressed. Even when he uses the Ekome Dance Company -- who, I'm sure, use music as a buoyant and uplifting release in their native environment -- his music sounds like he's serving penance for the impurity and decay of the entire Western world. What are we going to do with these arthouse bores?"
Martin needn't have worried.
On his next album So, Gabriel -- who had performed Marvin Gaye's Ain't That Peculiar in concert regularly and chose to name that fourth album after Otis Redding's song Security -- went right back to joyous Motown influences for the single (and groundbreaking video) Sledgehammer. That song's populist touch -- and the lovely Don't Give Up with Kate Bush -- brought him a new audience which had probably endured or ignored these first solo albums.
But that was another Peter Gabriel for another time.
The journey to that point was carved out in these first four albums which are sometimes studded with genius, at other times flawed and indulgent. But they are always worth returning to.
As New York Times critic Jon Pareles wrote in '86, "Since he left Genesis in 1975 for a solo career, Mr Gabriel has written about amnesia, about faith healing, about psychosis, about revelations, about torture, about transcendence -- all moments when the 'self' disappears. And at a moment when rock marketing wisdom decrees that a succesful musician needs to stick to a recognisable image, or identity, Mr Gabriel avoided one, letting listeners conjure him for themselves. His first four solo albums didn't even have their own titles, just his name."
The Peter Gabriel story continues here.
Like the idea of this? Then check out this.