Graham Reid | | 15 min read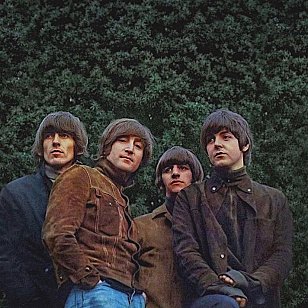 "I've met them. Delightful lads. Absolutely no talent" -- actor/writer Noel Coward on the Beatles.
"The thing with them is that almost every track on each of their albums is memorable. When they arrived at the beginning of the Sixties there was a lot of dross in the charts, and the Beatles legitimised coming from England in the face of all this brilliant American rock'n'roll" -- Jools Holland
By the mid-Sixties because of the initial rush of Beatlemania and the British Invasion, the focus of global culture had moved from the USA to London. It was where musicians, photographers, fashionistas, hairstylists and so on were working. This was a massive cultural, social and even political shift.
During 1965 the Beatles continued to tour, record singles and albums, and also make another movie (the travelogue-romp Help!) All this took its toll . . . and the music changed considerably.
But a listen back to an alternative Beatles in '63 and '64 -- not the upbeat pop hits -- shows some interesting musical elements and ambitions beyond beat-pop. And it is all intuitive.
This Boy: Sophisticated three-part harmony, 12/8 time, intricately structured and emotionally contrasting middle eight/bridge (Lennon influenced by Smokey Robinson) with a sudden stop on a key word
This Boy, Nov '63. B-side to I Want to Hold Your Hand
And I Love Her: Deft acoustic setting of some very ordinary lyrics, interesting key changes, title almost incidental in the lyrics, middle eight added in the studio
And I Love Her, July '64. A Hard Day's Night album
If I Fell: "One gets the impression they think simultaneously of melody and harmony, so firmly are the major tonic sevenths and ninths built into their tunes" -- William Mann, London Times' classical music writer, 1963
Here "the melody itself seems written as harmonized -- both lines are so lyrical it's hard to say which one is the 'melody' " -- Tim Riley, Tell Me Why; The Beatles; Album by Album, Song by Song, The Sixties and After. Pub 2002
If I Fell is also an interesting narrative, and you can pick up some internal references to their previous hits
If I Fell, July '64. A Hard Day's Night album
Baby's in Black: Sort of a waltz, a little bit country and blues, a co-write (increasingly rare) and again that shifting melodic line . . .
Baby's in Black, Dec '64. Beatles for Sale
Yes It Is: Another "colour" song (Baby's in Black and here she wears red/scarlet. An interesting symbolic colour). Very similar to This Boy (same tempo, structure). Harrison using his tone pedal guitar (which he would use also on his I Need You -- on the Help! album -- recorded at the same time to get the fade-in sound)
Yes It Is, April '65. B-side to Ticket to Ride
So the musical experimenting was being done at the same time as they were delivering classy, concise pop.
"The Beatles were such profoundly artistic people that they gave themselves massive licence to be their own artistic selves. That was how it was possible to sustain the group, because they could say or do harsh things to each other.
"The could reject things in songs that were corny and come out with this most superb finished work. They had this way of dealing with each other's weaknesses so that only the strengths came through." -- Derek Taylor, longtime friend and Beatles' press officer
At the time there was also a pairing of music and the visual arts (Pop Art, Op Art, fashion photography etc) . . . and many British musicians were not just aware of the visual arts but smart about their image.
Why?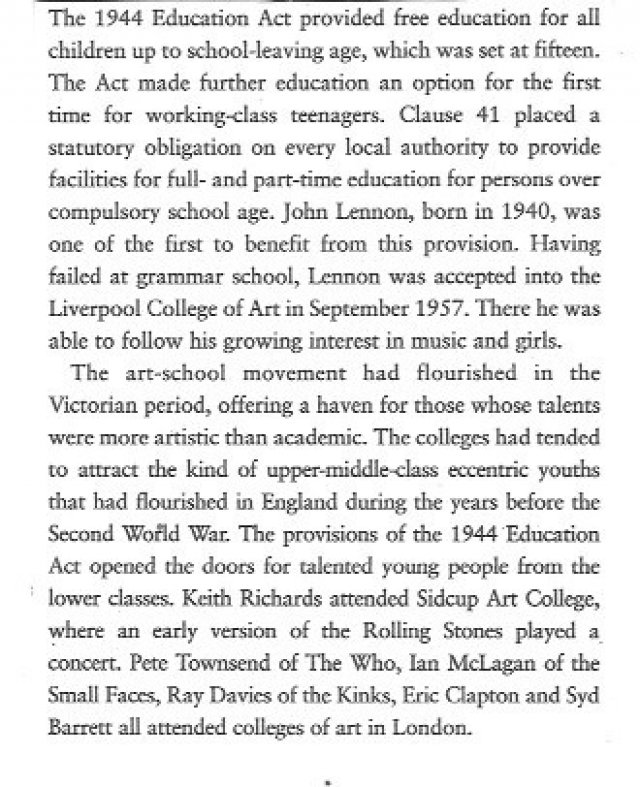 ELSEWHERE IN '65
BOB DYLAN: During '63 and '64 he had cemented his reputation as "the spokesman for his generation" with songs like The Times They Are A Changin' and Blowing in the Wind.
Blowin' in the Wind (1963)
The Times They Are A-Changin'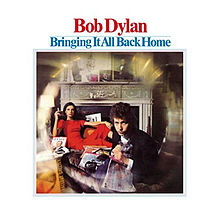 But he knew the times were changing too.
"[The Beatles] were doing things nobody was doing. Their chords were outrageous and their harmonies made it all valid. I knew they were pointing to the direction where music had to go". -- Bob Dylan
Dylan and the Beatles met in Aug '64 when he was touring in Britain. The Beatles had been listening to his albums. He gave them their first serious introduction to marijuana at that meeting.
In March '65 his album Bringing It All Back Home launched a dramatic new era and his transition from folk into rock. One side of the album was acoustic (Mr Tambourine Man, Gates of Eden, It's All Right Ma and It's All Over Now Baby Blue) the other side -- the first side -- with an electric band (notably Subterranean Homesick Blues and Maggie's Farm)
Dylan would later credit the Beatles and the Animals (their electric version of House of the Rising Sun) as indicators of a new direction.
Folk-rock
And American groups began to challenge the British Invasion. The emerging style of folk-rock (folk with a backbeat and elelectric guitars, sort of Dylan + Beatles) came through in groups like the Byrds who had considerable success with songs by Dylan.
Mr Tambourine Man by the Byrds (genre = folk-rock, a Bob Dylan cover, 1965)
But Dylan too, like the Beatles, was moving on fast. He put aside folk for rock.
Subterranean Homesick Blues, Bob Dylan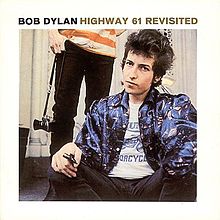 Lyrically Dylan had brought a literary sensibility into popular music (drawing on the poetry of the Beats like Allen Ginsberg, but alluding to the Bible, surrealism etc) but he also presented some memorable radio-pop songs.
Love Minus Zero/No Limit, March '65 by Bob Dylan
Then came Like a Rolling Stone (July '65) and his classic rock album Highway 61 Revisited (Aug '65)
Like A Rolling Stone, Aug '65, by Bob Dylan
Dylan's music -- especially his move into rock with an electric band -- was a game changer. US writer Greil Marcus wrote an excellent book just on Like a Rolling Stone (see here). The six-minute song is considered the greatest single in rock by Rolling Stone magazine.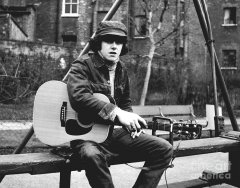 In the UK there was Donovan who started as a folk singer in the shadow of Dylan (somewhat unfairly) who had songs like Catch the Wind
Catch the Wind, 1964
and
Colours 1965
but by '66 he was really stretching. This came out in the US in June '66 but not until December in the UK. But it caught the mood of the changing times. Among the session musicians are Jimmy Page (guitar) and John Paul Jones (bass) later to form Led Zeppelin
Sunshine Superman 1966
SO FOLK WAS HAVING AN IMPACT INASMUCH AS WORDS WERE BECOMING MORE IMPORTANT: YOU COULD ACTUALLY "SAY" SOMETHING WITHIN THE CONTEXT OF A POP SONG
on the other hand you could just be visceral and sexy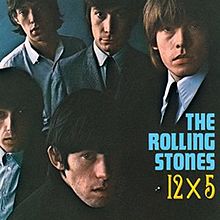 THE ROLLING STONES
Posited as rivals to the Beatles. After mostly doing blues and rhythm and blues covers (and recording Lennon-McCartney's I Want to be Your Man in their own distinctive style).
I Wanna be Your Man (Beatles)
I Wanna be Your Man (Rolling Stones)
But they began to write their own material starting seriously with The Last Time (Feb '65, derived from a Staples Singers old gospel song)
This May Be The Last Time
The Last Time
And then I Can't Get No Satisfaction (May '65) which some argue is the transition from pop to rock.
It is adult in that it is sensual, alludes to sex and consumerism, and sounds sleazy.
THE WHO
A series of quickfire singles. Songwriter Pete Townshend, singer Roger Daltrey, bassist John Entwhistle, drummer Keith Moon. Mod culture. Is there a broad theme running through Townshend's lyrics?
I Can't Explain
Anyway, Anyhow, Anywhere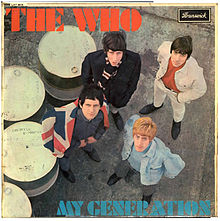 My Generation from the album of the same name, released December '65
"People try to put us down, just because we get around, thing they do look awful c-c-c-cold, hope I die before I get old. It's my generation, why don't you all just f-f-f-fade away and don't try and dig what we all say . . ."
This is them live on television.
THE SMALL FACES
Singer Stevie Marriott, drummer Kenney Jones, keyboard player Ian McLagan, guitarist Ronnie Lane.
"I'd joined a soul band and all of a sudden we were a pop band playing to little girls" -- Ian McLagan
This is their debut single which shows the soul elements
this from very early '66, written by Englishman Kenny Lynch (who wrote Misery which the Beatles covered on the Please Please Me album) and Mort Shuman (an American, he wrote Viva Las Vegas for Elvis in '63). Again a soulful delivery by Stevie Marriott.
and an original Lazy Sunday Afternoon
we hear the influence of marijuana in its mood and lyrics, but also a look back to British music hall singalongs. A very "English" song.
And London has become the global capital of pop music, fashion (through the likes of Mary Quant and Carnaby Street), photography, the arts . . .

Go here for a doco on this particular part of the Beatles' decade. The other parts of the doco are also worth watching, this is episode three.
THE KINKS
Lead by singer-songwriter Ray Davies with brother Dave on bass. Big raw hits with You Really Got Me and All Day and All of the Night in '64.
Over the following years Ray Davies becomes increasingly "English" in his themes and lyrics. Because? They had been shut out of touring in the USA after mid '65 so his attention turned to the world around him. This from Wikipedia sums it up . . .
"Following a mid-year tour of the United States, the American Federation of Musicians refused permits for the group to appear in concerts there for the next four years, effectively cutting off the Kinks from the main market for rock music at the height of the British Invasion.] Although neither the Kinks nor the union gave a specific reason for the ban, at the time it was widely attributed to their rowdy on-stage behaviour.] It has been reported that an incident when the band were taping Dick Clark's TV show Where The Action Is in 1965 led to the ban. Ray Davies recalls in his autobiography, "Some guy who said he worked for the TV company walked up and accused us of being late. Then he started making anti-British comments. Things like 'Just because the Beatles did it, every mop-topped, spotty-faced limey juvenile thinks he can come over here and make a career for himself,'" following which a punch was thrown and the AFM banned them."
Dedicated Follower of Fashion (a comment on "Swinging London")
Sunny Afternoon A comment on. . .?
Dead End Street. A comment on. . .?
"Dead End Street"
There's a crack up in the ceiling,
And the kitchen sink is leaking.
Out of work and got no money,
A Sunday joint of bread and honey.
What are we living for?
Two-roomed apartment on the second floor.
No money coming in,
The rent collector's knocking, trying to get in.
We are strictly second class,
We don't understand,
(Dead end!)
Why we should be on dead end street.
(Dead end!)
People are living on dead end street.
(Dead end!)
Gonna die on dead end street.

Dead end street (yeah)
Dead end street (yeah)

On a cold and frosty morning,
Wipe my eyes and stop me yawning.
And my feet are nearly frozen,
Boil the tea and put some toast on.
What are we living for?
Two-roomed apartment on the second floor.
No chance to emigrate,
I'm deep in debt and now it's much too late.
We both want to work so hard,
We can't get the chance,
(Dead end!)
People live on dead end street.
(Dead end!)
People are dying on dead end street.
(Dead end!)
Gonna die on dead end street.

Dead end street (yeah)
Dead end street (yeah)

(Dead end!)
People live on dead end street.
(Dead end!)
People are dying on dead end street.
(Dead end!)

Gonna die on dead end street.
.
Post-war austerity in the UK Vs post-war prosperity in the USA
How a nation sees itself 1965?
In Britain this programme had (still has) a high viewership: this episode late '64 (when Beatles for Sale was top of the charts)
In the USA this weekly family comedy -- widower Dad, three sons and "Uncle Charley" -- from later that year (here)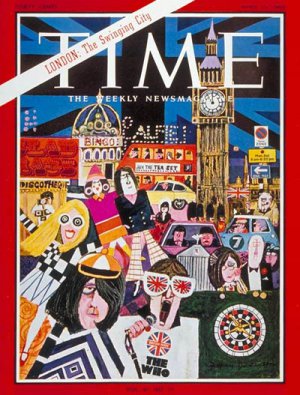 April 15, 1966 London is on the cover of Time magazine as the swinging city.
The article began: "In this century, every decade has had its city. The fin de siècle belonged to the dreamlike round of Vienna, capital of the inbred Habsburgs and the waltz. In the changing '20s, Paris provided a moveable feast for Hemingway, Picasso, Fitzgerald and Joyce, while in the chaos after the Great Crash, Berlin briefly erupted with the savage iconoclasm of Brecht and the Bauhaus.
"During the shell-shocked 1940s, thrusting New York led the way, and in the uneasy 1950s it was the easy Rome of la dolce vita. Today, it is London . . . ."
The previous year US country singer Roger Miller had recorded this . . .
AND THE BEATLES?
1965
February 65 — In the Bahamas, the Beatles begin filming a second movie, Help!

June 65 — "Yesterday" is recorded at Abbey Road. McCartney records it solo on the same day as the throat-searing rocker I'm Down
Yesterday, from the Help! album 1965
August 65 — The Beatles' new single, "Help!," hits No. 1 in the U.K. Lennon in autobiographical mode, trapped by fame. The original demo was much slower, but here it is turned into archetypal beat-pop

Help! July '65
John Lennon "I meant it — it's real. The lyric is as good now as it was then. It is no different, and it makes me feel secure to know that I was that aware of myself then. It was just me singing "Help!," and I meant it."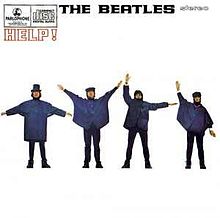 August 65 — The album Help! tops the U.K. chart.
August 65 — The largest crowd so far for a rock show, 56,000 fans, sees the Beatles play live at Shea Stadium, New York, starting their third U.S. tour.
September 65 — The soundtrack album Help! starts a nine-week run at No. 1 on the U.S. album chart.
The US version however has some George Martin instrumentals in place of songs which were on the UK version
Aside from Lennon's autobiographical cri-de-couer on the title track you can hear the influence of Dylan's folk sound in this song
You've Got to Hide Your Love Away
September 65 — "Yesterday" is released in the U.S. as the new Beatles single.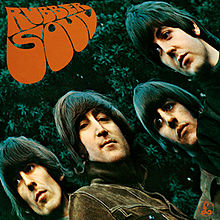 December 65 — The new album, Rubber Soul, enters the U.K. album chart.
The double A-side "Day Tripper"/"We Can Work It Out" is the latest Beatles U.K. No. 1. Neither song is on Rubber Soul.
We Can Work It Out: An early example of two separate and incomplete songs by McCartney (the verses) and Lennon (the middle eight) being arbitrarily but cleverly welded together.
May also owe a debt to the Uglies Wake Up My Mind of the same year (here).
We Can Work It Out, Dec '65. B-side to Daytripper single
Rubber Soul
Rubber Soul seen in retrospect as a major musical and lyrical turning point, perhaps driven by the need to up their game against the competition. Even the cover announced a new mood, and marijuana for those in the know.
On this -- basically a Dylanesque folk song (again Lennon telling a story) -- comes with exotic colour from Indian sitar.
Norwegian Wood
Norwegian Wood, Oct '65, take one
Here's Dylan's 4th Time Around is his rejoinder? A parody of this and/or himself?
Fourth Time Around, May '66 by Bob Dylan (from Blonde on Blonde)
In My Life from Rubber Soul, released December '65
In My Life Dec 3 '65. Rubber Soul album
Girl from Rubber Soul
Girl
If I Needed Someone from Help! (written by George Harrison, one of two originals by him on the album. He had two on Help! also. He is emerging as a distinctive, different songwriter . . . a band with THREE songwriters now)
This very influenced by the Hollies? (They covered it, but it is their first single in two years not to get into the top 10 in the UK, it stalls at #20!)
If I Needed Someone (Harrison)
Run For Your Life from Rubber Soul
Run For Your Life
and here's Elvis' Baby Let's Play House from 1955
Nowhere Man (from Rubber Soul)
Nowhere Man
1966: THE END OF THE BEGINNING, THE BEGINNING OF THE BEGIN-AGAIN
January 66 — Rubber Soul becomes the No. 1 album in the U.S. Again though it has a different tracklisting to the UK version and errs more towards the then-popular folk-rock sound
April 66 — The London Evening Standard publishes an interview in which John Lennon declares — "Christianity will go. It will vanish and sink. I needn't argue about that. I'm right and will be proved right. We're more popular than Jesus Christ right now."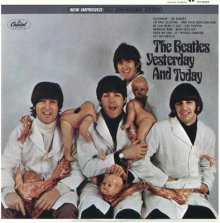 March 66 — The controversial "Butcher" album cover is shot by photographer Robert Whitaker, showing the band dressed as butchers holding meat cleavers, surrounded by headless dolls and strips of meat.
June 66 — The Beatles' final world tour begins at Circus-Krone-Bau, Munich, Germany.
The Beatles reach No. 1 in the U.S. and U.K. simultaneously with "Paperback Writer.", another single not on a previous album. Released June '66
Paperback Writer
and
Rain, June '66. B-side Paperback Writer single
July 66 — U.S.-only album Yesterday...and Today hits No. 1 in the U.S., but is immediately withdrawn because of its gruesome "Butcher" cover artwork.
July 66 — News of John Lennon's "bigger than Jesus" statement (back in March) reaches America, and DJs begin organizing public bonfires to burn Beatles records.
August 66 — Following anti-Beatles demonstrations in America, South Africa bans sales of their records.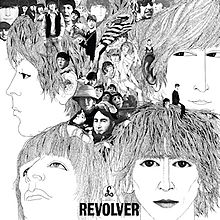 The Beatles release their new album, Revolver, in the U.K.
A side effect of the banning of Beatles records is seen on the stock market, when the price of shares in their U.S. label, Capitol Records, drops sharply.
Revolver -- despite including the hit single Yellow Submarine -- puts further musical distance between their past and innovative present.
By this time Lennon and McCartney are contributing very discrete songs, and Harrison gets two new compositions of Revolver (one of which, below, points to his own distinctive musical interests).
Here There and Everywhere, Aug '66 Revolver album
Eleanor Rigby, Aug '66 Revolver album
Love You To. By Harrison. Based loosely on Indian classical raga structure which opens with an alap (teasing into the melodic line, this can take 10 minutes in a traditional piece), the gat (exploration of the melodic line over a faster and established tempo, may be 15-20 minutes) and finally the drut or jhala (which can often be a furious 5-10 minute duel between the lead instrument like the sitar and the tabla drums).
The first Beatles song to have no reference to Western pop music.
Love You To (by Harrison)
Tomorrow Never Knows: and now the studio itself is like an instrument to be played.
Tomorrow Never Knows (1966)
As the band arrives in the U.S., a Beatles press conference is hastily convened in Chicago. John Lennon attempts to explain that his observation about the Beatles now being more popular than Jesus was taken out of context.
Their fourth and final U.S. tour.
Paul McCartney: "I remember being frightened many times. As we waited for an armored car to take us to our guarded hotel rooms, I would say to myself, "I really don't want to go through this any longer."
Revolver tops the U.K. album chart.
August 29, 66 — The Beatles play their last live concert at Candlestick Park, San Francisco. It is not announced as their final concert however.
George Harrison: "There was a certain amount of relief after that Candlestick Park concert. Before one of the last numbers, we actually set up this camera — I think it had a fish eye, a very wide-angle lens. We set it up on the amplifier and Ringo came off the drums, and we stood with our backs to the audience and posed for a photograph, because we knew that was the last show."
November 66 — Recording of the Sgt. Pepper album begins at Abbey Road.
From now on the Beatles are free of touring commitments, have ample time in the studio to experiment and the successes of the past means record company executives etc are going to leave them to do exactly what they want.
A new Beatles emerges. And they change the times, again.