Graham Reid | | 6 min read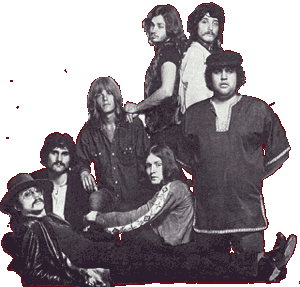 If a supergroup is made of people who have had acclaimed prior form, what do we call a group which did nothing at the time but whose members went on to bigger and better things?
Is that like a preparatorygroup?
We've encountered their likes before in bands such as the Funky Kings, but Rhinoceros out of LA also have an interesting second-tier backstory – a kind of semi-supergroup? – before most of the members went on to better things.
They did record two albums -- Satin Chickens here was their second – for Jac Holzman's eclectic Elektra label (which had the Doors and Love alongside Judy Collins and Bread).
But the sales were modest to poor and so their story is more interesting for what happened before and after.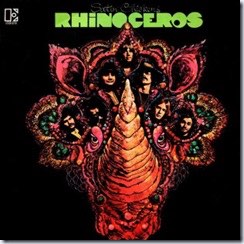 But let's acknowledge this about Satin Chicken: few rock bands would start an album with a short and wonky blast of Ellington's Satin Doll and later drop in a 40 second piece entitled Sugar Foot Rag.
Or have a story which namechecks Buffalo Springfield, Iron Butterfly and the Mothers of Invention let alone invites comparisons with the Monkees as well as having Lou Reed and Rick James appear later.
Whoever Rhinoceros was, their members on Satin Chickens were certainly connected, or used the platform to become so.
To begin at the beginning . . .
In the manner of how the Monkees had been brought together three years previous through auditions, so too Rhinoceros formed when Elektra's influential producer/A&R man Paul A Rothchild and fellow producer Frazier Mohawk (who had encouraged the members of Buffalo Springfield together) invited a couple of dozen or so potential members to try-out sessions.
Among them early on were guitarist Doug Hastings who had briefly been in Buffalo Springfield when Neil Young quit. He was then in a band with singer/pianist Alan Gerber who also was taken on board after an initial audition.
Then came guitarist/piano player Danny Weis, one of the founders of Iron Butterfly, who recommended Butterfly bassist Jerry Penrod (who didn't last long).
Keyboard player Michael Fonfara of Electric Flag was brought in on the recommendation of singer John Finley who, with new bassist Peter Hodgson, had been in the popular Canadian r'n'b band Jon and Lee and the Checkmates which Rothschild had been interested in a few years previous.
The original drummer John Keleihor disappeared fairly quickly and in came Billy Mundi who has been in the Mothers of Invention.
Zappa was typically pragmatic and recognised the consumerism of the American music industry and Mundi's need to actually make a living when Rothschild held out the promise of a cheque.
"[Rothschild] offered Billy Mundi a huge amount of money, a place to live, the whole package — we'll make you a star, you'll work with these top-grade musicians instead of those comedy guys, we'll make a supergroup and call it Rhinoceros," he said.
"I don't blame Billy for taking the job, because at that time we were so poor he was living in the Albert Hotel and he couldn't get enough to eat — he used to come in and tell us how he'd quell his appetite by drinking the hot water in the shower in the Albert Hotel, which could be a life endangering experience.
"When somebody comes up to you and says, you're going to get something to eat, and not only that, you'll be in a super-group called Rhinoceros, I couldn't even advise him to stick around."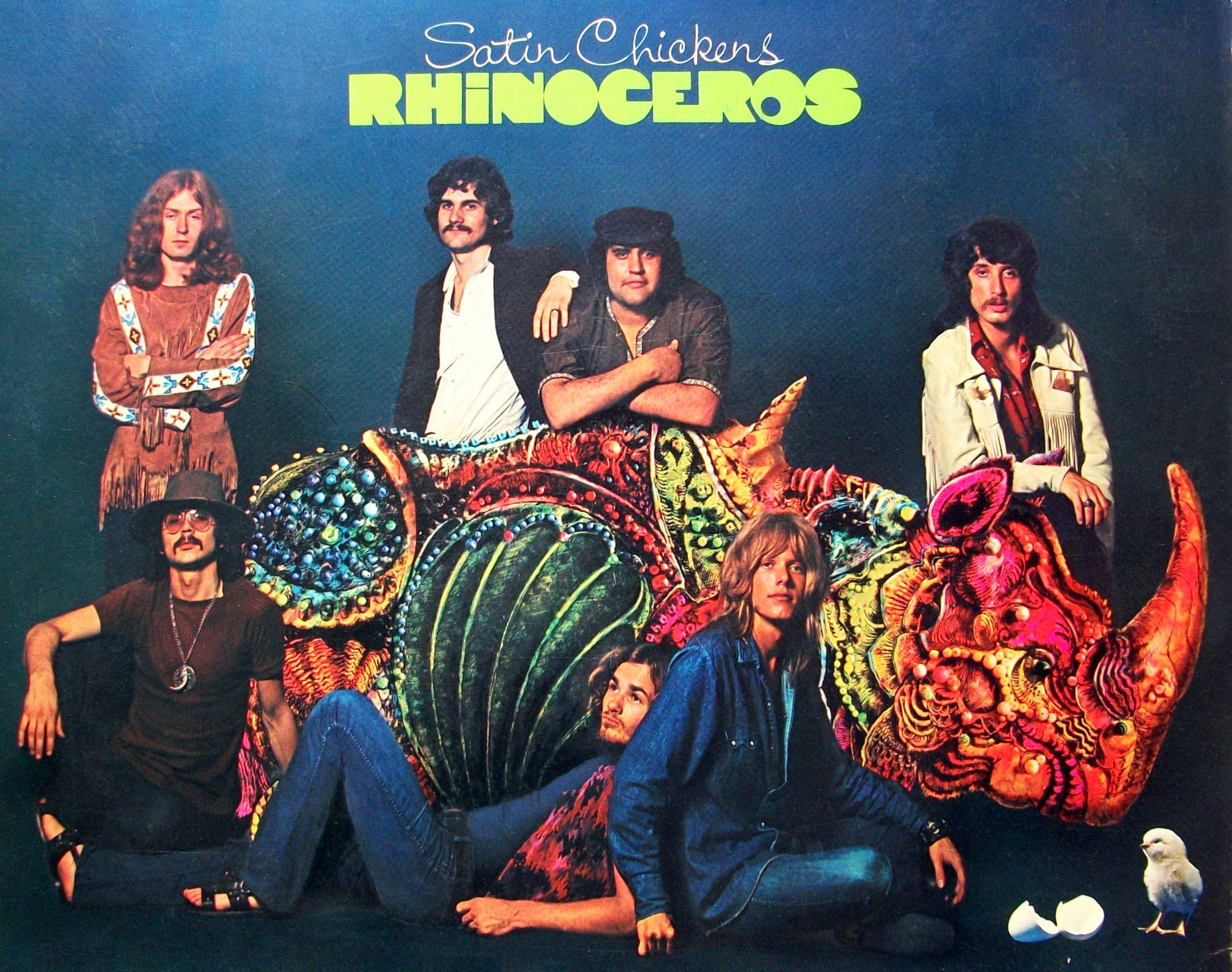 Although largely steered into each other's company by their mutual contacts but only on approval from Rothchild and Mohawk, the band gelled well enough.
As Weis recalled later, "Musically, I don't recall that we were asked to play in a specific style, I think everyone was able to be themselves, and there were a lot of songwriters in various different styles, we didn't put the band together ... we were put together.
"John Finley had a strong writing style, and so did Alan Gerber, I was coming from psychedelia and flash rock to this group of people that seemed to be going more in the direction of rhythm and blues.
"Prior to the Iron Butterfly I had played a lot of rhythm and blues stuff . . ."
So they were given a free hand, although Rothchild first used them as the backing band for a David Ackles album released the same time as Rhinoceros' self-title debut, which was recorded live with no overdubs.
Neither sold especially well, although cult-figure Ackles got good reviews and the album contained his terrific Road to Cairo covered later by Julie Driscoll and Brian Auger.
Undeterred by the disappointing Rhino's debut, they were kept on at Elektra (those were the days when bands didn't have to hit a home run first time up) although for Satin Chickens Rothchild relinquished the production to David Anderle (aka The Frog as the album credit had it, the man who had persuaded Verve to sign Frank and the Mothers and helped the Beach Boys establish their own Brother label).
So there are some interesting bloodlines feeding into Satin Chickens, but was it any good?
And more importantly, is it now when pulled off the shelf at random, where it was cuddled up between the Comfortable Chair and an album which dare not speak it's name (but if it did it would be in a falsetto with ukulele accompaniment)?
In short yes, and not really . . . but kinda a qualified yes, again.
Like a more soul-funk Blood Sweat and Tears (without the horns), Rhinoceros hit a strange point between the most straight end of early Zappa (without the parody or cynicism) and a mid Sixties garageband . . . notable on Monkee Man (interesting title) which follows that bit of slippery Ellington (with Bonzo-like vocals) and later on with Top of the Ladder (which you'd love someone to have handed it to Wilson Pickett).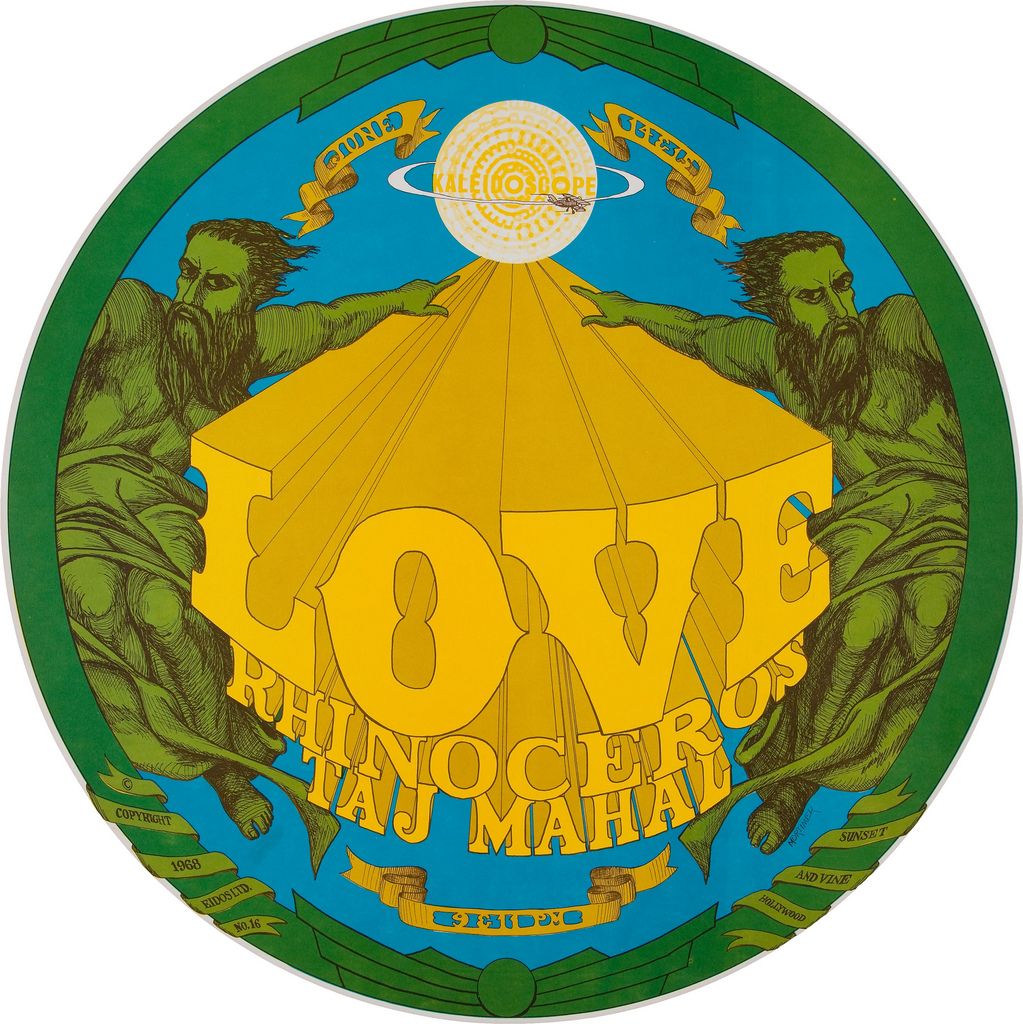 And the final track written by guitarist Hastings is Southern/Stax soul-funk groove on Back Door, which also required Booker T and the Wicked Pickett to really bring it to life. But the template was there.
Finley had a fine white rock'n'soul voice, notable on Gerber's ballad Find My Hand where Fonfara's organ part and Hastings' lovely guitar support the slightly strange lyrics of yearning and acid damage.
There's a smidgen of slo-mo soulful trippiness evident too (Finley's ballad Don't Come Crying with discreet psych-guitar which reminds of Barry Melton in Country Joe and the Fish).
Side two opens with studio silliness (you can check out it yourself) before the track Chicken finally takes shape after a couple of minute and go uselessly nowhere for a while. It's a pointless filler, but typical of the time.
Perhaps the most interesting track on Satin Chickens (horrible album title) is Fonfara's Funk Butt which sounds little more than a coherent studio jam – bassist Hodgson really coming front'n'centre in a soul'n'rock groove.
Rhinoceros never quite perfected the art of soul, country, funk and rock (as on It's the Same Thing) which Little Feat managed a few years later . . . but they seemed to be on their way to something.
But for most of them it wouldn't be in Rhinoceros.
There were more and lesser recordings, many line-up changes and within two years they had broken up.
Keyboard player Michael Fonfara went on to lead Lou Reed's touring band in the late Seventies: he's on Reed's albums Sally Can't Dance, Rock and Roll Heart, Street Hassle, the hilariously weird live Take No Prisoners, the terrific The Bells and Growing Up in Public.
Danny Weis was briefly in The Rascals, apparently joined Rick James' band and was in the Bette Midler movie The Rose as the leader of her band. He too played on Reed's Sally Can't Dance.
Drummer Billy Mundi went on to work with Muldaurs (Geoff and Maria) and became a session musician of some note.
Finley and Gerber are still playing: one of Finley's songs was covered by Ivan Neville, Gerber still making albums.
Their time in Rhinoceros was short and maybe the band was more interesting for the story around it than an album like Satin Chickens.
When Zappa was talking later about Mundi leaving for the promise of the big time he couldn't help get in a barb: "And where the fuck is Rhinoceros now?"
Back between The Comfortable Chair and Tiny Tim again, as it happens.
.
You can hear this album on Spotify here.
.
Elsewhere occasionally revisits albums -- classics sometimes, but more often oddities or overlooked albums by major artists -- and you can find a number of them starting here