Graham Reid | | 13 min read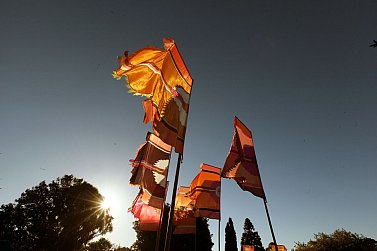 The best speeches by dignitaries are short and, fortunately, they were when the Taranaki Womad launched last Friday.
The most memorable comment – aside from the figure of $104 million brought into the region by the Womad festivals over previous years – came from the mayor of the New Plymouth District Council, Neil Holdom.
He looked delighted to be there and welcomed visitors to "the lifestyle capital of the world" before announcing what we wanted to hear: "We've worked hard . . . now let's play".
That message, directed at the audience and musicians alike, is what this inclusive festival of music, conversations and dance is all about.
So, it was . . . on with the show . . .
Yet this Womad began with less of a bang than a slightly muted start with Archie Roach and his six-piece band on the main stage.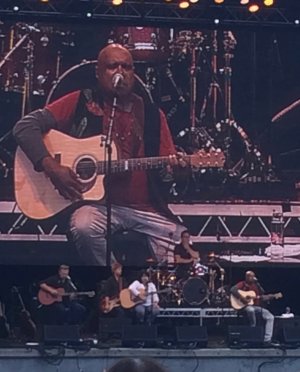 Australian Aboriginal singer-songwriter Roach has been around for decades but – despite the loss of his wife, some bitching family troubles which he spoke about movingly and losing half a lung to cancer -- he is out on the back of an exceptional album Let LOVE Rule, which formed the bulk of his engrossing set.
Interpolating the songs with his homegrown philosophy (stay true to friends, love one another) and personal stories about being one of the Stolen Generation enhanced the power and simplicity of his lyrics and the depth of his emotion.
Roach has grown into a deeply soulful voice which adds gravitas and ache to his new songs of secular and spiritual love, and also to older material like the always timely They Took The Children Away.
As the festival opener on the main TSB Bowl Stage it wasn't one to smash it out of the beautiful park, but it was powerful, important and soul-to-soul. It would have been a cold and cynical heart which wasn't moved or, better, melted.
In previous years the festival has also put hypnotic Indian singers on in the early evening of the opening night, and this year was no exception with the extraordinary Carnatic singer from South India Sudha Ragunathan on the Dell Stage. She drew a large and appreciative crowd into the small area surrounded by trees.
It was a lovely setting for her devotional songs which reached back many decades and sometimes centuries in evening ragas sung in Tamil, her native tongue.
Her thrilling swoops from deep masculine vibrato to trilling notes somewhere up where birds fly were echoed by her violinist. If the shifting rhythms made it hard for the few interpretive dancers, the final short piece was in delightful ¾ waltz time.
Between them, Roach and Ragunathan (whose sole performance meant her CDs disappeared overnight from the shop to the disappointment of this punter) provided two soul-filled openers for a weekend of fine weather, excellent food -- is it just me or is it getting even better? -- and music of the kind you'll never hear anywhere else in the country.
The Taranaki Womad makes it a rewarding destination-cum-music festival.
A more upbeat start on opening night was provided by Spain's astonishing Mercedes Peon and elsewhere by Nattali Rize of Jamaica/Australia (more on them later) ...
However back on the main stage Marlon Williams and his small group delivered a set which showcased his remarkable voice . . . but it lacked trajectory and remained firmly slow-to-mid tempo.
You admired the beauty and skill at play, but if you were further back from the front it was much less engaging.
This was his first (and only, this time) Womad appearance and it seemed – wonderful though it was – he misjudged the requirements of the enormous audience which stretched out in front of him, many of whom might not have seen him previously but had heard the good word,
Fans were happy, other people I spoke to who were newbies to him much less so.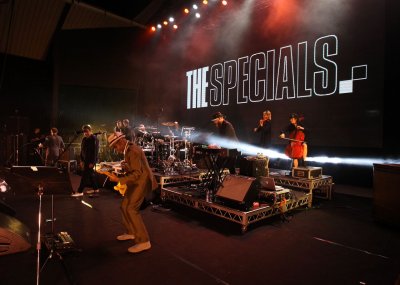 He wasn't the only one over the weekend to have that problem translating to an outdoor stage, an especially awkward one where the artist and audience are separated by a lake with ducks in it.
Elsewhere there were other acts on the opening night – all of whom would play later in the weekend – so our attention centred on the Specials' sole showing.
Their reputation and time slot of 10.15pm ensured a huge audience as they were "headliners" on opening night, but the 10-piece opened with an underwhelming treatment of the downbeat Ghost Town – hardly the best scene-setter or one to shake out sound problems – and for the first half of their hour-long-plus show the tone was subdued.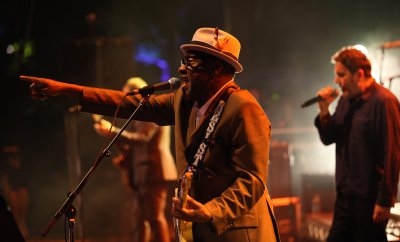 If not bloody dull.
Singer Terry Hall – whose "act" consisted of gently shaking his microphone – was deeply unengaging and he lacked any projection as he remained mostly away from the lights . . . so it fell to guitarist Lynval Golding to do the crowd-pleasing.
When Hall left the stage for a while (why?) the set's momentum slowed even further with Golding's shaky treatment of Bob Marley's Redemption Song . . . which was populist for its familiarity but hardly that interesting. It seemed like a filler.
With Hall's return things improved a little bit, the ska machine and their classic material kicked in and the grim Thatcher-era songs started to get more traction. But beats more than material were the order of the day. Do their lyrics mean that much any more, other than for their nostalgia value?
Standing on the side of the crowd which stretched to top of the hill at the Bowl of Brooklyn you could see the wave of enthusiasm move up like a slow growing Mexican wave, but it was the familar sound which translated. The rest meant little or nothing.
And frankly Hall – who has been diagnosed as bi-polar – looked like he was either unwell, unwilling or there under sufferance. Not what any should expect or get from a singer in a band, and their set was salvaged by Golding and bassist Horace Panter who did the heavy lifting.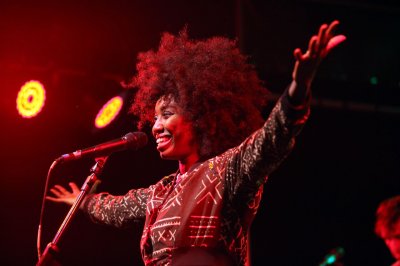 Not the first time a much-vaunted Womad act – we well recall the dull and dud sets by Hugh Masekela and Femi Kuti in previous years – has disappointed. Hate to say it, but t'were roobish mate.
No matter, Womad is always about discovering the unexpected and in that regard Inna Modja from Mali beforehand in the Dell brought a sharp contemporary style with samples, a superb electric guitarist and a cover of Neneh Cherry's Buffalo Stance to remind us that musicians from her country are as engaged with the 21st century as any others.
Not all she did was successful: her delivery of Speeches was extremely flat in places and she was better in rousing dance material which proved immensely popular with the large crown in the small space.
So as an opening night it was the mix of the sublime, the unexpectedly good and the disappointing.
Saturday is for most the marathon of music and a sell-out day (in excess of 12,500) which confirms how popular this Womad event is.
The East Pointers from Canada alternated moving acoustic instrumentals of deep resonance with the upbeat and of course popular Celtic jiggery (as with Ireland's the Gloaming two years ago). But in the former many might have preferred hearing them in another context than an open field, and of the latter you probably wanted much more given many came to dance.
They were good but more astonishing was to hear that fiddle player Tim Chaisson had 150 first cousins and that he and guitarist Jake Charron shared 55 of them. Prince Edward Island is a large place but obviously akin to a small town (pop. 150,000) where everyone either knows each other or is related. Their fiddle playing tradition goes back seven generations.
Wellington's Lord Echo (aka Mike Fabulous, Black Seeds' producer) provided the ideal early-afternoon set of everything that appeals to Kiwis: influences from reggae, funk and soul, groove riding beats, a little bit of dubbery . . .
No barriers hurdled, no envelopes pushed but a solid and enjoyable set which got the people moving. Good but largely unmemorable.
As Nattali Rize learned, righteous rock-driven reggae with empowerment messages is an easy sell to Kiwis.
Another crowd pleaser was La Mambanegra, a big ensemble from Colombia who delivered all that was expected in terms of danceable grooves and exotic energy, ending with a seemingly endless version of Celebrate Good Times ("c'mon!") in which band members were introduced. I was reliably informed their CDs and t-shirts flew off the shelves afterwards.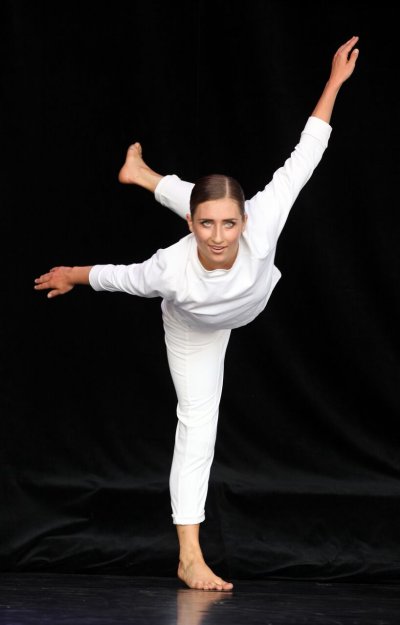 I went for neither. I have forgotten them already.
One of the more surprisingly effective performances was from the New Zealand Dance Company who presented an indoor theatre show in the afternoon under a punishingly cloudless sky to a large and captivated audience.
If they are coming to a theatre near you should get along.
Theirs was an unexpected success in a day of a quite a few of them, notably by internationals we've never heard of and would not expect to encounter anywhere other than at a Womad.
Like the ill-named Soil from South Africa, a trio of exceptional vocalists (one woman, two men) with a rhythm and sample box whose music touched on everything from Sixties girl groups (their song Happy) to Motown soul and gospel church, and of course the a cappella SA tradition of alternating vocal parts. As someone near me noted, they were like a cut-down mixed-gender Ladysmith Black Mambazo which made more sense and weren't boring after a while.
Quite a high-point in a weekend of many.
And then there was the likeable and entertaining Brushy One String from Jamaica whose act is almost a gimmick: one man and a guitar with one string.
But his joyful stage presence, repeated shout-outs to " New Zealand" (that and "kia ora" are sure-fire Pavlovian crowd pleasers here as many internationals learned) and his raw vocal style which came from the toasting tradition kept the interest. He told good shaggy dog stories in song too, in the manner of calypso artists, and threw in a cover – not very good – of Just My Imagination at the end.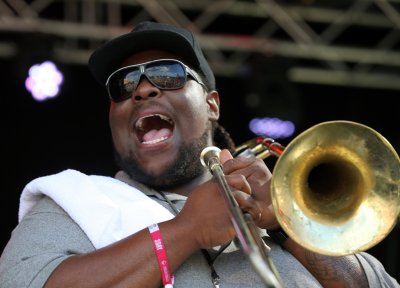 You wouldn't want an album but you were glad to have been entertained by him. He seemed hilariously rogueish.
Some acts came with very high expectations, not the least the Hot 8 Brass Band from New Orleans, a genuine and well seasoned group of players from the Big (un)Easy who can reach from the tradition to the Now and toss in some rap alongside the pumping sound of brass and the deep bass of the tuba.
They were great . . . but as the music rolled on and pieces segued into another it all became undifferentiated and, sorry to say, cheerfully uniform despite some great solo space . . . so I went to see Hanoi Master (and missed theHot 8's version of Love Will Tear Us Apart apparently) who have an extraordinary album out.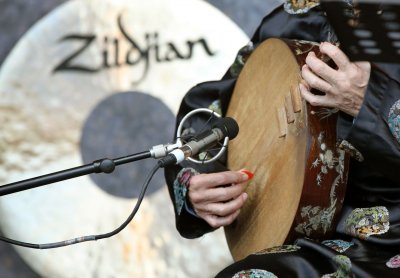 But alongside their moving songs of loss and sadness Hanoi Masters did a truly psychedelic version of Purple Haze over a programmed thumping beat, deploying an instrument which was like a theremin and Madame Van-Anh Vo at one point screaming like Yoko Ono.
It was brilliant.
This was not really the Hanoi Masters of that exceptional War is a Wound, Peace is a Scar album for which producer Ian Brennan went to Hanoi and recorded old singers lamenting the various wars and their cost.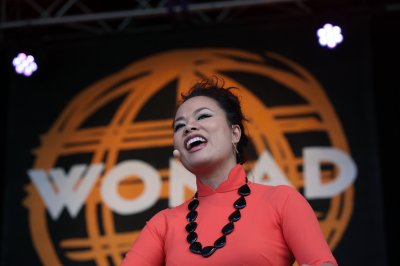 But it was quite remarkable, and Purple Haze downright strange in the context of their sad songs such as Song for the Fallen and The Road Home.
At their afternoon showing there was a deja-vu moment for those who know of Ravi Shankar's set at the Concert for Bangladesh when, after a few minutes of sitar and drone, the crowd applauded wildly and Pandit Shankar said he hoped it they enjoyed the tuning up they will enjoy the music more.
That happened to the Hanoi Masters.
Disappointments? There were a few.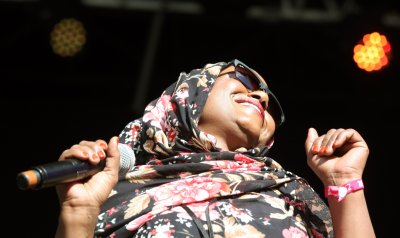 Aziza Brahim from the sub-Sahara (and Spain) recently released a thrilling and important second album Abbar el Hamada and for me this was a much anticipated set. In fact I mentioned it to many people, but it never rose to the heights it might have.
In part that was because so much was lost in (lack of) translation. She doesn't speak English so the meaning and stories of her songs remained a mystery. But also because on the album she has the mercurial and extraordinarily guitarist Kalilou Sangare who was not in her band on this tour.
His chiming tone was absent, although the touring guitarist was excellent but in a more fuzzed up and less defined way.
A fine set but not the one anticipated or hoped for.
And many felt disappointed by the Saturday headlining set by the great Oumou Sangare from Mali because – as with a few Womad acts, Marlon Williams among them – her set lacked an upward trajectory. It hit an early level and remained there.
She eschewed excitement for atmosphere . . . but that has been in the nature of her music and if some were expecting up-beat African dance they were to be disappointed.
But hers was a fine, thoughtful set which, if it reached few heights of excitement, delivered on all other fronts with an excellent band . . . although her kora player seemed very under-utilised.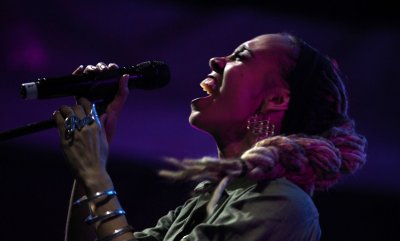 Ana Tijoux and her band from Chile answered a number of important questions.
What does reggae from Chile sound like? (A. reggae)
What does rap in Spanish sound like (A. unintelligible to most but here conveyed with passion and humour by her gestures and expressions)
And what does a trombone with wah-wah sound like? (A. demented Donald Duck).
It was late Saturday afternoon when they took to the main stage and you'd think a set all in idiomatic Spanish – with a lot of rapid rap – would be hard going. But the sheer energy and commitment carried this.
In fact as it rolled out it became quite compelling.
A standout of the weekend however was Mercedes Peon from Galacia.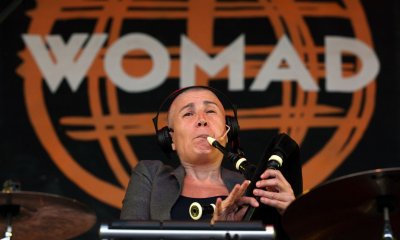 People had spoken enthusiastically of her powerful set on the Friday night at the larger Gables stage, which perhaps accounted for the huge crowd which crammed into the Dell on the Saturday between the sets by Tijou and Sangare.
Her astonishingly powerful voice coupled with punishing beats and vocal samples, plus her live Spanish bagpipe played with furious intensity, had an immediate effect. For every two who fled within minutes another five took to their feet in ecstatic joy and ready to dance.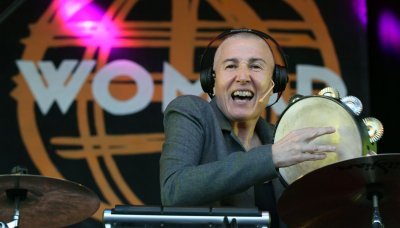 Her voice seemed to come from great depths within and even if had been un-amplified you might guess she could make herself heard from Taranaki into downtown Wellington.
Hers was a reinvention of Galician folk songs and when joined by a colleague on brusque clarinet – think a free jazz shepherd blowing his heart out in the hills – it made magnificent and stirring noise.
Elements of North African/Moroccan sounds were also discernible.
Astonishing.
Her brief ballads were no less engaging and her set stood as a highlight. I wished I'd seen her twice and although you just knew the music was so powerful live that you might not want a CD for home entertainment I was straight to shop, and she was there signing copies ... much smaller in real ife than she seemed on stage. And even smaller and more self-effacing again when I encountered at the hotel pool the next morning.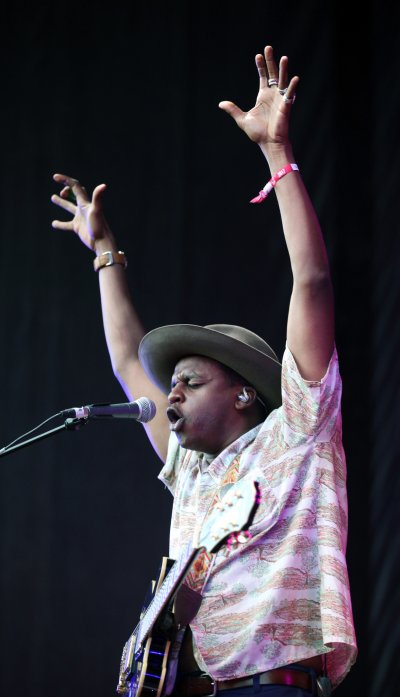 And so the soundtrack of weekend rolled out with suprises, the familiar and disappointments.
Sinkane – from the US via the Sudan and London - and his band seemed a very good sum of many influence (folk, pop, lotta soul, horns) but hardly innovative or exciting.
New Zealand's Swamp Thing pulled a huge crowd and clearly the word was out for this duo, now expanded to a band with two horns and keyboards. That line-up allowed them to move from their head down swamp rock and hard blues into more soulful styles with.
A damn fine set.
As for the Tago drummers from Seoul . . . well, if you've seen Taiko drummers and other similar choreographed Asian ensembles you got more of the same; drumming with discipline or tedium depending on your take. For me there are three great drum solos and Tago didn't provide one of them.
And Emir Kusturica and the No Smoking Orchestra from Serbia?
They tried to provide a late night party . . . but on the stage separated from the crowd by the lake.
Emir introduced the big band (which can take a while) and it was a playful opening with him getting women up on stage to dance, join his conga line, do arse shaking and then press ups.
All this and a song in which the crowd was invited to shout back "Fuck you MTV". There were lotsa Balkan beats, a slew of horns . . .
It was populist and funny but there were also some snatches of great music woven between the nods to Caravan, the theme to The Pink Panther and so on.
But it really did go on and on.
There were obviously other acts on the bill over the weekend which we couldn't see but one we stayed to the bitter end of, to see if she was going to make it too, was Bebel Gilberto who was on the main stage early afternoon on Sunday.
Arriving in a hurry from backstage and looking a little flustered, she was obviously defeated by the early hour and the lake, but frankly she seemed mostly lost and was extemporising as she spun out to time-filling and the band picked up the gaps. No amount of twirling with her dress held out could cover the fact that – for me at least – something was amiss.
And we shall draw a veil over that.
So Womad 2017?
People had worked hard and it was time to play.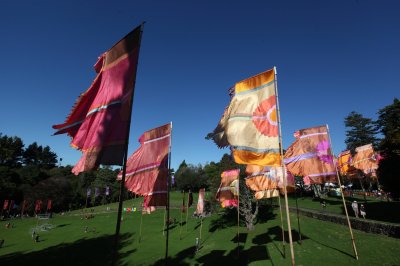 Some of the artists did that very well, a few not so much.
And that impressive figure of dollars into the local economy – more than 2000 through New Plymouth's photo-grab Govett Brewster Gallery/Len Lye Centre on the Saturday morning before Womad's acts started, not to mention breakfasts in town and hotel bookings – is impressive.
But on the day, the message was very different as performer after performer repeated the same important litany of peace, the unity of people in the face of those who would divide us and the empowerment of women.
It's very hard to dispute any of that in these increasingly difficult times . . . and certainly not if it comes with music from around the planet and your own home country which makes you think or dance.
All photographs here (aside from Archie Roach) are by Glenn Jeffrey. For more of his images from Womad 2017 go here.