Graham Reid | | <1 min read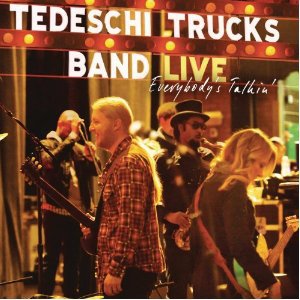 Anyone who saw singer/guitarist Susan Tedeschi and her husband/guitarist Derek Trucks in concert at Auckland's Powerstation last year -- or who has heard albums under his or her name -- will need no firther invitation to this double disc live outing where all their exceptional and diverse talent is on display.
From her a gutsy, blues-soaked but highly melodic ballad voice and pointed guitar playing, from him (interviewed here) guitar work that exists between the Allmans and Eric Clapton (both of whose bands he is a member) and some fascinating raga rock.
So here, after a rocked up version of Fred Neil's Everybody's Talkin' we get a 10 minute raga-into-soul treatment of Midnight in Harlem (a standout at that Powerstation show) where Tedeschi as Sam Cooke emerges from an ashram, and Trucks finds his inner Calcutta slide guitarist before taking you down into swampy blues.
So some part Allman's Live at Fillmore East, a dab of Cream's Wheels of Fire, a smidgen of Elmore James who grew up in Uttar Pradesh and a whole swathe of highly original husband'n'wife earthy blues (country-rock Janis/Raitt with a horn section).
It's a winning combination -- and there aren't many you'd trust with a 10 minute Darling Be Home Soon, a 16 minute stretch on Stevie Wonder's Uptight and an eight minute Wade in the Water which is gospel/Herbie Mann flute with a slow soul groove.
The family that plays together . . ..
Like the sound of this? Then check out this.