Graham Reid | | 1 min read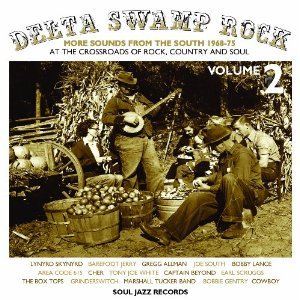 Although picking up the scent from the first excellent volume in this series which joins the dots between rock, soul and country music, these 20 tracks -- while not without interest -- don't have quite the same weight or depth.
Area Code 615 -- the band formed by Nashville studio owners/musiucians Charley McCoy and Wayne Moss, in whose studio the Steve Miller Band recorded -- kicks things of with the appropriately rocking country Ruby and Captain Beyond's five minute Sufficiently Breathless is what Crosby Stills and Nash might have sounded like if they grown up in Georgia. Cowboy's Houston is a little like the early Eagles.
But, wonderful though she is, two songs by Bobbie Gentry, and another piece from both Area Code 615 (Devil Weed and Me) and Captain Beyond, plus the hoary Freebird and Gregg Allman's Midnight Rider mean this feels padded and more familiar than its predecessor.
Marshall Tucker Band's Fire on the Mountain is kinda cool and nice to hear again, as is Tony Joe White's funky Who's Making Love, and the Box Tops' Deep in Kentucky and Earl Scruggs' soulful LOneseome and Long Way From Home are the real surprise . . . but quite how Cher's verison of Buffalo Springfield's For What It's Worth (it's good, she sounds like Sonny) fits here -- just because it was recorded at Muscle Shoals? -- is hard to fathom.
There are quite a number of collections now of Southern soul, country and rock (see here and here and here for starters) and this sequel regrettably feels like the least of them.