Graham Reid | | 1 min read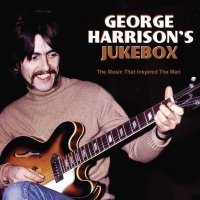 Although no one would seriously argue that people should have fewer choices, it's interesting to observe that before the balkanisation of radio into genres and demographics which ensured audiences would ony listen to music that was narrowly focused, most people before the Seventies grew up listening to a wide range of songs.
Because in the Fifties and Sixties one radio station would have to appeal to a wide cross-section of society, it inevitably played everything from country and rock'n'roll to pop ballads and even folk.
In the Anthology, George Harrison spoke about growing up listening to everything: "Irish tenors like Josef Locke, dance-band music, Bing Crosby. . ."
He went on to speak about records by Hoagy Carmichael and Josh White and even novelty songs like I'm a Pink Toothbrush, You're a Blue Toothbrush (by Max Bygraves).
He listened to Jimmie Rodgers, Hank Williams, Big Bill Broonzy, the perennially un-hip Slim Whitman . . .
And "those George Formby songs were always in the back of me life. They were either being played in the background or my mother was singing them when I was three or four". (Later in life he joined the George Formby fanclub and seriously took up ukulele.)

Then of course came Elvis, Buddy Holly, Little Richard, Tommy Steele and skiffle . . . And he was a big fan of Carl Perkins' country style playing.
This necessarily eclectic 27 song collection -- with a 16 page booklet of artists' biographies -- picks up examples of some of these artists and songs by many others, including Bill Justis' Raunchy, the instrumental he played to Lennon on the top deck of a Liverpool Corporation bus (just like the one Harrison's dad drove) at McCartney's insistence and which got him a spot in the Beatles.
Of course there are a number of the originals here the Beatles, and sometimes specifically Harrison, sang: That'll Be The Day, Everybody's Trying to be My Baby, Money, You Really Got a Hold on Me, Got My Mind Set on You (a solo hit for Harrison), Roll Over Beethoven . . .
And of course his later mentor Ravi Shankar also appears here with a fast gat from Raga Rageshri and Performance, and there are songs by his pals Bob Dylan (Blowin' in the Wind) and Roy Orbison (Love Hurts).
There is also Black Cross by the eccentric Lord Buckley, Formby's When I'm Cleaning Windows (see clip below), Hoagy Carmichael's Hong Kong Blues . . .
Yes, it's a shapeless collection -- another in the series which has also included McCartney, the Cramps and Dylan's influences reviewed at Elsewhere -- but that's also what radio was like sometimes.
Pity I'm a Pink Toothbrush isn't here though.
Although it probably didn't help shape Something or My Sweet Lord.
For a complete list of the Jukebox series releases look here.