Graham Reid | | 5 min read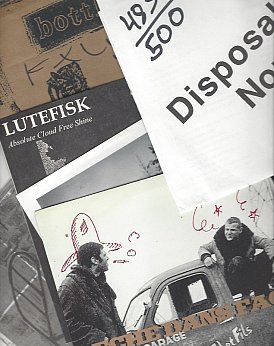 The small town of Paeroa in New Zealand's North Island (the other island being named . . .) can make a couple of claims for itself.
First, it is the origin of the "world famous in New Zealand" soft-drink Lemon & Paeroa, and second that it is the antiques capital of the country.
These days "antiques" mostly just means old stuff, but in the town's many such stores there are genuine antiques to be found.
And other stuff.
It's always the "other stuff" which draws me . . . but trawling through a bunch of 45rpm singles one day – such a lot of Humperdinck and Diamond – I came across a very odd selection of Nineties records which had been let go.
My guess is some DJ/record store clerk emigre from the Pacific Northwest or Brooklyn washed up in Paeroa and in the absence of gainful employment just had to let go a large wedge of singles.
How else to explain such household names as Pain Teens, Lithium Xmas, Citizen Kitty, Poor Moon (on Sub Pop no less), LuteFisk or None?
I grabbed a dozen or so and over time played them. Mostly just once.
Here then are eight of them pulled at at random for my own amusement.Maybe you can fill me in if you know any of them . . . or why these mint condition records turned up in a secondhand shop in Paeroa.
Pencil Tin: Poignant b/w In Dreams and Hold Me
On Quiddity out of Grand Rapids, Michigan, this was the label's second release: "Proving the first one was no fluke. Then again it might just prove we haven't run out of money yet".
The band were Bart, Rob and Bianca who were actually from Brunswick in Australia, and they say on the sleeve that these were original songs "except the bits we pinched from the smith".
Unmemorable but rather nice paisley-tinged pop (especially on Poignant) with touches of the Smiths, of course. Except the singer can't really.
Interesting interview with Bart here and the complex family tree of their links to about seventysomething other bands is here.
Lutefisk/Son Gun: Absolute Cloud Free Shine/Away.
A split 33rpm single by two bands from LA on the brand new Bite the Kitty label out of Santa Barbara (this was their first release). It bears a small sticker on the plastic cover which reads "Root Beer Vinyl". Code?
Lutefisk went on to record two albums of their alt.rock on Bong Load and apparently a decade ago Spin magazine considered them one of the 100 Greatest Bands You've Probably Never Heard Of. I have heard them and they're not, on the flimsy evidence of their slightly trippy and grinding song here.
Son Gun deliver up a very narcotic type of dream pop.
The label seems as short-lived as Son Gun.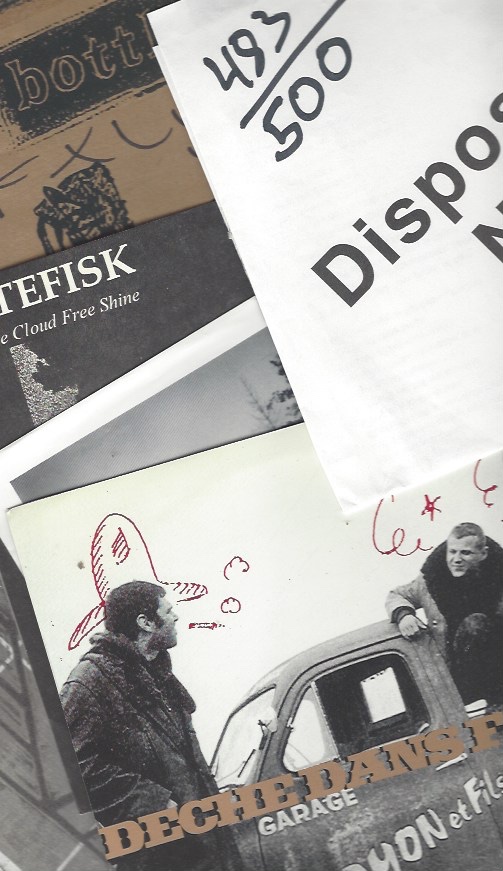 Bottle: Zapatos b/w Static Drunk
This limited edition single from '95 (mine is 151/500) tells me it was funded by donations from about 75 people and was recorded on "Larry's dad's 8-track in our practice space".
On March 25 1995 to be specific and the B-side was "written and recorded in a few minutes after a long day of recording Zapatos".
Bottle from San Luis Obispo appeared courtesy of Kumquat Records (but not the hip one).
Pretty ordinary indie.rock on the A-side and the B-side is just as you expect from what they said about it.
Corm: And You Say, Highbinder b/w Citizen Kitty, Teenage Mating Ritual
Of which we can tell you nothing.
Their downbeat indie.rock doesn't sound like the Washington DC band of the same name.
Various Artists: Love and Napalm Vol 1.
On the Trance Syndicate label from 1990, this 33rpm EP features Pain Teens (with It Will), Crust (Hard Stool) Lithium Xmas (Jump Into the Fire) and Ed Hall (Grumbler).
Mostly experimental noisy rock from minor players on the label which boasted Butthole Surfers, Roky Erikson, Labradford others. Pain Teens aren't bad, but that's not saying much.
Spent: Revenging b/w Foreign Like a Car
It seems Spent (Annie Hayden, John King, Joe Wetton and Sean O'Heir) were from New Jersey and recorded this for the well-known Merge label at the Tape Kitchen in Brooklyn.
Perhaps the only real discovery of this bunch, a kind of folk-rock/dream pop on Revenging and more searing, melodic indie rock on the flip side.
Two albums for Merge also, then singer Annie Hayden went solo (two albums for Merge). She's on Spotify here.
Blunder Tongue: Long Tall Willie b/w Third Brown Eye.
A major-minor label Sympathy For the Record Industry saw fit to release this by a band who recorded this in Atwater, California.
Very odd. It's possible, because the record actually has three tracks and the instrumental line-up doesn't match with what the sleeve says.
Whatever it is think slinky jazz Zappa in some places and freakazoid rock in others.
Seems this – if this is indeed Blunder Tongue – was their sole outing on the label.
None: Hardtime, Children of Radical b/w Emphyzzema, Fourth Floor Dive.
A limited edition 33rpm EP (mine is 483/500) entitled 2+2=None or Disposable None depending on how you read the sleeve, this was the debut release on Danny's Records out of Fresno, California and was recorded in "one hour and 21 minutes". On the sleeve – where they call themselves None although they are found under Disposable None – they also give the band line-up for both '91 and '92 .
Punk thrash. The singer says he wants to die. In some form or other they seem to have been going up until a few years ago. Maybe even still are.
Deche Dans Face: Germon et Fils
On Sub Pop from '96, Deche Dans Face from Bordeaux were Jerome (guitar) and Nicolasky who "went rat-a-tat-tat".
Noisy, lo-fi discordant left-field rock of no fixed ability across three songs, the pointless Merry Dickmass b/w Jim Cole and Willie Dixon's I Just Want to Make Love to You.
Think an angry Flying Lizards with blues and free jazz influences.
Surprisingly they seem to have had a career and released an album as recently as May 2019 (on bandcamp here) which shows they learned how to play in the past two decades. A bit.
.
Elsewhere has a number of columns along these lines, click the title for the following
10 Solo Albums by Group Members
Five Odd Albums No One Should Own (but I do)
Five French Albums I'm Surprised I Own
10 Shameful Records I'm Embarrassed to Own
10 Odd Unplayed Albums in My Collection
Another 10 Odd Unplayed Albums in My Collection
10 Unusual 10 Inch Records I'm Surprised I Own
10 Shameful Record Covers I'm Proud to Own
10 More Shameful Record Covers I'm Proud to Own
And Another 10 More Shameful Record Covers I'm Proud to Own
10 Rare Free Jazz Albums I'm Proud to Own
10 Somewhat Rare Reggae Albums I'm Proud to Own
and there is probably much more . . .