Graham Reid | | 6 min read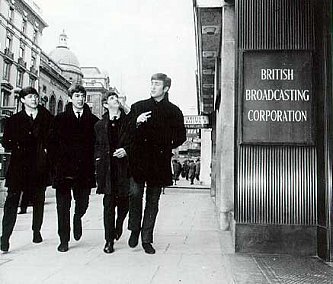 It was a curious thing, but in '95 the Beatles released a new single, Baby It's You, which came on seven-inch vinyl with extra tracks (an EP no less!) and there was an accompanying video.

The Beatles in '95'?

What could they teach us 30 years after the event?

Quite a lot, actually.

While it was easy to be cynical about the huge Christmas-time success of the Beatles' Live at the BBC double disc (and vinyl version of course) in those post-grunge days and jokes about fortysomething Mums and Dads twisting around the lounge while the alt.generation were trying to get Pearl Jam into the player, you really have to admit, albeit reluctantly, they were the Greatest Rock Band of All Time. Until the next one, of course.

And that made Live at the BBC of more than passing interest.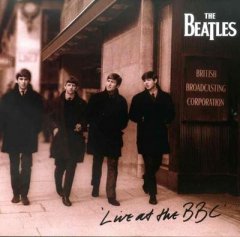 What the low-fi music reminds you of more than anything else is how many road miles (literal and live) this band had under its belt by the time things really took off on the cusp of '64.
Here was a group that had played hour after hour in clubs in Liverpool and Hamburg, done lunchtime shows, would play two shows a night when they were hitting the circuit . . . and, for the stuffy old BBC and other radio, performed live with astonishing frequency.

They also recorded – their debut album, Please Please Me, in '63 done in a day – and it's worth remembering that Paul McCartney cut both the throat-searing I'm Down and the ballad Yesterday within the same morning session with just a cuppa in between.

You don't get to do that without having worked your elbow off, and Live at the BBC, even now, shows just how disciplined they were.

It's all live radio remember . . . and -- musical taste aside -- these boys were good. Very good.

What's also interesting when listening through the 56 songs (and there are a number of duffers, so let's get that clear. too - genius can be flawed) is just how much this melange of rockabilly, rock'n'roll, Broadway ballads and originals laid the groundwork for all that would follow.

You don't need to be a composition and musical analysis scholar to hear in McCartney's minimalist She's a Woman the rockabilly roots they lifted from the likes of Johnny Burnette. Or hear how Lennon would lift the guitar riff from their version of Burnette's Lonesome Tears in My Eye for his Ballad of John and Yoko six years later.

These days it's easy to dismiss McCartney as a silly old plonker who oozes sentimental pop from every pore. But back than his penchant for those sappy Broadway ballads allowed him in explore his vocal range and analyse just how a pop ballad was put together.
No Taste of Honey and Till There Was You, no Eleanor Rigby or Here, There and Everywhere? Probably not.

And a skim through the origins of some of the covers on Live at the BBC shows the breadth of their interest and influences: Little Richard (McCartney in scorching form on Lucille and Long Tall Sally), Chuck Berry (not at their best on his Johnny B. Goode or Memphis, Tennessee), Motown (Smokey Robinson's You Really Got a Hold on Me), Phil Spector (To Know Her Is to Love Her), rockabilly (Harrison a particular fan of Carl "Blue Suede Shoes" Perkins), Ray Charles (I Got a Woman), Buddy Holly (Crying, Waiting, Hoping is here) Brill Building pop (Goffin-King songs), Hal David-Burt Bacharach, Elvis of course (McCartney on a Liverpool-rockabilly That's All Right Mama) . . .
That's quite some scattering of styles, all of which to some greater or lesser degree imploded into something called Beatles music.

And as with Elvis, the Beatles -– like the Stones, R.E.M., less so U2 and surprisingly Lou Reed -- created their own voices out of what went before.
It's little surprise then that later in life when Lennon was drinking Brandy Alexanders for breakfast, Yoko-less and in his 18-month Lost Weekend, he went back to this music to find himself . . . and record the Rock'n'Roll album. Or that he lifted the piano part from Elvis' Love Letters in the Sand for God on the Plastic Ono Band album.

Or that when McCartney unplugged he did this stuff. . . or that Harrison lined up for the Carl Perkins tribute and steered the Wilburys towards soft rockabilly.

And the set throws up some nice cross-references: Tommy Adderley fresh off the boat cut a version of I Just Don 't Understand with Max Merritt and the Meteors backing him, the Downliners Sect and the Yardbirds did Too Much Monkey Business, Leon Russell played Young Blood, the Searchers covered Some Other Guy, Elvis Costello did a Lennon-McCartney-faithful Baby I't's You, the Stones also did Berry's Carol . . .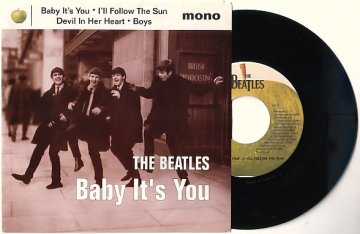 This was the music that bands and singers proved themselves on. Or failed to do so.

The Beatles proved it, and you only wish Lennon had lived long enough to contribute to the Arthur Alexander tribute album of '94. He loved the guy -- Soldier of Love is here, Anna was on Please Please Me -- and it would have been nice to hear him alongside Frank Black, Graham Parker, Costello, Robert Plant and Nick Lowe.

Worthy company, because what this set also shows is that, even before he discovered echo and put it on everything, he had one of rock's natural voices . . . raw, primal and instinctive.

And while we're dissing Macca for pap like Silly Love Songs and the 18 years between Ram and his next decent album, Flowers in the Dirt of '89, it's worth racking up loud his Little Richard versions and Clarabella here. He could cut it; it's just a shame he didn't more often after about '65. No matter.

But these artifacts remind of how rock was crafted at this time: through liberal borrowings, hammering out the covers before trying to write your own stuff and melting it down in the crucible of dark clubs.

While the Beatles were doing this, the Stones were playing every Sunday for three months at the Crawdaddy Club ("do the crawdad all night long"). A decade later, Springsteen was doing much the same in the clubs along the Jersey shore.

The Stage, wherever it is, is where you are made. It's where you win your mandate.

While we're adding up just how few gigs some bands play before getting those magazine cover stories on the strength of a debut singles, maybe that's worth remembering. It may just be that the band that's going to get us through the next decade isn't doing the photo shoot right now . . . they could be out there in a local hall in rural New Zealand or an unknown club in Tyneside or the Nineties equivalent of CBGB's dank interior.

And that's why we just keep listening and looking, isn't it?
Rock can come from anywhere. At one time it came from a place called Liverpool and was played on a radio station as straight and as stuffy as the BBC.

Makes you think, doesn't it?