Graham Reid | | 5 min read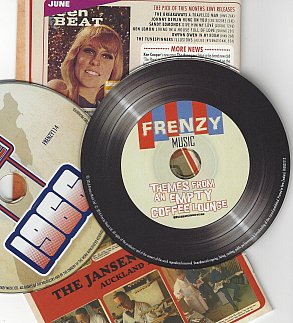 In the course of research for the Auckland War Memorial Museum exhibition Volume: Making Music in Aotearoa (opens October), it was a pleasure to go back and listen to so much New Zealand popular music of the past six decades.
Elsewhere has a considerable collection – more Flying Nun that seems readily available, despite their on-going and admirable reissue programme – but of course there are gaps.
Chris Caddick's project of getting as much Kiwi music as possible onto Spotify and iTunes was very useful, but what also became clear is just how some enthusiasts have kept the music out there.
John Baker for example has a lock on garageband and raw rock from the late Fifties to the present day, but one man we should have special admiration for is Grant Gillanders of Auckland.
For many, many years Grant drove a cab – may still do for all I know – and was unearthing great Sixties pop and rock which he would present to record companies like EMI (where Caddick was the head man at the time). These compilations – for which Gillanders would assiduously track down band members, master tapes or virgin vinyl – were a valuable resource at a time when most others were just ignoring that period.
My understanding was Gillanders was getting nothing out of this other than the pleasure of seeing the music reissued and a couple of CDs for himself.
In the past few years he has put things on a more firm fiscal footing with his own imprint Frenzy and over time the artwork has got better – booklets with photos, posters, track information and so on.
He has compiled albums by Ray Woolf, the Cleves/Bitch, Maori showbands and mainstream entertainers, Larry's Rebels, Ray Columbus, four volumes of New Zealand psychedelic rock, Gray Bartlett and more. Some by "Various".
And the reissues just keep coming (he should get a website so people could buy direct) and this past fortnight two more Sixties have turned up.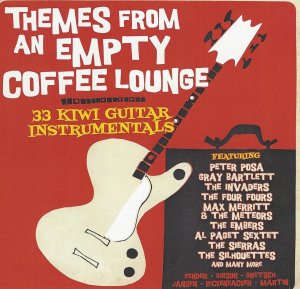 Yes, a few tracks across these two separate discs (a whopping 65 in total, songs were shorter back then) have appeared on other comps – either by Gillanders or others – but he still managed to re-present swathes of material which would otherwise go overlooked.
The 33 track Themes From an Empty Coffee Lounge picks up guitar instrumentals by the likes of Peter Posa, Gray Bartlett, the Invaders (without Ray), the Embers, the Sierras, the Silhouettes, Mauri Chan, the Minors, Gary Bayer . . .
See, you clocked those first few names but you were probably getting lost around the Embers. And Mauri Chan and Gary Bayer?
Chan's Rickshaw peels off some faux-Chinese melodies (the popular '63 movie 55 Days at Peking and the hit song of the same name were clearly in mind as much as the Shadows) and teenager Bayer's Mod Bod walks a pipeline between the Surfaris and Peter Posa's classic White Rabbit.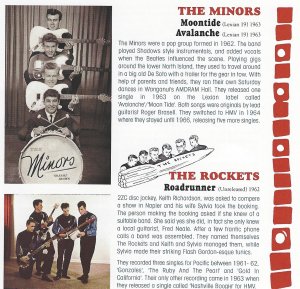 We tend to forget how big guitar instrumentals were in the years before the Beatles and international model included the Shadows, Surfaris (and dozens of surf guitar bands), Dick Dale, Link Wray, the Tornados . . .
The influence of all of them are here to a greater or lesser extent, and often to make an instrumental stand out from the pack there would be some idiosyncrasies added, like the seductively breathy girl on Bartlett's Jet Walk, the jokey intro to Soft Surfie by Max Merritt and the Meteors ("Oh, put me down" says the softie camp voice), the broody Munsters-influenced Music to Watch Ghouls Go By and pounding hoofs behind the Al Paget Sextet's Stampede.
Space was the place as much as the surf at the time (yes, the theme to The Endless Summer is here, by the Silhouettes who give it a melancholy feel) so here are the Embers with the twangy Planet 10, Bartlett's Moon Man with an intro which echoes The Twilight Zone theme . . .
The title comes from a lovely subdued ballad (with whistling) by the Four Fours and Moontide by the Minors is equally lovely.
This is a lot of guitar tremolo and twang but if this came out on limited edition vinyl from the UK the cool kids and overnight fans would be getting into this.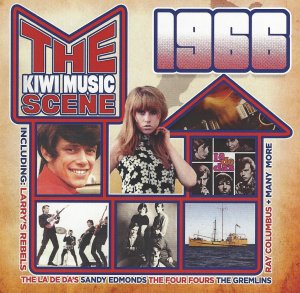 But here it is, local and an impressive number of plank-spankers, all given their due in the pithy liner notes and photos.
The other collection from Gillanders' Frenzy walks a more familiar path: The Kiwi Music Scene 1966.
So here – with DJ Keith Richardson's intros and back announcements recorded in the era from his radio show – are key tracks by the La De Da's (How is the Air Up There, On Top of the World), Larry's Rebels (I Feel Good), Chants R'N'B (I'm Your Witchdoctor), Bluestars (the always thrilling Social End Product), stupid pop like Sandy Edmonds' I Love Onions, Jay Epae singing his original Tumblin' Down (a hit for Maria Dallas), Columbus' horn-stabbed version at She's a Mod and more.
1966 was – this collection makes clear – the year when the schism between pop and rock became apparent.
By this time many had moved on from the Beatlemania of two years previous (among them the Beatles themselves) and tough r'n'b sounds from the Stones, Pretty Things, the Who, Small Faces (who had toured by this time) and the Downliners Sect and American bands like Paul Revere and the Raiders was having a real impact of sounds and taste.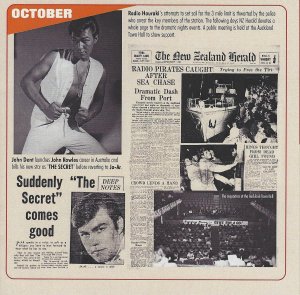 There is as much raw rock here (the Hand with Stepping Stone, Grim Ltd aiming for the Pretty Things/Sect r'n'b with Oh Baby Doll) as there is mainstream pop (the Four Fours' Go Go on the bridge between both genres, Gremlin's Coming Generation, Allison Durban, the Dallas Four, the Tunespinners bringing folk-rock on the decidedly average You've Done Your Best) . . . with classic one-offs like Epae's Creep and Mr Lee Grant rockin' out on As Long As I Had You.
There's strange stuff: the Yoemen seem three years too late to ride the surf wave with Beach Bunny Girl, as does Jimmy Sloggett with an instrumental version of Georgie Fame's Yeah Yeh Yeh.
With Richardson between some of the songs (and Edmonds' ad for the apple marketing board) this is constructed to sound like a radio show from '66 coming at you in your living room.
Many will have at least a third of these songs (or at least should have).
So it's the lesser-heard material (the Rayders' channeling the Who on Working Man, the Pleazers, the Roadrunners taking on Ray Davies' House in the Country) and the substantial full colour booklet of photos, newspaper articles, posters and album covers make this yet another valuable labour of love from Grant Gillanders, a man who just wants to share his passion . . . and that wealth of New Zealand music which would otherwise languish in archives.