Graham Reid | | 6 min read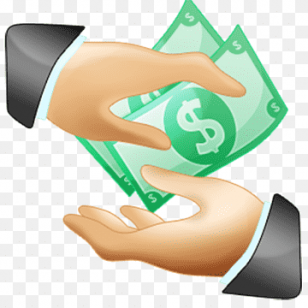 Previously Elsewhere has written about cheap vinyl picked up and enjoyed (or endured) because in a world of collectors out for rarities or obscurities we would like to note that not every old record is a hidden treasure.
Some records are just rubbish. But a few even among the detritus can still be enjoyable albums going cheap.
So once again we take $50 for a walk around a secondhand shop and come out with . . .
.
The Outsiders: Album #2 (1966)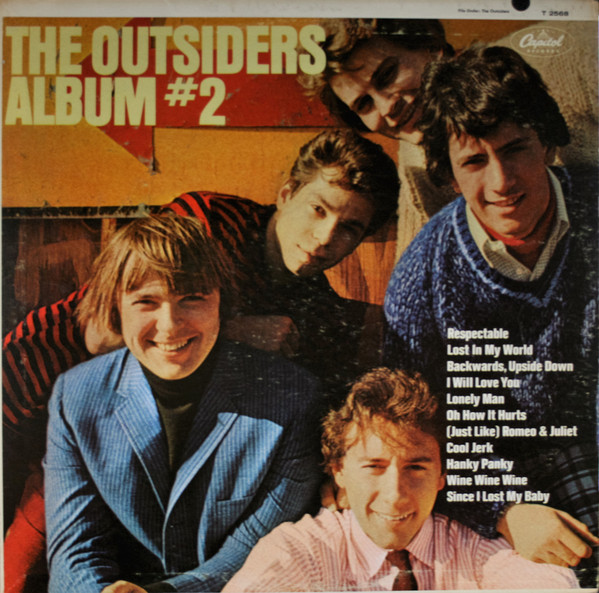 The Outsiders were a pretty cool pop-rock band who nailed down one classic single, Time Won't Let Me, in early 66 which came after they'd been around in form or another since the late Fifties.
So, no post-Beatles come-lately band but seasoned players who'd done surf rock, close harmony pop and so on.
Time Won't Let Me was – in New Zealand anyway – all over radio, but maybe not until about a year after it was released. Played on the new Radio Hauraki would be my guess.
Which is all well and good, if the secondhand shop has their debut where it was featured.
But this follow-up – with the customary horns and strings alongside their tight playing and vocals – just doesn't have a stone cold classical like that.
There's genuine excitement to their version of the old Cool Jerk but there are lot of tracks here which are beamed in from other artists, notably Just Like Romeo and Juliet from just two years before, Hanky Panky (which Tommy James and the Shondells had a hit with just before #2 was released and is far superior) and their tough horn-driven Respectable which was an old Isley Brothers song the Yardbirds had also covered a couple of years previous.
There are a number of soulful ballads here (Since I Lost My Baby, I Will Love You) which are all fine but the rock dial has been mostly turned down and so it rarely lives up to the liner notes which promise that "#2 is the wildest! . . . so mesmerisingly wild that it's almost indescribable!!!"
They also released a live album, which wasn't.
Over the years their line-up changed and off-and-on they kept reappearing, presumably making it on the oldies live circuit.
I'd seen this album for $29.95 last year but was now glad I waited and only paid $10 for it.
This album isn't on Spotify but a decent overview compilation (with That Big Hit) is here
.
The Rubinoos: Back to the Drawing Board (1977)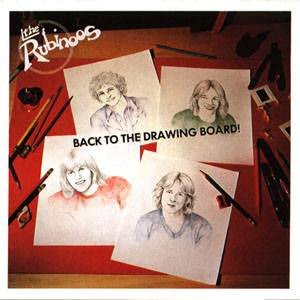 Although thinner sounding than the great Dwight Twilley Band, more assertive than the delightful Shoes and not as smart as Big Star, this Californian power pop band were on an interesting label, Beserkley which also gave us the enjoyable Greg Kihn Band, Tyla Gang and Jonathan Richman (after that great Modern Lovers debut).
They'd come to attention with their powered up cover of Tommy James and the Shondells' I Think We're Alone Now on their self-titled debut album, unfortunately this more lightweight album sprung no such hit . . . which perhaps explains why you can find it in secondhand shops more often than the first one, and rendering redundant the back cover note "if you want to know who played what, buy the first album".
(Never seen any of their others, of which there were a few.)
Their chipper cover of the old song Hold Me however will be instantly familiar to many, probably from the PJ Proby version a decade or so previous.
But mostly this is enjoyably standard power pop (verse chorus verse chorus, harmony vocals) which was mostly washed away when its higher profile offspring New Wave came to the fore after punk.
While looking under R for the Rubinoos – where this lurked for $8 – keep an eye out for their British contemporaries The Records whose Shades in Bed is worth serious attention in the power pop world.
You can hear this album on Spotify here (where there is a swag of Rubinoos)
.
Detective: It Takes One to Know One (1977)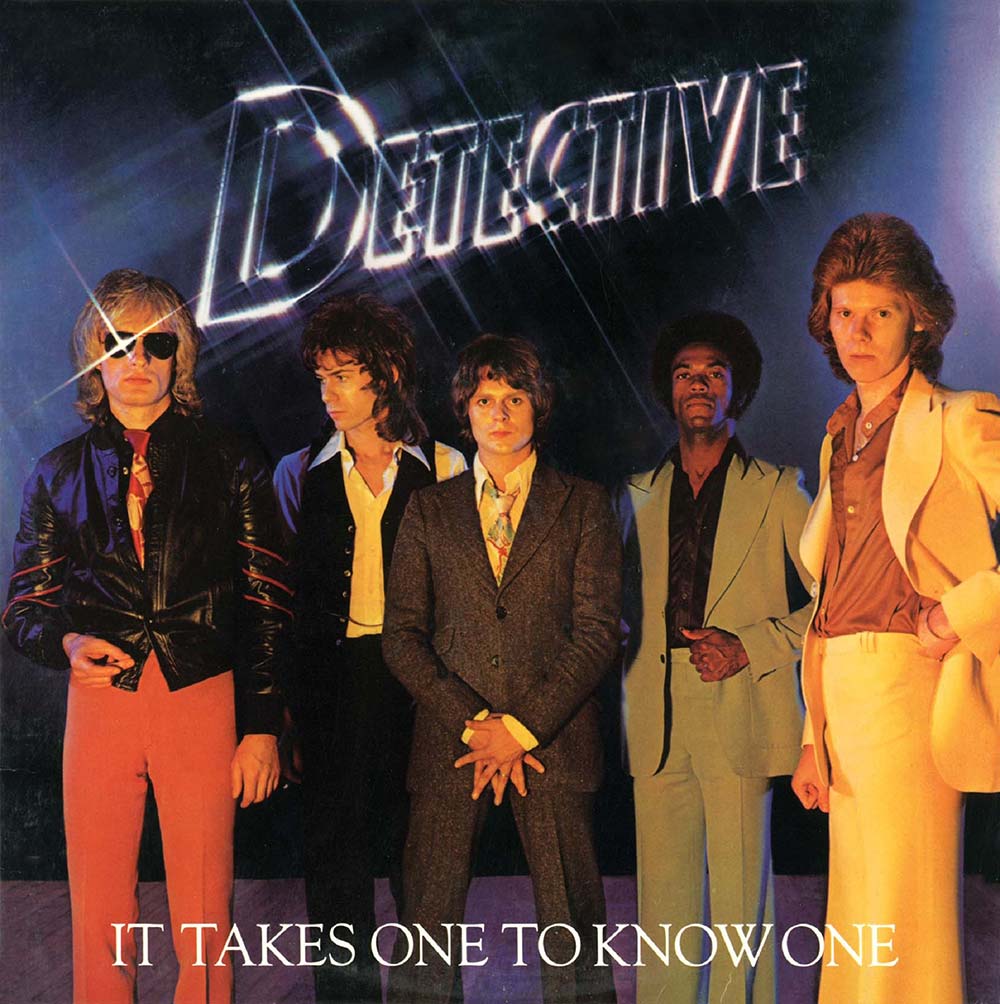 There's a bigger story than we care to write at the moment because for a very long time Elsewhere has been gearing up to write a WE NEED TO TALK ABOUT article about Detective's singer Michael Des Barres (married to infamous and former groupie Pamela DB at this time) who is an actor and musician, scenester and so on.
He was Sir Charles Weatherbee (aka Dog) in the buttoned-down, well-spoken but anarchic British band Scum of the Earth in this episode of WKRP in Cincinnati.
He is also the 26th Marquis Des Barres (in real life) and Detective were signed to Led Zeppelin's Swan Song label, apparently by Jimmy Page himself.
Very much a crowd-pleasing mainstream rock'n'roll band, Detective toured with Kiss but never enjoyed much critical or commercial success.
Which explains why you can frequently find their self-titled debut and this follow-up (both from '77) in many secondhand shops . . . and cheap as this was.
Think Faces-era Rod fronting a Kiss-influenced hard rock band and you are in the ballpark. Dynamite and Betcha Won't Dance are pretty enjoyably rowdy and Faces-like.
Theirs was a short-lived career, but Des Barres just carried on and on as an actor, frontman for various bands . . .
That's a better story than this mostly unmemorable album, which we will write someday.
You can hear this on Spotify here
.
Jonathan Edwards: Honky-Tonk Stardust Cowboy (1972)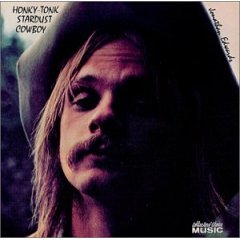 Not to be mistaken for the Legendary Stardust Cowboy (Norman Odam) whose name inspired Bowie's Ziggy, Jonathan Edwards is a long-running US singer-songwriter (and sometime actor) who ran with the Allmans and Michael Martin Murphey around the time of this second album.
And the great – and now late – Bill Keith is here on pedal steel and banjo.
(Later Edwards recorded with Emmylou Harris among other luminaries.)
Perhaps as a result of his rural lifestyle, this is a breezy country-rock collection of mostly originals although he also does Jesse Colin Young's Sugar Babe and the Forties pop song Paper Doll (Mills Brothers, Bing Crosby etc)
The toe-tapping Ballad of Upsy Daisy was written by Joe Dolce (Yes, that shaddap-you-face Dolce) and the title track by Darrell Statler.
There's a bit of a retreat in love, the rural lifestyle and Jesus and laidback acoustic guitars and bass (with strings sometimes). His more intense revisit to the traditional Morning Train is excellent.
Stress-free summer days music for the Sunday barbecue when you just want a mood rather than anything memorable.
Not on Spotify but it was just $10 in a secondhand record shop . . .
.
The Lost Gonzo Band: The Lost Gonzo Band (1975)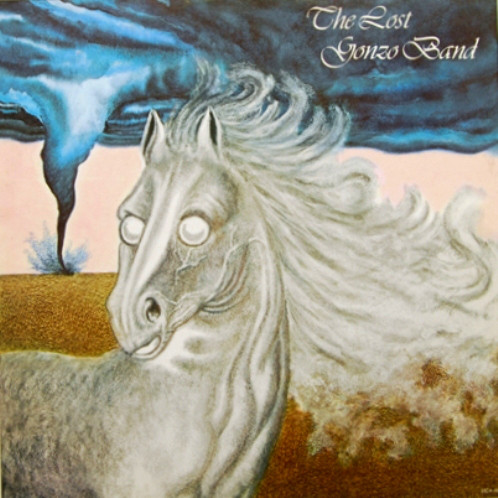 This was the debut – on MCA Records no less – of a band which was perhaps best known for backing Jerry Jeff Walker and brought a kind of outlaw, stoner rock into country.
Cosmic Cowboy was the genre and in their circle was Michael Martin Murphey (again!) and Willie Nelson.
There's a tough edge in places as on Desperadoes (Murphey getting the co-credit with chief Gonzo writer Gary Nunn) but equally some rather limp stuff (Money). People Will Dance ("if you give 'em that chance") is slick disco-funk and take Advantage of Your Chances is a banjo-driven hoe-down with fiddle, followed by the reflective ballad Those Were The Days (both by band member Robert Livingston).
At the end we are in the balmy Caribbean.
It's all a bit confusing really.
However the playing everywhere is smart (the ballad Reality is among the best here) but they needed more distinctive vocalists.
But for $6 it was worth finding out.
In this case I listened so you don't have to?
They are not represented on Spotify but here below is the whole album on You Tube
.
Elsewhere has a number of columns along these lines, click the title for the following
10 Solo Albums by Group Members
Five Odd Albums No One Should Own (but I do)
Five French Albums I'm Surprised I Own
10 Shameful Records I'm Embarrassed to Own
10 Odd Unplayed Albums in My Collection
Another 10 Odd Unplayed Albums in My Collection
10 Unusual 10 Inch Records I'm Surprised I Own
10 More Shameful Record Covers I'm Proud to Own
And Another 10 More Shameful Record Covers I'm Proud to Own
10 Rare Free Jazz Albums I'm Proud to Own
10 Somewhat Rare Reggae Albums I'm Proud to Own
and there is probably much more . . .
.