Graham Reid | | 3 min read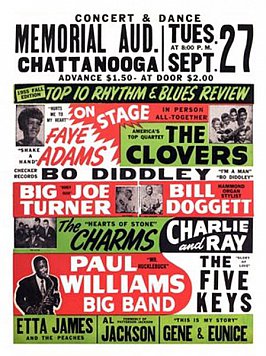 In the early Sixties the sound of black rhythm and blues -- played by young white musicians -- could be heard pounding out of the fleshpots of Hamburg, a pub in Richmond, bars in Belfast, clubs in central London, the dancehalls of Liverpool and Newcastle, and makeshift rehearsal spaces all over Britain.
This was music made by the post-rock'n'roll generation, those who had been 15 or 16 in the years between '54 and '58. They'd been swept up by the raw energy of Elvis Presley, Chuck Berry, Little Richard, Jerry Lee Lewis, Buddy Holly and so many more.
By the time they hit their late teens or early 20s they were still in thrall of these sounds and had formed their own bands. They went looking for more of this music and found it in black blues and rhythm'n'blues.
The young Mick Jagger and Keith Richards sought out the blues of Muddy Waters, Howling Wolf, Robert Johnson and the music coming out of Chicago's Chess studios. The Stones debut album when it was released in early '64 was mostly covers of material by Willie Dixon, Jimmy Reed, Bo Diddley, Slim Harpo, Chuck Berry and other heroes.
Similarly the debut album by the Animals -- from Newcastle -- later that year picked up songs Berry, John Lee Hooker, New Orleans' Dave Bartholomew, Bo Diddley . . .
And although across in Belfast Van Morrison was contributing songs to Them's debut released the following year, they too covered John Lee Hooker, Bobby Troup's Route 66, Jimmy Reed and other songs which had been a staple of their live sets.
This (predominantly black) rhythm'n'blues was a rich vein of music full of discoveries for young musicians who sought to find themselves, or test themselves, in it. It seemed impossibly obscure, romantic and coming at them from a different planet, Planet Black America about which they could only speculate.
One of the more remarkable projects in recent years has been an on-going chronological four-CD series of rhythm'n'blues collections.
This beautifully packaged series -- on History of RnB Records, distributed by Southbound in New Zealand -- has opened the vaults with three excellent preceeding collections, the first covering the years 1925-42 (reviewed here), the second 1942-52 (see here) and the third 1952-57 (here).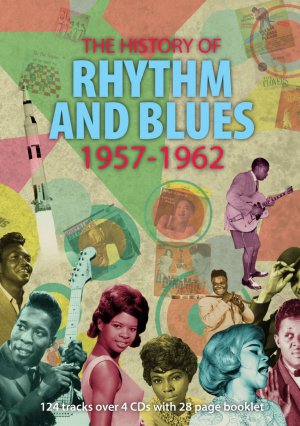 But the fourth volume (right) which picks up another 124 tracks is where you can hear the originals of those songs covered by the Beatles, Stones, Animals, Who, Small Faces, Kinks, Them and all those other young British and Irish musicians.
This volume covers 1957-62 and these are the songs those musicians imported, borrowed, shoplifted, learned from, took into their live sets and sometimes recorded when they got the chance.
This is a treasure chest of brilliant, influential, sometimes crazy and always ear-opening material.
Just skimming the surface on titles alone is revealing: Here is Chuck Berry's Memphis (covered live by the Beatles and Stones most notably), numerous songs which made up the Stones formative listening (Slim Harpo's I'm a King Bee, Junior Wells' Little By Little and the Staple Singers This May Be the Last Time which they "adapted", Marvin Gaye's Hitchhike and more) and material covered by the Pretty Things (Road Runner) and the Yardbirds (Good Morning Little Schoolgirl, A Certain Girl) and others.
And songs which even cropped up later in the Sixties and in subsequent generations: James Brown's I'll Go Crazy was covered by the Blues Magoos, Shake Your Money Maker by the Black Crowes, Solomon Burke's Stupidity by Dr Feelgood, Parchman Farm and Summertime Blues were made over in a metal style by Blue Cheer . .
And stone cold classics: the Isley Brothers' Shout, Jackie Wilson's Doggin' Around, Shop Around by the Miracles, Green Onions by Booker T and the MG's, Sam Cooke's Bring It On Home . . .
Great names are everywhere: Irma Thomas, Ike and Tina Turner, Mary Wells, Eddie Bo, Nina Simone, Gary US Bonds, Arthur Alexander, the Shirelles, Barrett Strong with Money which the young Jophn Lennon claimed for his own in Hamburg and then in EMI's Abbey Road studio . . .
And speaking of the Beatles.
Anyone who has read Mark Lewisohn's Tune In, a detailed account of the Beatles in these formative years, cannot help but be struck by how voraciously they devoured new songs by black rhythm'n'blues artists (alongside country, white rock'n'roll and even show tunes). They would learn them by ear from the records to fill out those hours playing in those fleshpots of Hamburg.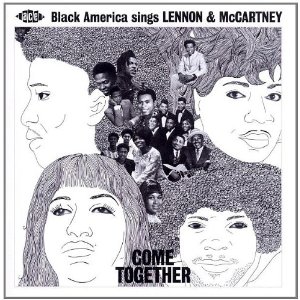 So here are so many of those songs: Kansas City, Think, Memphis, What'd I Say (which they could play out for 15 minutes), Shakin' All Over, She Said Yeah, Get a Job . . .
So it is entirely fitting that this remarkable collection ends with where this music would go in the following years. It closes with the Beatles' first single Love Me Do which the extensive liner notes correctly observe "is now so well-known that its blues origins are scarecly discernible".
But heard in this context, there they are laid bare again. The perfect ending to a massive, rough-diamond collection which opens with Wilbert Harrison's Kansas City which the young lead guitarist in this band used to sing in Hamburg when he was just 17.
And down the years, black artists (above) would reciprocate in their own way.
There is a broad timeline of rhythm and blues at Elsewhere here.