Graham Reid | | <1 min read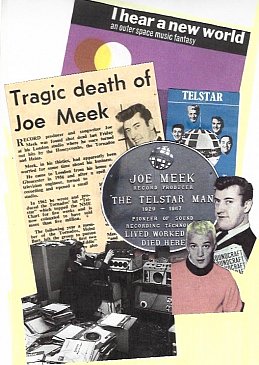 The temptation when thinking about the collage for an article on Joe Meek's sci-fi pop album I Hear a New World would be to go the whole spaced-out look.
After all, that was the theme of the album, and of course he had recorded the exceptional instrumental Telstar for the Tornados which evoked the space-race of the early Sixties.
But the tragedy of Meek's life meant that such an image might have seemed frivilous (and I'd already done a space-themed collage for George Martin who, as Ray Cathode, had a done an experimental single in the years before he encountered the Beatle band).
So Joe Meek got a more toned-down image which reflected both the success and tragedy of his short life.
The article it illustrates about that odd album and Meek's life is here.
.
For other Art by Elsewhere go here.