Graham Reid | | 8 min read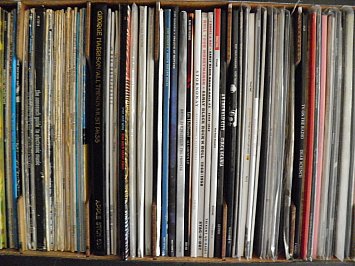 It's the end of term and the report cards are being written and sent to anxious folks at home.
Here Elsewhere singles out excellence from the many dozens of albums we have written about so far this year. But note, these are only chosen from what we have actually reviewed: we heard more but didn't write about them.
And we also didn't hear albums which are doubtless your favourites from the past six months.
That's as it should be. As the subtitle says, this is just an opinion.
However we feel that these albums are ones we'll be returning to for many years to come.
So have a look . . . and start writing that letter of outrage to the editor or your local MP.
Now this album by Dry Cleaning we only posted today so arrived too late to be in this list, but it would have been. The question is, what to take out to get it in? Hmm.
Anyway, here's what we believe to be among the finest we're drawn attention to. In no particular order . . .
.
Ane Brun: After the Great Storm/How Beauty Holds the Hand of Sorrow
Not a household name in this country unless you saw her at a Womad and were as smitten as we were. Here are two beguiling albums out of Scandinavia released almost simultaneously and which contain beautiful and sometimes gently challenging song.
For our full review look here
.
The Besnard Lakes: Are The Last of the Great Thunderstorm Warnings
This widescreen Canadian outfit took five years off but returned with this cinematic but somehow intimate meditation on death and life while wrapping it all up in billowing psychedelic prog-rock songs which never outstay their welcome. A journey.
For our full review look here
.
Jane Weaver: Flock
Electronica, folk-rock psychedelia, ambient sounds and experimentation all neatly imploded onto the best album yet by a British artist we have followed for many years. We felt vindicated!
For our full review look here
.
Nick Cave and Warren Ellis: Carnage
There's no denying that Cave (with or without Ellis) has been on a roll in the past decade with extraordinary albums which mix the secular and the spiritual, and deliver with a dark and melodic melancholy. This album is no exception.
For our full review look here
.
Edward Castelow: Mirth
Formerly releasing albums as Dictaphone Blues, the multi-talented songwriter and damn fine singer Castelow steps out under his own name and "took the imposed downtime to think deeply and craft songs which are discrete, sometimes deep and wrapped up in strings, horns and backing vocals where required".
For our full review look here
.
Godspeed You! Black Emperor: G-d's Pee at State's End!
Ominous and sometimes intense instrumentals which we acknowledge would not be for everyone but still we concluded, "really quite something in its own not-prog/art music expansiveness".
For our full review look here
.
Merk: Infinite Youth
Writing from and about that limbo-land between childhood and adulthood with a foot in both camps, this collection is a quiet revelation of understated sadness and hurts alongside glimmers of optimism. We said "autumnal thoughts in summer clothes".
For our full review look here
.
Flying Lotus: Yasuke
The soundtrack for a Netflix anime which you needn't see (we gave it about 20 minutes) but which is a stand-alone item of 26 short pieces (a few with an ethereal vocalist) which has constantly rewarded repeat-play.
For our full review look here
.
Chora(s)san Time-Court Mirage: Blues Alif Lam Mim in the Mode of Rag Infinity/Rag Cosmosis
The unwieldy ensemble and album names probably don't help but this organic, evolving 80 minute piece by electronica innovator Catherine Christer Hennix is located somewhere between Indian drone, ambient meditation, contemporary electronica, Frppertronics and so much more. But less, if you get our drift.
"Not for everyone of course. But certainly for those of the serious Elsewhere persuasion."
For our full review look here
.
Lovano/Crispell/Castaldi: Garden of Expression
Sometimes the players' names are enough, as in the case of this sophisticated jazz album which eases from weightlessness through midnight-blue balladry and chamber-jazz to the spare Zen Like at the end. A beautiful album.
For our full review look here
.
Penelope Trappes: Penelope Three
The final part of an atmospheric, sometimes gently Gothic, trilogy of which you needn't have heard to first two in order to immerse yourself in this. We described in it part as "a dark, emotionally cool and sometimes glacially romantic album about love, reconciliation and closure".
For our full review look here
.
Dianne Swann: The War on Peace of Mind
Very close to the perfect vinyl album of eight discrete songs, each of which is intelligent, addresses a different thought, blazes with cold fury or self-analysis and wraps all that up in memorable songs. After 35 years a professional musician in bands, Swann stepped out under her own name. "At last."
For our full review look here
.
The Coral: Coral Island
Can't give this one away in New Zealand unfortunately – and it hasn't been released here so we ordered the vinyl from overseas – and what a shame: a wistful, pop-rock slice of nostalgia about a time and place, the band's history there and with brief spoken word interludes to tie it together. Truly wonderful album from a band which made an immediate impression in the Brit-pop years but that has seemingly lumbered them with that label. But Coral Island – like a more embellished late Sixties Kinks album – is as fine a piece of work as any out of the UK in the past decade.
For our full review look here
.
Arooj Aftab: Vulture Prince
And why not Pakistani jazz-ambient music out of Brooklyn? "That sense of rest, space, warmth and traditional music with contemporary influences (particularly on Inayaat and Mohabbat) is the chief feature of this very lovely album born out of sadness but which breathes a comforting optimism. A thing of quiet beauty."
For our full review look here
.
Joy Harjo: I Pray for My Enemies
The first Native American poet laureate in the US – the current holder – here brings culture, poetry, jazz-rock (she's also been a longtime musician) and politics into play on an album which defies any genre-labelling and exists in its own orbit. Brutally honest in places, touching myth and memory in others.
"With traditional chants and songs sprinkled through, this is contemporary poetry bound up up with song, music and history . . . and which doesn't shy from hard truths about colonisation and oppression while passing the messages of the past, love, forgiveness, spirituality and preparedness to a new generation."
For our full review look here
.
Teeks: Something to Feel
At the conjunction of secular and soulful music, with quiet songs about longing for love, Teeks brought a real sense of class and containment to these songs which ache with sexual passion as much as yearn for spiritual redemption.
For our full review look here and we also published a recent concert review here
.
The Weather Station: Ignorance
Although this album by Tamara Lindeman aka The Weather Station was released in late 2020 it – like the terrific Besnard Lakes album mentioned here – didn't arrive on our shores until this year so . . . it's in! Gorgeous stuff with pop elements, a bit of drama and couched in accessible songs: "Reference points have been the spaciousness of Talk Talk, although in her confident, melodic fluidity she also edges close to classic Van Morrison. Because of that background in folk, Lindeman doesn't shout her grief and concerns but embeds them as part of the gloriously realised whole".
Britain's Uncut magazine has it as "the first great album of 2021".
For our full review look here
.
Jane Ira Bloom/Mark Helias: Some Kind of Tomorrow
Soprano sax and bass, recorded via the internet during lockdown and yet you'd never guess that from the subtle interplay and warm closeness across this album. "Further confirmation that in the hands of the best, as these people are, pure improvisation is a rare art form which comes from the soul through the head and hands in an instant."
For our full review look here
.
Crowded House: Dreamers Are Waiting
Crowded House reinvented themselves again with a collection which doesn't throw out an easy pop hit but has much deeper lyrical and musical layers to give it real longevity.
For our full review look here
.
Lucien Johnson: Wax///Wane
With just enough acknowledgement of the Coltranes, Sun Ra and others on that spiritual wavelength this album stands apart. "On an album inspired by the phases of the moon and natural phenomena, Johnson and his excellent, empathetic friends (vibes player John Bell, harpist Michelle Velvin, bassist Tom Callwood, drummer Cory Champion and percussionist Riki Piripi) evoke a spiritual jazz of the kind rarely heard from New Zealand artists."
For our full review look here
.
Mdou Moctar: Afrique Victime
Astonishingly powerful and political "Sahara blues" of which we said a "fiery outing by Moctar which revels in dense layers of coiling guitars from the mainman and his foil Ahmoudou Madassane, and the driving rhythm section which will pin you to your seat with the five minute opener Chismiten. Taliat which follows is a thrilling Gordian Knot of guitar lines and Moctar's desperate vocals (and the chant-like backing vocalists) which don't leave you much room to catch a breath".
For our full review look here
RECOMMENDED REISSUES and NEW ISSUES:
.
John Lennon: Plastic Ono Band
The full remixed and expanded box set of the original 40 minute album of 1970 – six CDs and two Blu-Ray discs – is far too much for most but this reissue also came in more approachable remixed/remastered editions (single album, double vinyl or double CD) and even now it comes off as the most courageous, myth destroying album by a major artist.
It is wracked with pain and doubt, and yet much of it delivered with such vulnerability and good tunes that somehow it doesn't seem self-indulgent.
"In short order [afterwards] there were uneven albums which contained enduring songs (Imagine), mainstream pop and the mundane in equal measure. "None matched the cathartic Plastic Ono Band for artistic integrity and consistent vision."
For our full review look here
.
OMC's How Bizarre
This had never before appeared on vinyl so that alone made it important, but while we would concede Pauly Fuemana's vocals are the least of it here they carry two great songs – How Bizarre and Land of Plenty – more than a few passable ones and the truly awful She Loves Italian. What the album reminds you of however is that the real star here was arranger/producer Alan Jansson who shaped these songs and sounds.
For our full review look here
.
Voom: 'Hello, Are You There?'
Also released for the first time on vinyl, this 2006 album is full of very beautiful (and cleverly arranged songs, impressive on the modest budget) but it's like the one that sticks immediately is Happy Just Bumming Round. The care and detail here though suggests very little bumming around. Excellent stuff.
For our full review look here
.
Timo Lassy and Teppo Makynen: Timo Lassy and Teppo Makynen
A recent discovery of the duo work by these two Finnish players (sax, percussion) which started with this 2019 album and lead on into a double live collection of 2019-202 concerts. And we have been won over.
"In many respects – through economy, space, melody, and the intuitive relationship between the two players which is supportive rather than provocative, the Timo Lassy and Teppo Makynen duo deliver the easy and accessible end of such improvised music.
"This rarely comes out to bludgeon or force its audience into cowering in a corner as is sometimes the case with free jazz. But that denies it nothing in terms of being innovative, improvised music."
For our full review look here
.
The Chills: Submarine Bells
We said, "three decades on Submarine Bells still has the capacity to delight, surprise, irritate (like sand in an oyster creating the pearl) and . . . Here were literate pop hits from heaven and a more earthly realm (born of a remote city at the bottom of the planet) which rarely sounded so enjoyable and . . . yes, timeless.
"An essential album, and now on appropriately greeny-gold vinyl."
For our full review look here