Graham Reid | | 10 min read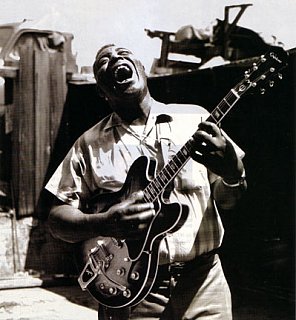 The history of the blues has been written, rewritten, revised, over-written and turned into academic treatises and a subject for analysis.
But it remains something which can get lost in the chatter. It is a music.
John Lennon, who was hardly a blues aficionado, had a good line: "The blues is a chair, not a design for a chair or a better chair . . . it is the first chair. It is a chair for sitting on, not for looking at. You sit on that music".
But just about every blues musician had something to say, their own spin on what the blues is and who can and can't sing it or play it.
"The blues had a baby and they named it rock'n'roll" -- Muddy Waters' song, 1977
"The white man cannot sing the blues because he's got nothing on his mind" -- Huddie Ledbetter aka Leadbelly
"It was me identifying with some kind of cry of suffering. Yes, pain. Because I had a very confused, tumultuous childhood. I mean, no one has a perfect childhood, but mine . . ." -- Eric Clapton on why he identified with the blues.
"The English invasion really introduced a lot of Americans, including me, to Howlin' Wolf, Slim Harpo and Muddy Waters. I probably got more exposed to that kind of Chicago blues, and BB King, through the access of the English blues guys, and Eric Clapton It was a great gift the Brits gave us." -- Bonnie Raitt
And there you have it: a malleable music which started off in black America (where it remains too) and -- as it went into a decline and the artists died out, retired or were simply ignored -- the baton was picked up by a new generation in white Britain who heard it as the exotic, forbidden music of an outsider culture.
It was full of codes and alluring mystery, and it was tough, sexual and adult at a time when pop music was none of those things.
The blues -- as with all musical forms -- changed and morphed into new styles" from Elmore James to Duane Allman to Eddie Van Halen . . ..
But it was still a chair to sit on.
Here's a short journey in and around the chair.
Sit down if you wish.
THE BRITISH BLUES BOOM 1961-66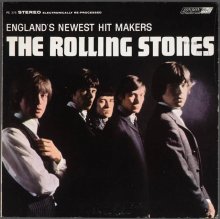 The Rolling Stones (formed by sometime players in Alexis Korner's Blues Incorporated and named after the Muddy Waters song Rollin' Stone)
Most of their early material was blues, rhythm and blues and black rock'n'roll.
First single in June '63 a cover of Chuck Berry's Come On of '61
Here's Chuck
Come On, Chuck Berry
and the Stones
Come On, The Rolling Stones
They did a lot of Chuck Berry songs (as did the Beatles, especially before fame struck)
like . . .
Little Queenie, Chuck Berry (1958)
They were still playing Little Queenie as recently as 2010 (this from 2006, starts at 3.20)
Down the Road Apiece, Chuck Berry (1960)
Down the Road Apiece, Rolling Stones (1964)
and Little Red Rooster (a single) by Willie Dixon (here by Howlin' Wolf)
Little Red Rooster, Howlin' Wolf (1961)
Little Red Rooster, The Rolling Stones (1965)
and Down Home Girl by Leiber/Butler (not black songwriters but tapping into Southern r'n'b)
Down Home Girl, The Rolling Stones (1964)
and songs by Solomon Burke, Allen Toussaint, Bo Diddley, Slim Harpo and Rufus Thomas as well as white artists like Buddy Holly
Blues songs were the meat'n'potatoes of many British bands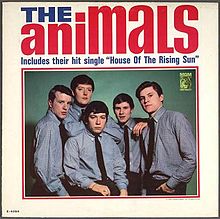 The Animals
Out of Newcastle, a tough northern city.
Newcastle Bown ale the favoured tipple of frontman Eric Burdon, a former gas-fitter.
Chas Chandler on bass later "discovered" Jimi Hendrix in New York and convinced him to come to Britain. Keyboard player Georgie Fame went on to a highly successful jazz career and has been in Van Morrison bands (another who grew up on these rhythm'n'blues and soul sounds).
The Animals doing John Lee Hooker
Boom Boom, written by John Lee Hooker in '61
and telling The Story of Bo Diddley (Diddley's original was in 1959)
The Story of Bo Diddley, The Animals, 1961
They also backed Sonny Boy Williamson when he went to Britain in '63
The Who
In the early days they billed themselves as "Maximum R'n'B"
I'm a Man, written by Bo Diddley, 1955
and this originally by James Brown
I Don't Mind
Fleetwood Mac
Before they became globally famous in the Seventies they were a British blues band.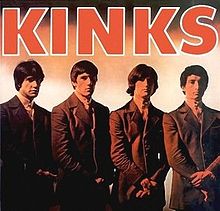 The Kinks
From London, two brothers Ray and Dave Davies. Although when playing early gigs they leaned heavily on blues and rhythm'n'blues material, Ray increasingly became the writer of original material.
A blues standard, versions and variations by Robert Johnson and Elvis Presley. 1964
Milk Cow Blues, written by Kokomo Arnold, 1934
and some reworking of familiar blues tropes
Long Tall Shorty, 1964
Bald Headed Woman. 1964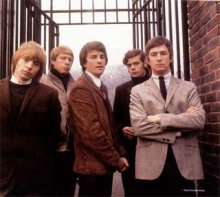 The Yardbirds
(with Eric Clapton, far right)
Formed in London, took over the Rolling Stones residency at the Crawdaddy Club, apparently took their name from Charlie "Yardbird" Parker (jazz saxophonist),.
The Yardbirds' debut album was recorded live and included mostly blues, rhythm'n'blues and rock'n'roll covers (eg Chuck Berry's Too Much Monkey Business, Howlin' Wolf's Smokestack Lightnin' and Bo Diddley's Pretty Girl).
Clapton quit in early '65. He was replaced by Jeff Beck and when Beck was quitting session guitarist Jimmy Page joined the band.
Page helmed the final incarnation of The New Yardbirds (to fulfill a touring contract) which morphed into Led Zeppelin. But that's another story.
I Wish You Would, written by Billy Boy Arnold
And Good Morning Little Schoolgirl, origin unknown but first recorded by Sonny Boy Williamson in 1937
Good Morning Little Schoolgirl
The Yardbirds supported Williamson on a UK tour in '64
I'm a Man, written by Bo Diddley, 1955
and the song For Your Love -- which went to number two in Britain -- which signalled Clapton's farewell to the band which he felt was getting too commercial. Writer Graham Gouldman penned numerous hits at this time for bands like the Hollies, Herman's Hermits and others. A clever songwriter (who later co-founded the Seventies hit machine 10cc)
For Your Love, written by Graham Gouldman
ERIC CLAPTON: FROM BLUES PURIST TO PSYCHEDELIC AND HARD ROCK PIONEER
A career in and out of bands in rapid succession.
October 1963: joins the Yardbirds
March 1965: leaves the Yardbirds when he considers their single – writing by Graham Gouldman – too commercial.
"In those days I was a complete purist. If it wasn't black music it was rubbish".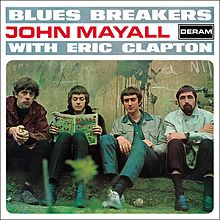 April 1965: Joins John Mayall's Bluesbreakers for one album. Takes three month break in August and bassist Jack Bruce joins the Bluesbreakers.
On his return in November Clapton clicks with Bruce.
"Most of what we were doing with Mayall was imitating the records we got, but Jack was something else. He had no reverence for what we were doing and so he was composing new parts as he went along playing.
"I had literally never heard that before, and it took me someplace else. I though if he could do that an I could, we could get a drummer . . . I could be Buddy Guy with a composing bass player. And that's how Cream came about."
Clapton/Bluebreakers songs
All Your Love: "Eric and I were fond of this Otis Rush song. After he left the Yardbirds he moved into my house in Lee Green and we had lots of sessions where we'd go over the records. This came into our repertoire through Eric's love of playing it. It's definitely a guitar player's record." -- John Mayall
All Your Love, written by Otis Rush and Willie Dixon
The Otis Rush original is here.
Hideaway: "Eric and I were both crazy about Freddie King's singing and playing and this instrumental was a guitar lover's dream. Eric adopted that one and helped make it famous." -- Mayall
Hideaway, written by Freddie King
Parchman Farm: "This was another audience pleaser. Like the rest of the album, our main aim in recording this was to capture the live sound on vinyl" -- Mayall
Parchman Farm, written by Mose Allison
Ramblin' on my Mind: "Eric was very much into Robert Johnson at that time. He hadn't done any singing before so I encouraged him to have a go saying, 'What have you got to lose?'. He was a little reticent about singing it, but I had no doubts whatsoever." -- Mayall
Ramblin' On My Mind, written by Robert Johnson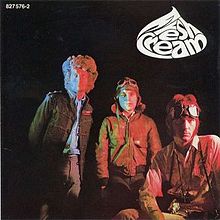 July 1966: forms Cream with Bruce and drummer Ginger Baker. The first supergroup? The emergence of the guitar hero and an improvising rock band.
Debut album features a number of originals by Bruce but also I'm So Glad (by Skip James), Clapton arrangement of Four Until Late by Robert Johnson and Spoonful, a song written by Willie Dixon and sung by Howlin' Wolf.
Spoonful by Howlin' Wolf, 1960
Spoonful, Cream. 1966
It became an extended workout live, often reaching past the 25 minute mark. Through Cream the blues gets psychedelic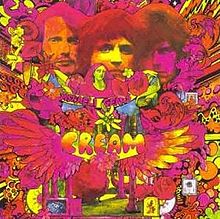 Second album Disraeli Gears released December 1967. Mostly original songs from Bruce and Clapton. Included Strange Brew and Sunshine of Your Love.
Clapton unhappy with the album: "In a way that was a bit to poppy for me . . . but I didn't think Sunshine of Your Love was too poppy. We kind of nailed it with that one." -- Clapton
"When Cream did Strange Brew I hated the song so much that the only thing I could do to give it some stability, or justify doing it, was to quote Albert King in the guitar solo. That was the first thing Jimi [Hendrix] remarked on when we met." -- Eric Clapton
Strange Brew, Cream
Constant tensions between Bruce and Baker, Clapton looking elsewhere for ideas.
Third album Wheels of Fire was a double: studio tracks on one album, live recordings on the other (including a 16 minute Spoonful).
But also this in the studio, White Room.
"I was very proud of the heavier stuff we did, like White Room"
White Room, Cream. 1968
November 1968: the Cream play to a capacity house at London's Royal Festival Hall in November 1968. It is their final performance.
January 1969: Soon after Cream's breakup, Eric Clapton and Ginger Baker join forces with Steve Winwood (of Traffic) and Ric Grech (of Family) to form the "instant supergroup" Blind Faith. Their debut is at a huge outdoor concert (100,000 in atendance) in London's Hyde Park in June.
September 1969: John Lennon appears at the Toronto Rock 'n' Roll Revival concert, accompanied by Eric Clapton, Klaus Voormann, Alan White and Yoko. 'The Plastic Ono Band – Live Peace in Toronto' is released in December.
Yer Blues (Lennon) POBand
Late 1969 Blind Faith - the only studio album by the "supergroup" tops the U.S. and U.K. charts for two weeks. The band break up at the end of the year after a tour n the US where their opening act is Delaney and Bonnie. Clapton spends increasing time on the tour joining them on stage (playing tambourine) with them.
Late 1969 and 1970: records his self-titled solo debut album in Los Angeles. He is backed by Delaney and Bonnie and their band, which includes Leon Russell. It yields such staples of Clapton's repertoire as "After Midnight," "Blues Power" and "Let It Rain."
August 1970 Eric Clapton is released, peaking at #13. This same month, Clapton begins recording in Miami with his new band, Derek and the Dominos. They record the monumental double album Layla...and Other Assorted Love Songs in 10 days. One writer called it "the most valid double since [Bob Dylan's] Blonde on Blonde."
Layla, Eric Clapton w Duane Allman
FROM BLUES TO HARD ROCK
"The British blues for me was more immediate and more exciting. It was louder, a Les Paul guitar in a Marshall amp, it was more rock." -- Joe Bonamassa
Jimmy Page, from the Yardbirds to Led Zeppelin.
Jimmy Page, longtime session guitarist, played on hundreds of records before joining the Yardbirds in mid '66 as Jeff Beck (who had replaced Clapton) was leaving.
Page and Beck with the Yardbirds
Happenings Ten Years Time Ago
From the film Blow Up, 1966. The cool side of Swinging London
Page with the Yardbirds
Little Games
Drinking Muddy Water
July '68: Yardbirds break up but Page with founder member Chris Dreja (bass/rhythm guitar) agreed to honour a touring commitment to Scandinavia, but also pull together a new line-up, briefly billed as The New Yardbirds.
The new band is singer Robert Plant who insists on bringing drummer/friend John Bonham. Dreja leaves and session player John Paul Jones (bass/keyboards) is brought in.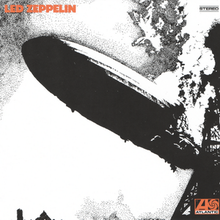 They play a few Yardbirds songs but late in '68 adopt the name Led Zeppelin playing heavy blues-based "originals" and some acoustic numbers.
Debut album Led Zeppelin released January 1969.
Immediately there are accusations of plagiarism as they use familiar blues lyrics and riffs but often claim writing credit.
The Roots of Led Zeppelin's first album . . . and see also here
Little Milton
I Can't Quit You, written by Willie Dixon. Recorded 1968
Led Zeppelin, who credited Dixon as the writer
I Can't Quit You Baby
Muddy Waters
You Shook Me, written by Willie Dixon and JB Lenoir. 1962
Led Zeppelin, and credited Dixon
Babe, I'm Gonna Leave You, written by Anne Bredon. c 1958
Led Zeppelin
Babe, I'm Gonna Leave You. Originally credited trad arr. Page
Dazed and Confused
and on their second . . .
You Need Love written by Willie Dixon. 1962
Led Zeppelin
Whole Lotta Love, 1969 on Led Zeppelin II
other blues-based artists of the period: Taste/Rory Gallagher (perhaps the most ignored player of his generation), Peter Green, Jeremy Spencer . . .
THE ROAD TO HEAVY METAL
Rumble by Link Wray, 1958
You Really Got Me, the Kinks. 1964
Wild Thing, the Troggs. 1966
Born to Be Wild, Steppenwolf (USA) 1967
Helter Skelter, the Beatles. 1968
Song of a Baker, Small Faces. 1968
Desperation by Humble Pie, 1969 (written by John Kay of Steppenwolf)
Summertime Blues, Blue Cheer (USA, Eddie Cochran, 1958 ) 1968
Summertime Blues, the Who. 1970
Voodoo Child (Slight Return), Jimi Hendrix Experience. 1968
Black Sabbath, Black Sabbath, Friday 13th 1970
Gypsy, Uriah Heep. 1970
By this time the blues chair had been recovered and the arms changed, but the legs still remained . . . and you could still sit on it.
For more of the blues old and new, see Elsewhere starting here. Old blues songs also turn up pulled From the Vaults. Check this out too (part of series Elsewhere reviewed)