Graham Reid | | 7 min read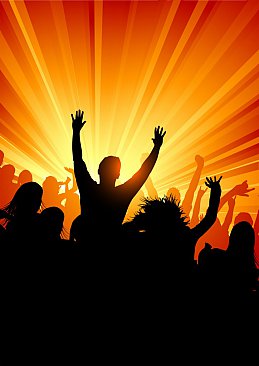 Okay, as editor of Elsewhere I have had my say on the 30 best albums I wrote about this past year (here) -- while freely conceding I did not, could not, hear everything.
Doubtless you heard some music which moved you and wish to tell others about.
Here is your chance.
You could look at what Elsewhere covered in 2014 if you need some reminders or guidance (just start at this page and work forward).
I avoided reissues (they get a separate column here), live albums, compilations, soundtracks and such things, and just threw attention on new albums. But you can choose what you like.
Have your say by adding your album under Post a Comment below. You can do it anonymously of course, if you wish. I look forward to reading what I missed or where I went wrong! It's all just opinion, so please feel free to add yours.
But here is what people have told me so far (via e-mail, feel free, I can just add as they come in) . . . and I've done the intralink to Elsewhere's review of the album if we did one.
Georgina says . . .
David Kilgour & The Heavy Eights - End Times Undone
Ben Ottewell - Rattlebag
Team Dynamite - Shepherds Delight
Neneh Cherry - Blank Project
Echo & The Bunnymen - Meteorites
Tricky - Adrian Thaws
Sinead O'Connor - I'm not bossy, I am the boss
Zara McFarlane - If you knew her
Lana Del Rey - Ultraviolence
Jeremy says …
(and this going to be an on-going joke for VU/Lou Reed followers, right?)
Courtney Barnett - A Sea Of Split Peas
Ought - More Than Any Other Day
The War On Drugs - Lost In The Dream
Les Big Byrd - They Worshipped Cats
The Horrors - Luminous
Angel Olsen - Burn Your Fire For No Witness
Lorde - Pure Heroine [Ed note: Released 2013 but you are forgiven, biggest album of 2014]
Jason Isbell - Southeastern
Kent says . . .
Worst Album Of The Year: Ed Sheeran - X
In a year that saw some total stinkers, Ed Sheeran stood out like a tall poppy in an ocean of mediocrity. He presumably called this shambolic mess of an album "X" because the preferred title - Self Indulgent Wank-Fest - wouldn't actually fit on the cover. It's truly remarkable for the over-weening ambition that covers every musical style known to man, yet spectacularly fails to deliver on any of them. From trite, contrived ballads to outstandingly pathetic rap, most every trend of the 21st Century is given Ed's extra-special treatment, to the detriment of musical enjoyment the planet over. He should stick to what he'd be good at - composing advertising jingles - and leave the musicianship to people with less ego and more ability.
On a more positive note ….
5. Pink Floyd - The Endless River
The Floyd came through with a remarkable album this year; not because it said anything new, but because it deliberately didn't. For those of us who grew up with Atom Heart Mother and Wish You Were Here and can confess to knowing every last lick of Dark Side Of The Moon, this was a wistful and poignant send-off. A band that provided the soundtrack for a big part of our lives can raise their guitars to our applause, and simply walk offstage, in the knowledge that they've achieved everything they've set out to do.
4. Pat Metheny Unity Group - Kin <—>
Yes, it has a dumb title. Yes, it came out in 2013 (although I only discovered it in 2014) And yes, Metheny is not everyone's cup of modern guitar jazz tea … and for the most part, the album reheats some ideas he's been kicking around for decades. Yet for the first time since 80/81 Metheny adds a sax to the ensemble (Chris Potter), and the results are intermittently sublime (the beautiful waltz Born). This track can turn the worst of circumstances into redemption. If you want an object lesson in the transformative power of music, this track is it. One track doesn't necessarily make an album, but my god … what a track.
3. Jonathan Crayford - Dark Light
Aside from a try-too-hard mis-step on the first track, Dark Light is a joy from beginning to end. Self-assured, confident jazz from some NZ musicians at the top of their game. A quality album that quietly crept into the high-rotate list and stayed there. If Dark Light had come from Blue Note we would have raved about the quality of the musicianship/recording; that it hails from our own Rattle Jazz underlines how far NZ has come, and how we can stand confidently on the world stage in so many different genres.
2. The War On Drugs - Lost In The Dream
There are some albums that are slow-burners. This isn't one -- from the first track, Lost In The Dream grabs and doesn't let go. Clever but opaque lyrics, guitar hooks to die for, twists and turns a-plenty, this album (almost) defined 2014. And aside from some incipient noodling on the opening track there isn't a single dud track or half-baked idea. An album that stands head and shoulders above most of the stuff that apparently justifies the label "alternative".
Buried in the World section at my local JB HiFi was this gem, which I hunted down after the Elsewhere review … and it's superb. It's not just Paddy Free's updating of Moana's sound that pulls you in, it's the sheer compassion. Rather than take the easy path of anger or righteous justification, Rima is an album from a calm, confident Maori woman who is assured enough to point fingers at bad behaviour (Seashell) and to interleave the day-to-day mundanities of life in Aotearoa (Whole World's Watching), yet who can see a nation growing together rather than apart (House Of Strife). If you want to know what New Zealand Aotearoa will look like in two generations -- when we all speak Te Reo, when all our great-grand children see themselves as Tangata Whenua, when all the vestiges of cultural imperialism have faded and we stand on a world stage acknowledging our ancestors may have come to conquer this land but now it has conquered us - then listen to this. My album of the year.
Jeff says …
1. The Eastern – The Territory
2. Electric Wire Hustle -- Love Can Prevail
3. Ry Cooder – Soundtracks
4. Bob Dylan – The Basement Tapes.
5. Harry Manx – Om Suite Ohm
Like your list, mine also includes Delaney Davidson and Dictaphone Blues *. They would both in my top 5 ....there is some really awesome Kiwi music around the last year or three ... dare I admit it but Pink Floyd's The Endless River is creeping up onto the bottom rung of my list too..
* [Ed note, the excellent Dictaphone Blues album Mufti Day wasn't in my selection which I did before reviewing it]
Blair says . . .
Futurology -Manic Street Preachers. Seems criminal that U2 get all the press but that a band in its 20th plus year can consistently deliver yet be consistently overlooked. This is extraordinary full of power, Krautrock and early 80's Simple Minds inspired anthems.
The Endless River - Pink Floyd – yes a true dinosaur, scraping the barrel and designed for a 4 sided vinyl experience …but it is Gilmour and the Farfisa type sound of Rick Wright . Phil Manzenera has pulled something quite remarkable together .
Get Hurt - Gaslight Anthem –might be due to late 40's air guitar overbite but as a traditional Springsteen fan I enjoy the fist pumping efforts of these New Jerseyians – would love to see them live…
The Man Upstairs - Robin Hitchcock – surprise of the year? Great sparse production and nice choice of covers
Avonmore - Bryan Ferry – who does not like Flesh and Blood, Avalon and Boys and Girls? – the Ferry lounge lizard purple patch? Well he has gone back and immersed himself in those and created something quite wonderful. Johnny and Mary cover is extraordinary in its simplicity.
Standards - Lloyd Cole –gone back to the talents of Fred Maher and Matthew Sweet to assist , summoning required attitude and classic songs
Ryan Adams – Ryan Adams - too talented for his own good but nevertheless very talented. Tom Petty and Jimmy Iovine could bring a lawsuit and likely win as it is a clear rip off of early 80's TP and the Heartbreakers – but is there anything wrong with that?
Playland – Johnny Marr - it was said in the 80's he may be the last great guitar hero, forget the vocals – soak up the riffs!
I Forgot Where We Were - Ben Howard – great follow up - what a talent
The Seasons of Love – The Gramercy Arms – never heard of them before but very talented New Yorkers with a pop sensibility , worth checking out.
Keith says . . .
Robert Plant's Lullaby and the Ceaseless Roar (which we also picked)
so here are his top nine:
Sky Ferreira – Night Time, My Time

TV on the Radio – Seeds
Damon Albarn – Everyday Robots

The Phantom Band – Strange Friend
Allo Darlin' – We Come From The Same Place

Martin Carr – The Breaks

Gallon Drunk – The Soul of the Hour

Azaelia Banks – Broke With Expensive Taste

La Roux – Trouble in Paradise
Clive says . . .
Frazer Ford – Indian Ocean with Al Greens band in his Memphis studios,fantastic
The Delines -- Colfax
Lucinda Williams – Down where the Spirit Meets the Bone
The War on Drugs – Lost in the Dream
Hozier – self titled
George Ezra –Wanted on Voyage
Ben Howard – I Forget Where We Were
Devon Albarn – Ragged and Dirty
Chris says . . .
St Vincent – St Vincent
Robert Plant – Lullaby and the Ceaseless Roar
Ralf says . . .
you've done already a great job of picking the good one out, so I missed out on Jacob's 'Sines', which I really love
The War on Drugs' Lost in the Dream is a beautiful fluid Americana record with great guitar work and a sprinkling of Kraut.
Aldous Harding produced a magical first record that shines - a great talent.
Almost any release from Rattle Records would grace my list
And in regards of live performances,I'm really happy to see Peter Jeffries back after a decade of absence. Finally he get's some of the recognition he deserves.