Graham Reid | | 5 min read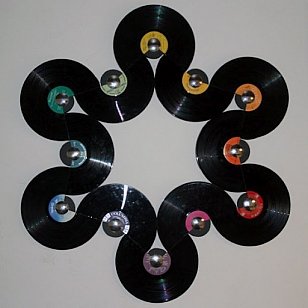 Okay, the best album of 2016 was . . . the one you liked the most.
And you don't need a critic to tell you what that was.
It might have been David Bowie's exceptional blackstar, Beyonce's Lemonade or the Rolling Stones' unexpected -- if not astonishing -- return to old form with Blue and Lonesome . . . which we haven't included below because they are such obvious choices.
Or yours might be Anika Moa's Songs for Bubbas 2.
You have your own taste, but we thought we might point you to some fine music which came out but maybe slid under your radar.
These are just chosen from the albums we reviewed at Elsewhere and of course a few classics doubtless went past us. (We might have heard them, but if we didn't write about them we haven't included them here.)
We think the dozen albums here (with suggestions for other investigations, just click the links to see what we thought at the time) are those you'll still be listening to in years to come, like blackstar, Beyonce and Blue and Lonesome.
And unlike Songs for Bubbas 2.
Suede; Night Thoughts: The one-time Britpop scenesters confirmed their 2013 return to form on Bloodsports with this confident reflection on adulthood, yet retained their classic Bowie-like melodrama and cloying claustrophobia. The ambiguous sexuality of their first incarnation has dissipated but what is here is utterly compelling. Get the CD/DVD version to appreciate the full breadth of this one. For more on this one see here.
Want more people sounding like their classic selves? Try Bonnie Raitt's Dig In Deep, Elton John's Wonderful Crazy Night and Van Morrison's Keep Me Singing,
Lawrence Arabia; Absolute Truth: The grown-up album. Written after the birth of his first child and in the rare time snatched for creativity made him focus on blessings, questions and economic music and lyrics. The elegance and poise is still there, but the songs often seem more simple and pared back, even if the lyrics explore deep territory. Pop with brains, and one that sneaks up over time. For more on this one see here.
Want other real slow-grow keepers? Try Angel Olsen's My Woman and Ultimate Painting's Dusk.
Greg Fleming and the Working Poor; To Hell with These Streets: Constructed like a song-cycle of a day among the drifters and the emotionally adrift in big city New Zealand, these songs move from observational to internal narratives and present hard and often uncomfortable truths about what we have allowed ourselves to become. Our country as it shouldn't be? Gripping stuff. For more on this one see here.
Want more truth-telling? Try Steve Abel's Luck/Hope and the Waco Brothers' Going Down in History.
Wire; Nocturnal Koreans: This may be just 26 minutes long and suggest a band in transition. But these one-time UK post-punk minimalists who became an art project turn in a terrific set of sometimes unnerving songs which roam from elegant pop-rock to their former minimalism and sonic landscapes. Their recent incarnation has been as fascinating as their first. For more on this one see here.
Want more rewarding challenges? Try Lydia Loveless' Real and Agnes Obel's airy Citizen of Glass
Chris Stapleton; Traveller: The former singer-writer with the appropriately named Steeldrivers bluegrass band stamps the road dust off his worn cowboy boots, slugs back another whisky and by channeling the spirits of George Jones, Waylon Jennings, Hank Williams Jr, Kris Kristofferson and Steve Earle sets about bridging classic country and Clash-inspired rock. He's tough, political at times, a sensitive soul missing family . . . and he wrote If It Hadn't Been For Love which Adele covered on her 21 album. He looks like a typical mountain man, but he's someone special. For more on this one see here.
More from the country? Try Jackie Bristow's Shot of Gold and Loretta Lynn's Full Circle
Heron Oblivion; Heron Oblivion: San Francisco still has a mainline into its psychedelic past if this outfit is any measure. Drummer/singer Meg Baird from Philadelphia's folk-rock Espers joins these SF locals for soaring Jefferson Airplane-cum-Hendrix rock, with nods to Crazy Horse and the widescreen sound of fellow SF band Wooden Shjips. Wah-wah to the stars at times. Tune in, turn on . . . For more on this one see here.
Want more stoner rock? Try Chris Robinson Brotherhood's Any Way You Love We Know How You Feel and Vodun's Possession.
Into the East; How to Turn a Blind Eye: The South Island duo of Liv McBride and Graeme Woller often sound like they've been transported here from the old American Midwest or remote 19th century Appalachia. But this time they also connect to the harsh, car-sleeping realities of our times and kick things up a notch with some rollicking songs alongside the reflective ones. Their debut Fight from the Inside won the Tui for the best folk album of 2014, oddly enough this was overlooked in 2016. Don't make the same mistake. For more on this one see here. For more on this one see here.
Want more alt.country: Kevin Morby's Singing Saw, Robbie Fulks' Upland Stories
Michael Kiwanuka; Love and Hate: Opening with a leisurely guitar part beamed in from Pink Floyd's David Gilmour, this album then connects with Motown gospel handclap pop, Gil Scott-Heron's black politics, Marvin Gaye's soul-searching with strings and some very personal reflections. Where Gaye aimed for the big picture, London-born Kiwanuka keeps things much closer to himself and his own pains, yet over the full album he manages to touch some universal sentiments. For more on this one see here.
Want more like this? Check out Billie Ray Martin's The Soul Tapes and Sturgill Simpson's Southern country-soul on A Sailor's Guide to Earth.
Pacific Heights; The Stillness: Pacific Heights is Wellington producer-songwriter Devin Abrams formerly of Shapeshifter who here dials the beats right down for some falsetto pop-soul with electronica (and Louis Baker guesting on the outstanding Buried by the Burden). Ambient soundscapes, subtle beats, ethereal effects and dream inducing neo-soul. Very impressive. For more on this one see here.
Want more soul/electronica? Then try Andrew Keoghan's Every Orchid Offering and Electric Wire Hustle's The 11th Sky
Leonard Cohen; You Want It Darker: As with Bowie, Cohen seemed to craft a farewell note with this final album in which he speak-sings of "leaving the table", examines his life without regret or apology, conjures up New Testament and religious imagery, and offers an almost palpable sense of weariness with this world. Dylan always expressed as much admiration for Cohen's music as his lyrics, and the soundbeds for these reflections are the evidence. Subtle flavours of country and hymns make for an album to immerse yourself deeply in, maybe closer to midnight than noon. For more on this one see here.
More considerations of life and death? Nick Cave and the Bad Seeds' Skeleton Tree and Anohni's Hopelessness.
Trip to the Moon; A Traveller's Tale: They locate themselves in the cosmic sky between leisurely jazz, smart electronica, evocative soundtracks for films of the imagination and even stuttering guitar funk. This local supergroup of Trevor Reekie (guitars), Tom Ludvigson (keyboards, programming), Greg Johnson (trumpet), Jim Langabeer (sax) and guitarist Nigel Gavin offer an album of many parts, constant revelations, exoticism and adventurous, genre-denying pieces which make for an intelligent whole. For more on this one see here.
More intelligent take-me-away? Norah Jones' Day Breaks, Unity Pacific's Blackbirder Dread and Sarathy Korwar's world music-cum-jazz Day to Day.
King Gizzard and the Lizard Wizard; Nonagon Infinity: Australian psychedelic rock with an overload setting and thumping beats, bluesy harmonica and songs which segue into each other. So this is strap-in and hold-on, moon-howling rock which takes a left turn from punishing head banging into furious pub rock and tripped out dimensions. The PLAY LOUD album in your 2016 collection. For more on this one see here.
Want more like this? Try Dinosaur Jr's Give a Glimpse of What Yer Not and Troy Kingi and the Electric Haka Boogie's double package Guitar Party at Uncle's Bach
Next week the 2016 year in reissues. Meantime flick us a few of your picks of the year's best and we'll compile our annual readers' choices.