Graham Reid | | 16 min read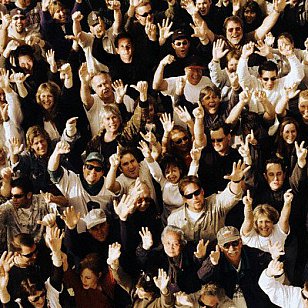 If you're lookin' for trouble, you've come to the right place, sang Elvis.
And indeed I was when it came to my Best of Elsewhere 2011 albums list.
As always – and rightly so – everyone has their own "best" albums list. Sometimes the readers' selections crossed over with mine (which are here) but, as expected, astute listeners heard what I didn't.
So here is what some Elsewhere readers have come up with . . . Some are on my list (marked +) and where they have chosen albums I wrote about during the year but which didn't make my list, I have provided a link to the Elsewhere review.
(In my top 30 I sidestepped reissues and compilations incidentally.)
But looking at what people have said, all I can think is . . . Man, am I slipping!
From Chris:
The Claudia Quintet + 1 w/ Kurt Elling and Theo Bleckmann - What is the Beautiful?
Harris Eisenstadt - Canada Day II
Allen Lowe - Blues and the Empirical Truth
Steve Coleman - The Mancy of Sound
Starlicker - Double Demon
Best Reissue = Julius Hemphill - Dogon AD [Ed note: Cannot believe this classic jazz album was reissued and I didn't know about it. Maybe because I still just keep playing the 1972 vinyl and wasn't paying attention?]
From Geoff:
P J Harvey 'Let England Shake'
Wilco 'The Whole Love' +
Tom Waits 'Bad As Me' +
The Felice Brothers 'Celebration, Florida'
June Tabor & Oysterband 'Ragged Kingdom'
Alison Krauss & Union Station 'Paper airplane'
Rumer 'Seasons of my Soul' (largely for 'Aretha' track) +
Deathcab for Cutie 'Codes and Keys'
Wooden Shjips 'West'
Sigur Ros 'Inni'
From Brian:
Who has his own expanded list at
aboxofbirdz
Eilen Jewell - Queen of The Minor Key
Both so stunningly good, unique etc...
From Peter: Whose music you can check out here (with links to his blog etc)
Love that you've got Charles Bradley in there, that is a superb album. He's playing in Oz in March, really hope someone brings him here too.

African Head Charge - Voodoo of the Godsent. AFC reunite with Adrian Sherwood for a cracking good album, with a Dave Dobbyn reference thrown in.
Lee Scratch Perry - Nu sound and version. Mr Perry remixed by contemporary dance producers - Kode9, Congo Natty, Moody boyz. Mala etc
Ikebe shakedown - self titled debut from Brooklyn afro funk ensemble.
After Hours collection - so much great Northern Soul
Mr Chop - Switched on - modern moog funk. Dirty filthy grooves
From Jeremy:
Maybe I wasn't paying enough attention (if so I am going to blame my 18 month old, the Rugby World Cup, and the recent tyranny of SoHo), but I found 2011 quite a lean year for great albums. But it also didn't help that I was disappointed in the releases of some former favourites (eg Bon Iver, Okkervil River, Horrors).
So my Best Of Elsewhere consists of just 6 albums…
Antlers – Burst Apart
Felice Brothers – Celebration, Florida
L/O/N/G – American Primitive
Elbow – Build A Rocket, Boys! +
Gil Scott Heron & Jamie XX – We're New Here
The War On Drugs – Slave Ambient
Song of year = Survive It by Ghostpoet.
From Ian:
Black Joe Lewis and the Honey Bears – Scandalous
William Tyler – Behold the Spirit
The Feelies – Here Before
The Twilight Singers – Dynamite Steps

1. Elbow - Build A Rocket Boys +

2. Yuck - Yuck
3. Radiohead - King Of Limbs
4. Destroyer - Kaputt
5. The War On Drugs - Slave Ambient
6. The Black Keys - El Camino +
7. Boris - Attention Please
8. The Horrors - Skying
9. Bon Iver - Bon Iver
10. Cornershop - Corner Shop And The Double 'O' Groove Of..
11. Bill Wells & Aidan Moffat - Everything Is Getting Older
12. Dum Dum Girls - He Gets Me High EP
From another Peter:
1. Beth Hart & Joe Bonamassa - Don't Explain
2. Various - Delta Swamp Rock
(I'm not sure if this qualifies as it was not on the list but it was posted in May 11 but still is one of my favourites of the year)
3. Joe Bonamassa - Dust Bowl
4. Tiny Ruins - Some Were Meant for Sea +
5. Gin Wigmore - Gravel & Wine +
Others worthy of inclusion in my top 30 would also be
Kimbra - Vows +
The Black Keys - El Camino +
Paul Simon - So Beautiful Or So What +
Hollie Smith & Mara TK - Band of Brothers
Goyte - Making Mirrors
Ry Cooder - Pull Up Some Dust and Sit Down
Glen Campbell - Ghost on Canvas +
Foo Fighters - Wasting Light
Little Feat; 40 Feat, The Hot Tomato Anthology
Adele - 21 +
Rumer: Seasons of My Soul +
Nirvana - Nevermind Deluxe Edition
From Clive:
(Who also says, "I see Polly Jean is no 1 in both Mojos and Uncut's top 50. I got it a while ago, played it once, wondered what all the fuss was about and have not played it again. Maybe I should try it again.)
Black Keys- El Camino +
Amy Winehouse - Lioness
Glen Campbell - Ghost on the Canvas +
Zoe Muth - Starlight Hotel
Dave Alvin - Eleven Eleven
Decemberists - The King is Dead
Ryan Adams - Ashes and Fire +
Tom Waits - Bad as Me +
Greg Allman - Low Country Blues
Robbie Robertson-How to become Clairvoyant
Wilco-The Whole love +
Lucinda Williams -Blessed +
Emmylou Harris - Hard Bargain
Gillian Welsh-The Harrow and the Harvest
(had to have my 3 girlfriends)
Eilen Jewel-Queen of the Minor Key
Elton John and Leon Russell - The Union [Ed note: 2010 actually]
Drive By Truckers - Go Go Boots
Low Anthem - Smart Flesh
The Band Of Heathens - Top Hat Crown etc
Jason Isbell and the 400 Unit - Here we Rest
Cody Canada and the Departed - This is Indian Land

Tom Russell-Mesabe
Tom Jones-Praise and Blame [Ed nore: also 2010]
Buddy Miller-The Majestic Silver Strings
Black Joe Lewis-Scandalous
My Morning Jacket-Circuital
Steve Earle-I Will Never Get Out of This World Alive
Fleet Foxes-Helplessness Blues +
Merle Haggard-Working in Tennessee
Chris Rea-Santo Spirito Blues

I was tempted to put in the bonus disc from 'Some Girls', But hardly new new music. Been a good year for my type of music.
From Jamie:
Lucinda Williams; Blessed: Only a small handful of artists can do no wrong for me. Lucinda sits firmly in that category. Almost every song a gem of song writing, lyrics that say stuff that talks straight to me +

Rumer Seasons of My Soul
Just sooo nice! The same kind of slot that Nora Jones's first album had all those years ago, falling back into the sofa and just letting it run all around me. +

Will Crummer & The Rarotongans Shoebox Love Songs
I adore this album! Has probably had more plays than anything else this year, and the memories of childhood, the sounds of the Pacific, the exuberance of it all combine to make me smile whenever it plays. Should have done for the music of the Pacific what Buena Vista did for Cuba! Wonderful back story, sublimely handled production, and just the right packaging.

Over The Rhine : The Long Surrender
An album that feels as if it's been around for a long time ... songs that are gorgeously familiar, reinforcing a huge admiration I have for them

Buddy Miller, The Majestic Silver Strings
Up there with T Bone as one of the guys who seems to be responsible for so much! Making the old ways new again! Loved the full bodied, unashamed nostalgia, in the best sense of the word, that he brings to this
Mickey Newbury, The American Trilogy
I'd been kind of aware of him, but this blew me away. What a dude!

Tiny Ruins Some Were Meant For Sea
Wow, a gem, had never heard of her, and this won me from the very first listen. Kinda like Jolie Holland, but not at all! So distinctive, would love to see her live and so look forward to what comes next. +

Jolie Holland and the Grand Chandeliers: Pint of Blood
She's so Quirky, but the songs get under the skin ...

Whirimako Black: The Late Night
Seductive, repeat late night plays

Beth Hart and Joe Bonamassa: Don't Explain
I loved this, there's an immediacy and raw energy to it that is just perfect. Not many CDs on first play, get cranked up to as close to neighbour annoying levels as i dare, but this one did!

Tom Waits: Bad As Me
Numero Uno, Top of the heap, Outclasses everything and everyone else, League of his own, step right up step right up, The master is in the house ... Fuckin amazing, and the first time a bonus disc has been pure treasure, everything on it deserves to be a part of the album. Even a new song for my funeral list. +

Disappointing?
The Felice Brothers Celebration, Florida
They kinda got all ... complicated here! And I loved them for there lack of complication! Damn

Seasick Steve: You Can't Teach an Old Dog New Tricks
Old Dog, Old tricks ... thought he might have had more strings to his bow, and a way of staying fresh ... but maybe you just see what you get first time around. I suppose that hoping he could sustain the thrill across 3 albums was just expecting too much ...

The Sami Sisters: Happy Heartbreak!
Really wanted to like this! Such talent, such a cool attitude, but felt that from the cover inwards they just got it wrong .....

Jeff Bridges: Jeff Bridges
I suppose I was after Crazy Heart Part 2, and as you rightly point out, this was never intended as that. You talked of "real sinew & emotional depth" and I really wanted that, but ended up feeling there was something vaguely half hearted here. I do still listen to it, but I haven't been won by it as I had hoped to be. Expectation is a curse ...

Guy Clark: Songs and Stories
I am a huge fan. This man is probably my favorite songwriter, and the title alone made me get it from itunes on release day, because I wanted the stories .... but they really aren't there in the depth and vigour I had hoped for. I realised that this man's songs ARE the stories, so they don't need much talking about, so again, it's quite probably my expectations of the album that are askew. I wanted Guy in my sitting room, telling me stories. Instead i got slightly tired renditions of favorite songs ... ah well, he is 70 ... and he has such a wonderful body of work. But not in the same league as Leonard Cohen's live return, or Randy Newman's

Not On Your List ...
Gillian Welch The Harrow & The Harvest
Up there, almost, with Bad As Me. Such huge anticipation for me, as she is a star in my universe, and one of the most engaging live performers I have seen. And this didn't disappoint on any level. Ten lovingly crafted songs played by maestros. Sublime.
I saw a good little article during the year of The Defining moments in Contemporary Music History, or some such grand title, and on the list was "The day Gillian Welch met Dave Rawlings" and I have to agree. I can't think of two people who work so intimately together with such a finely tuned affinity to make music that elevates me.

Alison Krauss & Union Station Paper Aeroplanes
Not an earth shattering album, but they are so very good at what they do, and this album doesn't seem to have any weak points for me. That's a kind of ... caged endorsement, but there you go! Still on my best of list!

Randy Newman Live in London
I loved this! revisiting all his classic material, and doing what I am told he is an absolute master of; engaging 100% with his audience with wonderful humour and good grace. I have listen again and again, and I reckon it's a ferkin brilliant live album.

From Mike:
Feist – Metals
My Morning Jacket - Circuital
Drive By Truckers - Go Go Boots
Joe Henry - Reverie
Sweet Inspiration - songs of Dan Penn and Spooner Oldham
Tom Waits - Bad as Me +
Paul Simon - So Beautiful or So What +
Decemberists - The King is Dead
War on Drugs - Slave Ambient
Beirut - Riptide
Cedric Burnside and Lightning Malcom - 2 man wrecking crew
Blind Pilot - We are the Tide - never heard of them until I caught them opening for Josh Ritter on a lucky business trip to boulder
Black Keys - El Camino +
Charles Bradley - No Time for Dreaming +
Hayes Carll - KMAGYOYO
Ry Cooder - Pull up some Dust
Laura Marling - A creature I don't know
Dodos - No Color
Tinariwen - Tassili
Joe Ely - Satisfied at Last - Any album with Billy Joe Shaver's Live Forever is always going to rate
The Felice Brother, Celebration Florida
Buddy Miller - Buddy Miller's Majestic Silver Strings
Seeker Lover Keeper - Seeker Lover Keeper
Gurrumul - Rrakula
Gil Scott Heron and Jamie XX, We're New Here
Wilco - The Whole Love +
Jason Isbell - Here we Rest
Gillian Welch - The Harrow and The Harvest
Low Anthem - Smart Flesh
Shelby Lynne - Revelation Road (continuing the trend of great albums every other time)

New Discoveries - that I should have been listening to earlier
Wayne Shorter - Speak No Evil
Jim Ford - Harlan County

Some N'awlinz Gumbo - I had heard bits of but went looking......
Chuck Willis
Huey Piano Smith
Professor Long Hair
Smiley Lewis
Clarence Frogman Henry
Preservation Hall Band - Great benefit album
Also

Chocolate Genius, Sonny Rollins - Way out West, Micky Newbury - Frisco Mabel Joy, Lee Morgan - Sidewinder, Juanita Hall - Sings the blues, Black Joe Lewis
Stuff that I should have heard in 2010 (but I am a bit slow)

Steve Wynn - Northern Aggression - another gem
Titus Andronicus - The Monitor - A new band I like
Alejandro Escovedo - Street Songs of Love - same comment as
Benji Hughes - A love extreme
Bill Frisell and Vinicious Cantauria - Lagrimas Mexicanas

Rediscoveries ( remembering some old vinyl and CDs that somehow got out of order)
Little Feat
Leon Russell
Gerry Rafferty - suppose he had to die for that to happen
Freddy King
Louis Armstrong - after reading two different biographies - amazing story and music to match
Overrated (in my opinion - after giving them a fair go and trying to like them)
Unlike everyone else I have just not managed to connect with PJ Harvey - England Shakes
Greg Allman - Blues Karaoke - and not good at that
Pink Floyd - Tried a few of the new mixes - they did not help
Derek Trucks and Tedeshi Band - Revelator - maybe really only suffers in comparison to his last one
Fleet Foxes
Bon Iver
From Trevor:

Albums . . .
International Broadcaster – Lee Scratch Perry – On U sound
Delaney Davidson – Bad Luck Man
Radiohead - The King Of Limbs
Pixie Williams - For The Record; The Pixie Williams Collection 1949 – 1951
Pedro Soler & Gaspar Claus – Barlande
The Yoots - Sing Along With The Yoots

Songs . . .
29 Diamonds - Bernie Griffen and the Grifters
Yaiba - OYAMA x NITTA – Karma
Little By Little (Caribou RMX) – Radiohead - TKOL RMX 1234567
Gido (feat. John Scofield) - Vieux Farka Touré – The Secret
Bad As Me – Tom Waits

And the last word goes to the great Ozzy Osbourne, as passed on by Ian: "Christmas is a time for remembering. So that's me fucked."